Previously, I had discussed how I felt that Michael Kors (NYSE:KORS) was significantly undervalued given that prior lower sales had significantly driven the price down. So far, my suspicions appear to be confirmed, as we have seen the stock shoot up from a level of $35 to $52.08 at the time of writing.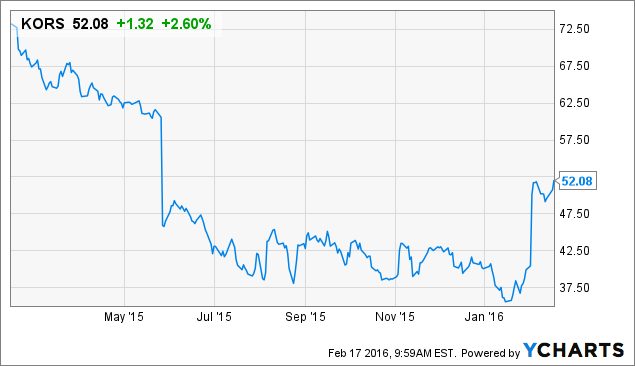 In one of my previous articles, I had mentioned that Michael Kors is well positioned to compete in emerging markets such as China, with a brand awareness of over 50 percent in major Chinese cities. Moreover, with double-digit store growth across this region, this has allowed the company to establish a strong presence. Not only has Michael Kors established a presence in China, but it has also managed to draw Chinese consumers to stores in more developed markets such as Japan where sales grew by 59% in the last quarter.
An interesting article by the Business Insider predicts that as a result of decline in mall traffic in North America, this could spread to markets such as Europe and Asia as e-commerce continues to gain popularity. However, while the extent of the decline in North America is up for debate, I do not see this transpiring in Asia. According to a report by consulting firm McKinsey & Company entitled "The future of the shopping mall," five of the largest malls worldwide are now located in Asia, with the 2.9 million square meter New South China Mall in Dongguan leading the pack.
In my opinion, the article by the Business Insider fails to take into account that a shopping mall is not simply a place to buy things; it is an experience in its own right. It is not uncommon for a Chinese consumer to visit London or Paris specifically to visit Harrods or the Galeries Lafayette respectively (both of which host Michael Kors stores). In this regard, Michael Kors is continuing to promote itself effectively as a luxury fashion label and will continue to attract increasingly affluent Chinese consumers. Moreover, Michael Kors's online outlets significantly complement the company's traditional offerings and I see no reason why sales will not thrive, both online and in person.
To conclude, I see Asia as offering significant growth potential for Michael Kors, and take the view that sales will continue to rise even if mall sales have declined somewhat in North America.
Disclosure: I/we have no positions in any stocks mentioned, and no plans to initiate any positions within the next 72 hours.
I wrote this article myself, and it expresses my own opinions. I am not receiving compensation for it (other than from Seeking Alpha). I have no business relationship with any company whose stock is mentioned in this article.