As a Coca-Cola (NYSE:KO) shareholder, the dividend plus dividend growth provided by the stock is a fairly important component for my long thesis. However, I have a feeling that Coca-Cola is going to disappoint some of its long-time shareholders with its 2016 dividend increase. This article will explain my rationale for this admittedly pessimistic opinion.
What is the problem?
Frankly, I am concerned about Coca-Cola's free cash flow. This key metric fell 3% to ~$8.0 billion in 2015 versus the prior year as the company slightly ramped up capex spending while seeing operating cash flows stay flat.
One a per share basis, Coca-Cola generated ~$1.86 in free cash flow in 2015, down a penny from ~$1.87 in FCF for 2014, with the difference here coming from the reduced share count from the buyback.
This level of free cash flow resulted in the dividend payout ratio increasing to 71% in 2015, versus 65% in 2014. When you add share buybacks ($2.3 billion in 2015 and $2.7 billion in 2014), Coca-Cola spent ~100% of its 2015 free cash flow in shareholder returns, versus 98% in 2014.
In other words, unless free cash flow were to grow in 2016 versus 2015, Coca-Cola does not have much wiggle room left over to boost the dividend.
Dividend increase forecast
Looking over Coca-Cola's 2016 outlook, the company expects organic revenue to be up 4% to 5%, comparable currency neutral income to be up 6% to 8%, and comparable currency neutral EPS growth to be 4% to 6%. This outlook includes a massive 9 point currency headwind.
These are a lot of numbers but the general range is from 4% to 8%. This would normally be a good ballpark range for the dividend increase. However, keep in mind that Coca-Cola reported similar currency neutral growth numbers in 2015 yet still saw free cash flow fall.
Though, one big positive offsetting factor for Coca-Cola is that the US dollar is falling in value given that the Federal Reserve has backed down from its 4 interest rate hike guidance. As shown, the Dollar Index is off its YTD highs but remains at an elevated level.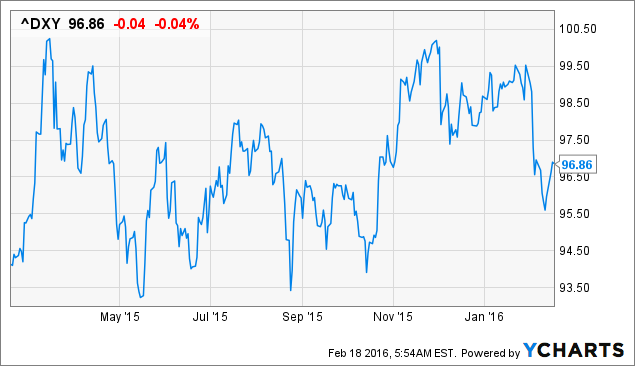 From these factors, I believe Coca-Cola's 2016 dividend increase will be in a range of 3% to 6%. This would result in a quarterly dividend of roughly $0.34 to $0.35 per share. Coca-Cola's dividend yield would also be boosted to ~3.1% to 3.2%.
At these levels, Coca-Cola would have a payout ratio of 74% to 76% of 2015 free cash flow. While elevated, Coca-Cola can hopefully see some increase in that key metric this year now that the dollar is getting weaker.
Though, one way Coca-Cola can increase its dividend without needing to see its free cash flow grow from last year is from slowing down share buybacks. In 2015, Coca-Cola's net share repurchases were $2.3 billion. For 2016, the outlook calls for $2.0 billion to $2.5 billion in share repurchases.
If Coca-Cola were to come in the low end of this range at $2.0 billion, this would free up $300 million in cash for the dividend, resulting in a free cash flow payout ratio in the 70% to 73% range. This would also result in total shareholder returns coming in at below 100% of 2015 free cash flow.
Conclusion
Dividend growth of only 3% to 6% may be a disappoint for many investors in Coca-Cola as in the last few years the dividend growth rate has been closer to 7% to 9%. However, due to flat free cash flow growth in 2015, I do not see much room for a large dividend boost from Coca-Cola without either share buybacks being pared down or improved free cash flow.
Disclaimer: The opinions in this article are for informational purposes only and should not be construed as a recommendation to buy or sell the stocks mentioned. Please do your own due diligence before making any investment decision.
Disclosure: I am/we are long KO.
I wrote this article myself, and it expresses my own opinions. I am not receiving compensation for it (other than from Seeking Alpha). I have no business relationship with any company whose stock is mentioned in this article.