Food and beverage giant PepsiCo (NYSE:PEP) has certainly been an interesting stock to watch over the past couple of years. The company's shares have remained stubbornly higher after I've said that they were expensive in the past. Earnings growth has been somewhat challenging to come and if current estimates are any indication, that is going to continue. But PEP's Q4 report seems to have stoked interest from buyers and shares remain elevated at the $100 level. With the new dividend and guidance for 2016 out in the open, is this finally the time when PEP makes a push over $100?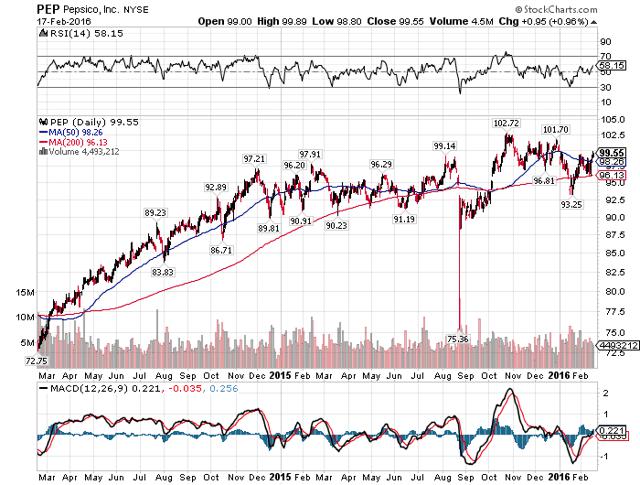 Click to enlarge
My bearishness on PEP has always been based upon two things. First, the company's growth is moderate at best. PEP's enormous size and scale precludes it from growing quickly and there is nothing wrong with that assuming the earnings multiple reflects this reality. Second, the strong dollar has absolutely crushed PEP's results in the past and ignoring a high single-digit headwind is dangerous even if it is out of the company's control.
In terms of progress in those areas, Q4 was certainly interesting. Organic revenue grew 4% during the quarter, a solid number that I'm sure PEP shareholders were happy with. However, reported revenue fell 7% during the quarter as the dollar once again removed 8% from the top line. That is a very damaging headwind and has been for some time. In fact, without the strong dollar cutting down results in 2015, I suspect PEP would be trading much higher than it is today. But the fact remains that revenue growth will remain anemic for some time due to the impacts of the dollar.
Analysts have PEP at flat sales growth this year but considering the strong dollar's impact last year, that seems ambitious. The only saving grace for PEP is that the dollar has backed off of its highs in recent weeks as chatter surrounding Fed rate hikes has dissipated. The immense strength we saw in the dollar in late 2015 has given way to uncertainty and that has led to a dollar selloff. This is absolutely critical for PEP in 2016; will the dollar remain elevated or cede its gains as the Fed waffles on rate hikes? If it is the latter, PEP will likely meet revenue guidance but if it is the former, look out below. PEP has no shot at hitting 6% or 8% of organic revenue growth and that means that if the dollar is a similar headwind in 2016 as it was last year, PEP is going to miss revenue estimates and probably by a fairly substantial margin.
Core gross margins moved up nicely but were offset by higher marketing expenses, driving operating margins down slightly. At a time when revenue is shrinking - 7% in Q4 - lower operating margins are the last thing PEP needs. It has been working through some productivity initiatives, which is great, but its marketing spending was very high in Q4. It will be interesting to see if PEP can translate that marketing spending into higher sales in 2016 because it needs some source of growth; we all know revenue isn't going to do the job.
While I'm still disappointed in PEP's growth (or lack thereof), the company's capital returns continue to be exemplary. PEP raised its raised its dividend once again and said it would return $7 billion to shareholders via dividends and buybacks. At its current market cap, that's about 4.9% in total capital returns with the slight majority of that coming from the dividend.
At about $3 billion, the company's guidance for share repurchases is underwhelming, consuming just about 2% of the float. I'll admit I was disappointed by this number but the aggregate capital returns forecast approximately match the company's FCF guidance for 2016. That's prudent spending on the company's part as it doesn't seem to want to out-spend its cash generation but that means lower returns for shareholders.
Given that capital returns will be lower this year than last year and that the dollar is still a substantial unknown, I think PEP's expectations are too high. Flat revenue is going to be tough to produce this year and with operating margins down even as gross margins tick up, PEP has almost no sources of earnings growth. The small buyback isn't going to do the job either as $3 billion simply isn't a needle-mover. But at 21.3 times this year's earnings, PEP needs some needle-movers but doesn't have them. Revenue growth will almost certainly be negative, gross margins are comparing against a strong year in 2015 and while productivity gains are helping, they aren't enough to offset marketing spend. And while the yield is nice, it isn't high enough at 3% to offset the ludicrous valuation this company has.
The stock has been stuck in a very tight range for some time now and I see absolutely no catalysts for it to move higher. It is already very expensive and with what I perceive to be high estimates, I'm not sure how buyers will bid the stock up over the current range. Rather, I see PEP trading under its flattening 200DMA and sellers stepping in during 2016 because there is no reason to pay $100 for this stock. I know dividend seekers will argue with me but you can get a 3% yield in a lot of places without having to pay a nosebleed valuation, so for me, PEP is just another overvalued dividend stock.
Disclosure: I/we have no positions in any stocks mentioned, and no plans to initiate any positions within the next 72 hours.
I wrote this article myself, and it expresses my own opinions. I am not receiving compensation for it (other than from Seeking Alpha). I have no business relationship with any company whose stock is mentioned in this article.