Averaging down is one of the most dangerous things investors may do when markets are in bearish territory (down 20 percent or more from highs). Take a look at the high valuations in momentum stocks like 3D Systems (NYSE:DDD), LinkedIn (NYSE:LNKD), and Netflix (NASDAQ:NFLX). These stocks traded at high price multiples on the expectation they would sustain revenue growth for years. Unfortunately, business is worsening. Executives from well-known tech firms are resigning. This means that not all companies will survive in the quarters ahead.
Last week, the CFO at Yelp (NYSE:YELP) resigned after the restaurant reviews site reported growing losses. Yelp lost $0.29 per share. The company forecast EBITDA growth that was weaker than expected. PayPal (NASDAQ:PYPL) said its CTO since 2012 will resign on April 1.
In 2016, both the S&P 500 (NYSEARCA:SPY) and the Nasdaq Composite Index (NASDAQ:QQQ) wiped out gains made in 2015: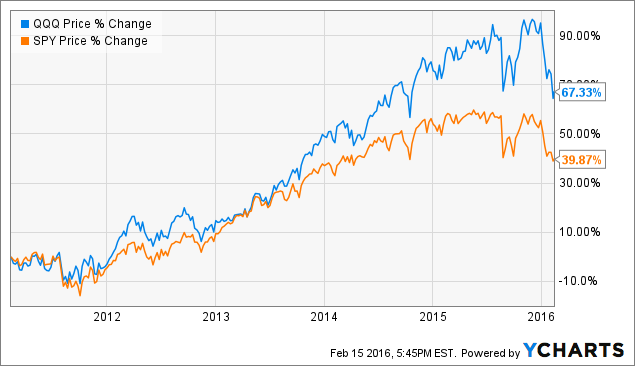 QQQ data by YCharts
The implosion in the tech sector hurt some stocks more than others. Companies that missed consensus estimates or provided a weak outlook were punished. This includes Autodesk (NASDAQ:ADSK) and Activision (NASDAQ:ATVI). Investors locked in profits from momentum stocks like Tesla (NASDAQ:TSLA) and Netflix even after reporting growth. Netflix added 1.56 million net subscribers but now has $2.4 billion in debt. Tesla forecast higher average selling price and expects it will deliver up to 90,000 units this year. Both are underperforming the Nasdaq in the last month: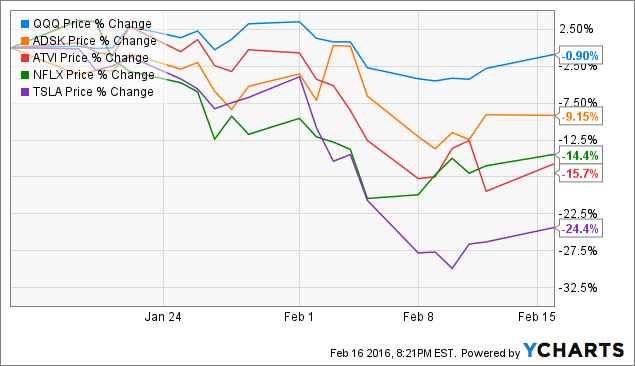 QQQ data by YCharts
Companies that beat estimates unsurprisingly bucked the trend. Facebook (NASDAQ:FB), for example, reported ad revenue of $5.64 billion, up 57 percent from last year.
What should investors do next?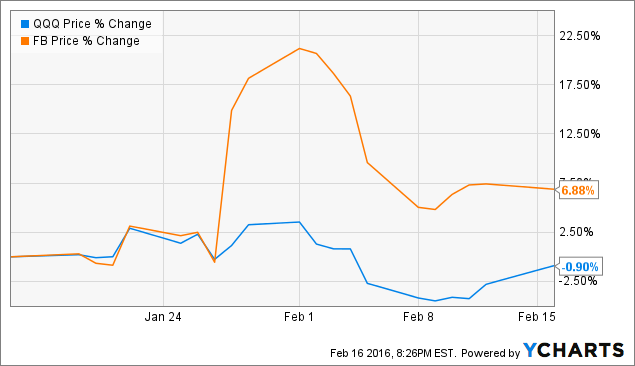 QQQ data by YCharts
Stay calm and do not panic
With all the doom plaguing many tech stocks, should investors sell their stocks in this sector now? Panicking investors pulled money out of stocks for weeks, so exiting now just means booking losses when stock prices face negative selling pressure. Instead, investors should ask if the growth story for the tech stocks they bought is still valid. If the company still has a solid moat, a competitive advantage, and its business model is not broken, chances are good the stock will bounce back.
Amazon.com (NASDAQ:AMZN) and Apple (NASDAQ:AAPL) differ wildly in their valuation, but have all three characteristics mentioned. eBay (NASDAQ:EBAY), an online retailer, and Wal-Mart (NYSE:WMT) cannot challenge Amazon.com's online presence. Despite thin profit margins, Amazon.com's business is sound. After the technology bubble burst in 2000, it took Amazon around seven or eight years to trade at past peaks. From there, the stock soared another ten-fold: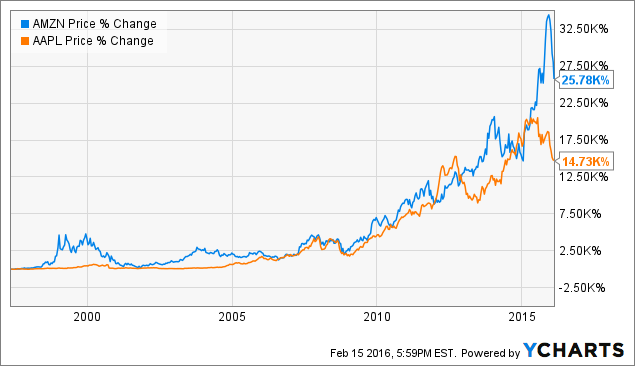 AMZN data by YCharts
Apple is down 26.8 percent from its yearly high. It scared investors after the company said iPhone sales would slow this year. Yet in the last 16 years, the stock's P/E stayed in the mid-teens for nearly a decade: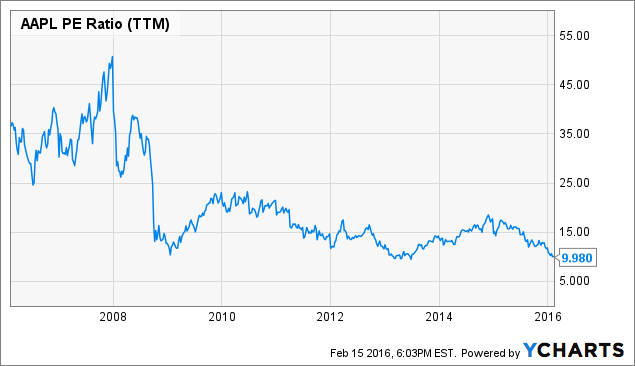 AAPL PE Ratio (TTM) data by YCharts
Investors need not panic if holding Amazon.com over Rackspace (NYSE:RAX). Amazon grew revenue by over 20 percent in the last decade. Amazon Web Services has 1 million active users. Conversely, Rackspace will face revenue pressure as AWS and Microsoft (NASDAQ:MSFT) lower cloud pricing.
Avoid companies having a broken business model
When the tech sector bounces back, companies having a broken business model will not likely recover. Yelp is one such example. The company lost its credibility with the public after people questioned the legitimacy of its reviews. Repairing its reputation will take time and money. This chart shows costs rise alongside revenue growth, while positive free cash flow is non-existent: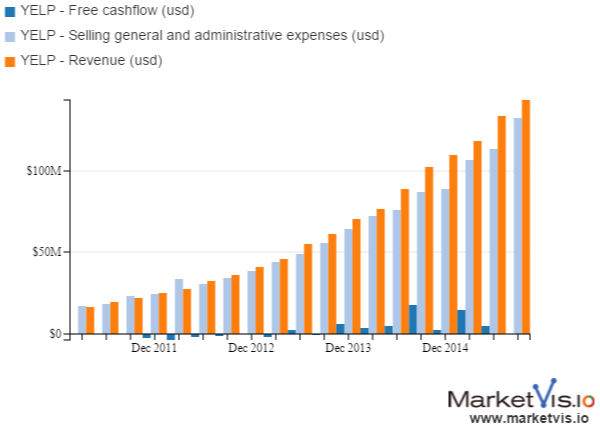 Check the health of a company's business. Avoid companies that experience a deceleration in the very things that contribute to higher revenue. Yelp's user base is weakening, so expect revenue to worsen, costs to go up and losses to mount. Similarly, Twitter's (NYSE:TWTR) monthly user count is slowing. Unless CEO Jack Dorsey figures out how to get them back, Twitter's stock will keep falling.
Avoid companies with no moat
The company does not have a moat. Google (NASDAQ:GOOG) (NASDAQ:GOOGL), if it wanted to, could replace Yelp by simply improving its own business review pages. Similarly, LinkedIn is finding costs increasing as it scales Lynda, the training unit, Premium Display, and Lead Accelerator. Its CFO explained that investors should expect short-term costs for long-term gain in this way:
As mentioned a few minutes ago, the online mix obviously has an impact in the shorter-term in terms of the margin profile….

So that's a transition this year, as well as the investment in a number of other areas. The Lynda investment is ongoing, we have investments in China ongoing throughout 2016.
Google's search engine business still has a strong moat. Collectively, Google Sites' revenue was $14.9 billion in the quarter, up 20% year over year. Yahoo (NASDAQ:YHOO) saw its GAAP revenue from search decline 7 percent year over year.
Don't overpay for slow growth companies
Cost cutting at Twitter, Snapchat, and Microsoft will mean lower costs and higher operating profits. This also means not all technology firms will sustain its past growth profile. Tougher lending conditions will mean companies will spend less on capital expenditures, R&D, and marketing. This is due to the Fed tightening this year and banks lending less due to their exposure to bad debt from oil companies.
Amazon's stock may very well hold its level when its P/E is 400 times, but investors will get pickier with what they invest. As funding for startups slow, markets will favor undervalued tech stocks whose costs are falling and revenue is rising.
Your takeaway
The moderate advance of the Nasdaq (up 2.27 percent) on February 16 exemplifies the need for investors to invest in discounted stocks whose prospects are still good. In volatile times, demand value from the market, instead of overpaying for the promise of unattainable future growth.
Disclosure: I/we have no positions in any stocks mentioned, and no plans to initiate any positions within the next 72 hours.
I wrote this article myself, and it expresses my own opinions. I am not receiving compensation for it (other than from Seeking Alpha). I have no business relationship with any company whose stock is mentioned in this article.