After the close of trading (February 16th), Flexion Therapeutics, FLXN, released a report that it achieved statistically significant results, in phase 3 trials of the drug it's Zilretta. It read in part:
Primary endpoint at week 12 against placebo achieved p value of <0.0001; statistically significant and clinically meaningful pain relief demonstrated at weeks 1 through 16

Zilretta also achieved statistical significance on WOMAC® A (pain), WOMAC B (stiffness) and WOMAC C (function) through week 12 against both placebo and immediate-release triamcinolone acetonide

Zilretta patients experienced, on average, a 50 percent reduction in pain from baseline over weeks 1 through 12

Zilretta, an investigational non-opioid/non-NSAID, has received Fast-Track designation by FDA; planned NDA submission on track for second half of 2016
Source: Flexion Therapeutics
This news caused the company to jump up in trading, while previously the stock had been in a down trend, after a disappointing Phase 2b trial; but now that has been overcome.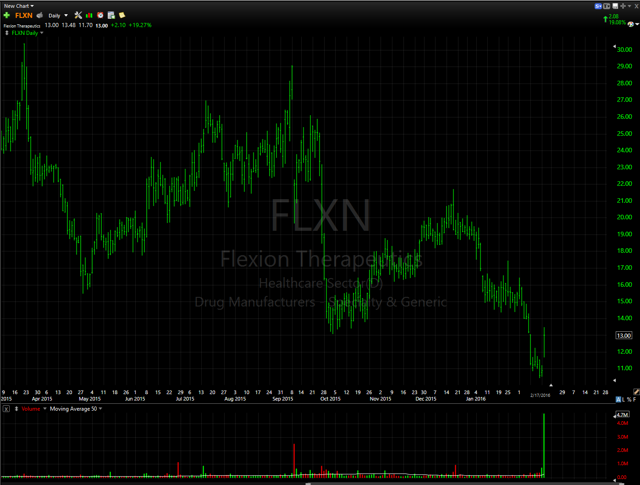 Source: worden.com
Excellent background information on Flexion Therapeutics can be found in this Seeking Alpha article; congrats to the author, LS Value Research, for finding this stock and holding on.
It summarizes:
Investors overreacted to news that lead candidate Zilretta (FX006) "failed" Phase IIb trial.
It now appears that this author was correct in their assessment as to why the apparent failure, of a Phase 2b trial, was overblown (See article for explanation as to why).
The company has significant cash and working capital for a company with a market cap of $280 million (on Feb. 17th, source Yahoo Finance).
As of September 30, 2015, we had cash, cash equivalents and marketable securities of $132.2 million and working capital of $126.4 million. Based upon our current operating plan, we believe that our existing cash, cash equivalents and marketable securities will enable us to fund our operating expenses and capital requirements at least into 2017, including through completion of our Phase 3 clinical trial for FX006 [Zilretta] and assuming no additional pivotal studies are required, the submission of an NDA for FX006 in the second half of 2016.

Source: FLXN's Nov '15 10-Q, page 25
Here is a graph of Flexion's operating cash flows.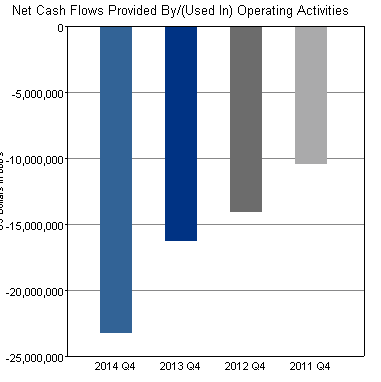 Source: I-metrix
LS Value Research gives a price target at $30 and believes, "... Zilretta could reach peak annual sales of at least $400 million."
Dr. Damodar, of NYU, currently shows biotech drug companies having a price multiple of 7.74 price/sales. If Flexion achieved a price to sales ratio of 7, multiplied by sales of $400 million, that would equal $2,800 million. Currently, Yahoo Finance shows 21.54 million shares outstanding. Let's round that up to 25 million shares to account for any new financing and/or more stock options.
Then $2,800 million divided by 25 million shares gives a value of $112 a share. That is over 8.5 times the value of current trading around $13.
One might say there is only a 50% change of Zilretta becoming commercially viable. Well then:
$112 * 50% + $0 * 50% = $56 a share
If you think Flexion might only make $200 million, per annum in sales, have a 4 P/S multiple and 50% chance of coming to market, the figures are
[($200*4)/25] * 50% + $0 * 50% = $16 a share
$16 a share divided by the currently trading price of $13 a share would be a return of just over 23%.
Cash per share last quarter was $6.14. Let's round that down to $5.
If one assumes that the company will not trade below cash the downside risk would be to $5 a share. If one agrees with a 7 multiple, P/S, and sales of $400 million with only a 25% change to come to market this would imply a share price of $28.
$28 - $13 would be a gain of $15, or over 115%. $5 - $13 would be a loss of -$8, or about -61.5%.
This biotech firm clearly has an asymmetrical payoff potential, with a current market cap of $280 million verses LS Value Research's estimate of potential of annual sales of $400 million. Readers are encouraged to use their own estimates of commercial realization, annual sales, shares outstanding, and price/sales multiple to provide a valuation for Flexion.
I have entered a long position, after this news came out, and plan to scale out on a rise in price.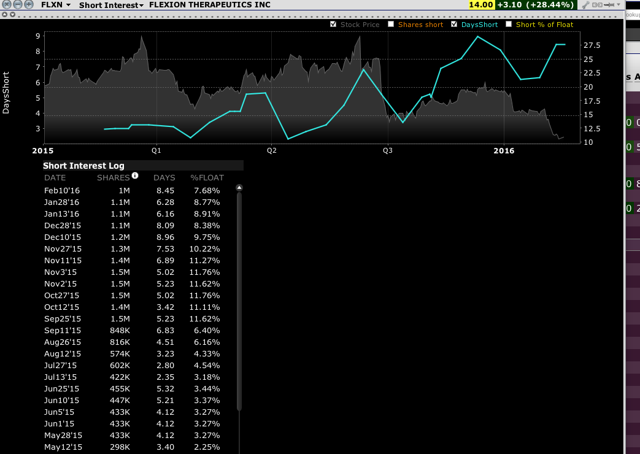 Source: Interactive Brokers
The latest data shows over 1 million shares short and about 8.5 days to cover.
As stated from the news release, "NDA [New Drug Application] submission on track for second half of 2016" and provides a time horizon of about one year.
Hopefully, this new treatment is approved. Both for investors, and more importantly, for those of us with loved ones who suffer from knee pain.
Disclosure: I am/we are long FLXN.
I wrote this article myself, and it expresses my own opinions. I am not receiving compensation for it (other than from Seeking Alpha). I have no business relationship with any company whose stock is mentioned in this article.