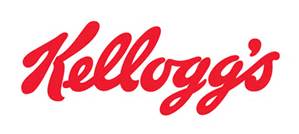 Kellogg (NYSE:K) is one of those stocks that I've found to have unbelievable resilience of late despite overwhelming evidence that it shouldn't. There are many examples of stocks like this in the dividend space in particular as yield-starved investors have bid up virtually anything that pays some sort of decent yield, and I believe that is where we find Kellogg. I've said in the past - most recently in November - that K was expensive due to a total lack of growth and a very strong dollar headwind. Those things have come true, but the stock is now making new highs off of its Q4 earnings report. So what gives?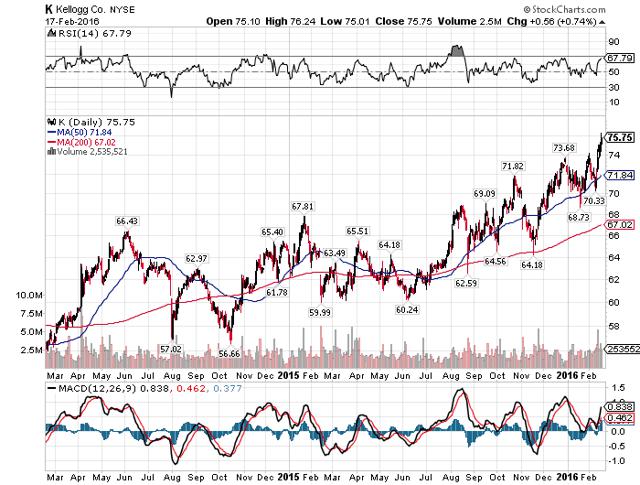 Click to enlarge
My fears about K are well-founded; the company's growth has been flat or negative for some time now as many of its businesses continue to struggle. And with the dollar removing large portions of its revenue, K's earnings trajectory has been unequivocally negative. The yield, I suspect, has kept the stock afloat, but with shares making new highs, it seems the flight to safety has sent the company into the stratosphere.
K's struggles certainly continued in Q4 as the company's sales were down across every major segment. Just have a look at this table from the press release: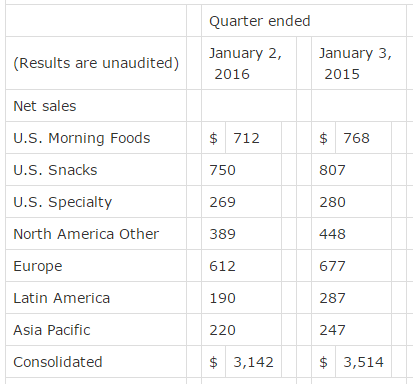 Every single segment posted lower Y/Y sales in Q4 2015, and the consolidated number was markedly lower due to a variety of factors. But this is what I was getting at last year with K; this company has a lot of problems with volume and sales growth, and it is making zero progress towards fixing it. K has some valuable lines of business, but on the whole, the company is shrinking at a rapid rate.
In addition, segment operating profit was hammered 12%, falling to $368 million. Gains in other areas like SG&A helped to offset that weakness, but the point stands that K has a lot of issues. The company is trying to cut its way to sustainable profitability, and while that works for a finite period of time, eventually it needs to figure out a way to get people to buy its products. Right now, it simply isn't doing that.
Kellogg's guidance for 2016 was moderately positive with currency-neutral comp sales coming in at ~2% and currency-neutral comp operating profit growth to be ~5%. That's all fine, but what happens when we include the cost of currency translation? After all, K doesn't report in some adjusted number that takes all the negatives out and leaves in just the positives; it has to report in dollars and that is part of the problem.
If we take the company's reported currency-neutral comparable sales and compare them to comparable sales for all of 2015, we get a difference of 7.5%. That means the strong dollar removed that amount from the company's top line at a time when the dollar was largely sideways during the year. Of course, the dollar moved up a lot at the end of 2015 as the Fed's chatter on interest rate hikes picked up, but since that time, thankfully for K, the dollar's strength has waned somewhat. This will be a critical development for K in 2016; will the dollar remain strong or will we see a sell-off against the world's currencies? The dollar is the single biggest variable in K's earnings for 2016 and that's not a good thing.
At 20.5 times this year's earnings and 19 times 2017's EPS estimates, K is certainly not cheap. In fact, if this stock was for some other company than a cereal maker, its shares would almost certainly trade for a much lower valuation. But the dividend bubble persists for some stocks, and that certainly includes K as the flight to safety that has occurred of late has benefited the company immensely. But that is not a reason to buy a stock, as Kellogg is approaching nosebleed territory given its total lack of growth and many struggling businesses.
The company's guidance for buybacks is for $1.5 billion over 2016 and 2017, potentially removing around 5% of the float over two years. That's fine, and I like buybacks, but this one is way too small to move the needle on EPS as the company continues to shrink. Positive commentary from the management is downright confusing as all of its segments continue to shrink, so, to be honest, I don't believe the management. That means estimates for 5% EPS growth this year and 8% growth next year are pretty far-fetched, and by extension, K's valuation is at risk. How in the world is a rapidly shrinking company with a 2% buyback going to hit 5% or 8% EPS growth in the face of a mid-single-digit currency headwind? None of this makes any sense from a valuation perspective.
It is pretty obvious to me that K is being valued solely on its dividend, but at 2.7%, is the yield really that great? Lots of stocks have yields higher than that after the recent market sell-off, and many of those stocks aren't experiencing massive contraction. K's business is far too weak to warrant paying 20 times earnings, and the company's prospects for future growth are dim indeed. K has no apparent strategy for growing the business, and given upbeat commentary from management, it seems it thinks there isn't even a problem! That's incredible to me when looking at the unequivocally weak results from every reporting segment, but that is where we find ourselves. A management team in denial and with no strategy for growing sales, it is not a company I want to own, and I think K is in a bubble. Once the flight to safety subsides, the company will trade lower as it cannot sustain its current valuation without a drastic increase in its ability to generate revenue.
Disclosure: I/we have no positions in any stocks mentioned, but may initiate a short position in K over the next 72 hours.
I wrote this article myself, and it expresses my own opinions. I am not receiving compensation for it (other than from Seeking Alpha). I have no business relationship with any company whose stock is mentioned in this article.