According to the U.S. Bureau of the Census, retail trade for January at sporting goods, hobby, book and music stores posted a very positive 9.1% year over year gain for the month of January.
Here is a chart of the monthly sales figures: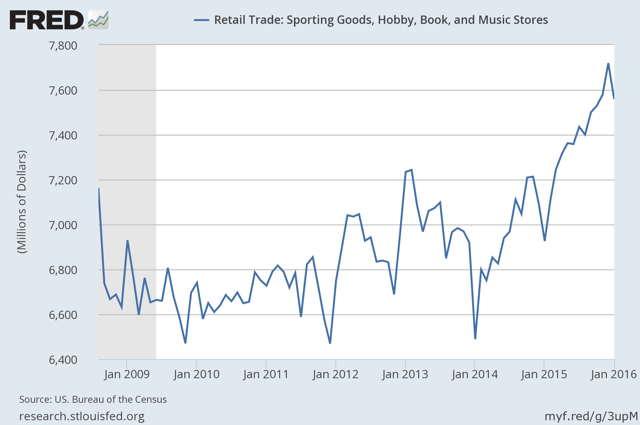 Click to enlarge
From a year over year perspective, January's report shows a very strong rebound in sales over the prior year per the chart below: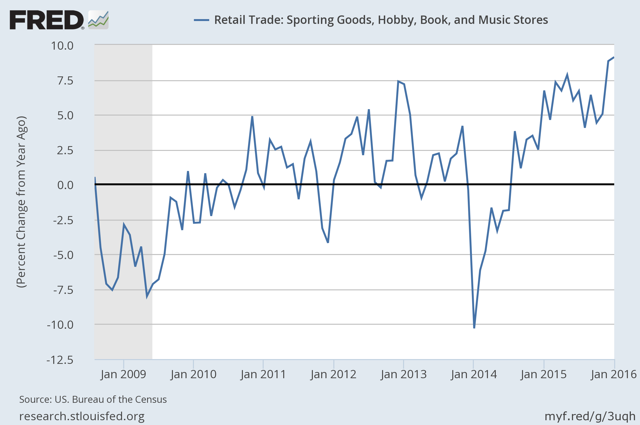 Click to enlarge
Now here is a chart of Dick's Sporting Goods (NYSE:DKS) stock price over the last 5 years: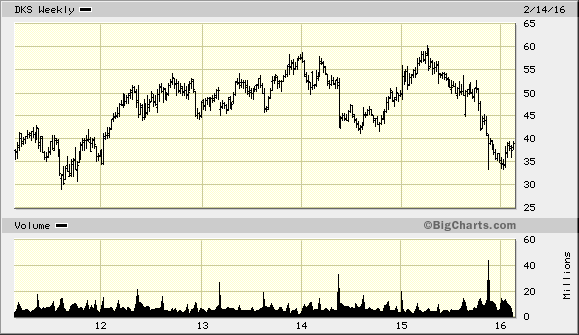 Using the retail sales report to surmise what's to come from earnings reports can help buffer any surprises.
Investors in Dick's Sporting Goods had warning that sales were coming in light in Q1 of 2014 based on lower year over year retail trade data in the sporting goods, hobby, book and music store category per the 2nd chart above.
When Dick's reported first quarter 2014 results in May of 2014, sales came in less than expected, at $1.44 Billion Vs. an estimate of $1.46 billion.
The CEO, Edward Stack, had this to say about the results:
"After a very challenging first quarter in golf last year, we expected some further headwinds and only modest improvement, but instead we saw a continued significant decline," he said in a statement. "In the case of hunting, we planned the business down based on last year's catalysts, but it was even weaker than expected."
The stock dropped from $52 to $43 a share on that announcement.
I'm tying the retail trade report to the state of business here and given the recent strength in the retail trade report, I'm leaning toward Dick's Sporting Goods putting out a better than expected earnings report which should come out next month.
Dick's 1st quarter comprised the months of November, December and January. In those 3 months, retail trade in their sector increased 5.1%, 8.8% and 9.1%.
Estimates for Dick's sales for the forth quarter are expected to be up 5.8% year over year. These estimates may prove to be too low and sales could well be better than expected.
Instead of what happened in May of 2014 when Dick's reported weaker than expected sales and the stock tanked from about $52 a share to $43 a share, the inverse may happen this time around.
Good Margin Of Safety
It appears to me that Dick's share price is not selling at a big premium. The forward P/E is only 12.42 and the price to book value is 2.56. Return on assets is 9.49% and return on equity is 21.07%, very healthy numbers.
Dick's also pays a quarterly dividend of 13.75 cents per share which gives it a dividend yield of 1.47%.
Conclusion
Long investors should take comfort in the strong retail trade data for Dick's Sporting Goods sector for the upcoming earnings report. My bias is sales will be better than expected.
Disclosure: I/we have no positions in any stocks mentioned, and no plans to initiate any positions within the next 72 hours.
I wrote this article myself, and it expresses my own opinions. I am not receiving compensation for it (other than from Seeking Alpha). I have no business relationship with any company whose stock is mentioned in this article.