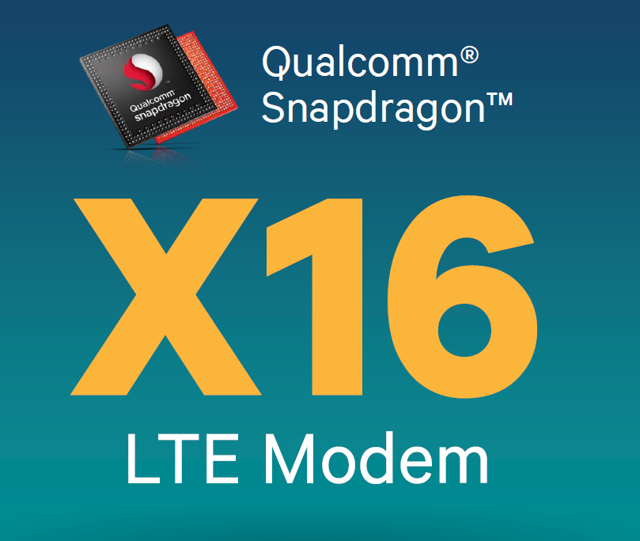 Click to enlarge
Qualcomm (NASDAQ:QCOM) has been steadily raising its dividend since 2003. Yet the company's troubles over the past few years have brought the stock to a relative low. Investors are concerned.
Many of QCOM's investors are in a QCOM position because of the stable dividend growth. With all the disputes between QCOM and other companies, litigation has become a habit for this company, taking bites out of its cash. One concerned investor has requested that I look into QCOM's dividend a la my article on Harman.
For the big picture, in spite of QCOM being stiffed by Samsung on Snapdragon modem use, QCOM has received an upgrade moving into 2016. Yet the 3G and 4G markets to which QCOM caters are shrinking. In addition, forward guidance looks more like damage control than a bullish outlook: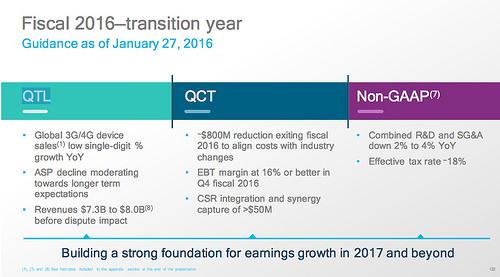 (Source: Barrons)
My goal with this article, however, is to cut through all the noise and look at QCOM as a dividend stock. If interested in more of a business-practice oriented analysis, let me know in the comments section, and I will write such an analysis. But for now, let's look at how QCOM's dividend measures up.
Dividend
Revenue has taken a dip, but a revenue dip alone should not cause some concern for dividend stability. What are more important are the dynamics between income (the ability to sustain a dividend at all costs), the free cash on hand (the ability to pay the dividend without dipping into debt), the dividend raises (an increasing cost for the company), the outstanding shares (adding to dividend payouts), and the yield of the stock (helps set the lower bound of the share price and also brings in dividend investors). Let's look at these issues in depth.
First, let's look at the actual dividend increases: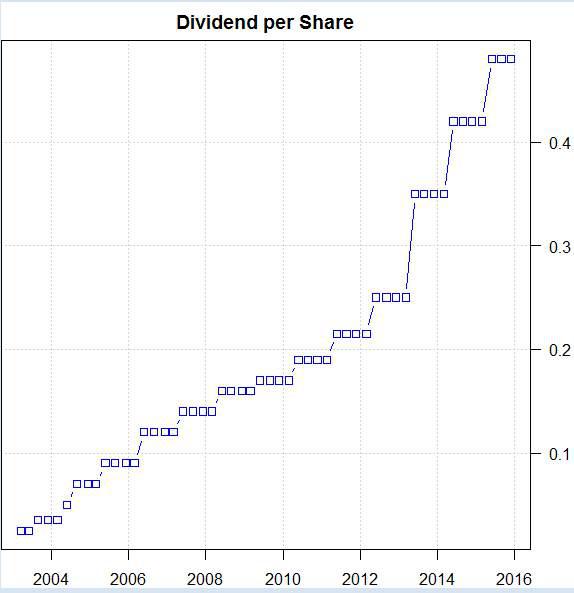 We see that whereas in the past QCOM's dividend increases were mere steps, the most recent dividend increases have been leaps. However, the biggest dividend increase was actually way back in 2004, when QCOM effectively doubled its dividends. As I showed in a previous study, stocks that double their dividends outperform the market.
Of course, if a stock does not outperform the market by bringing in large earnings, the doubled dividend can be a thorn in its side. This is why the dividend itself is not to be used as an indicator. We must track the dividend against both the stock and the income.
Fortunately for investors, the dividend tracks well with the stock price: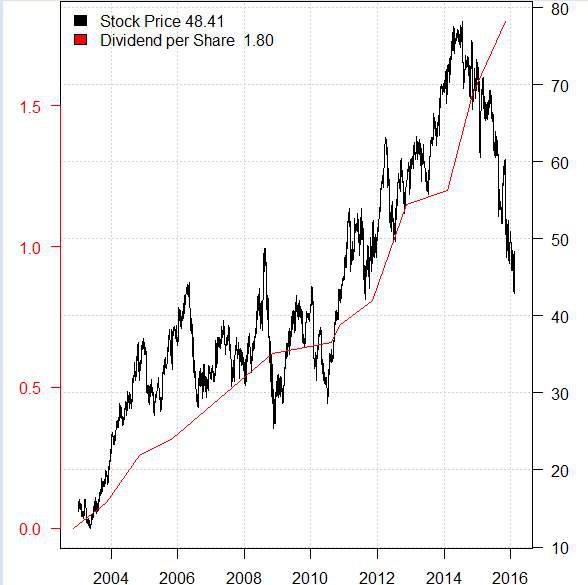 That is, up until 2015, when the stock took a tumble. On the one hand, this increases yield. On the other hand, it implies that the company might not be doing so well, putting the dividend at risk.
However, QCOM has been engaging in many share repurchase programs, bolstering the price of the stock (or slowing the pace of the falling stock):

Click to enlarge
(Source: YCharts)
This also reduces the dividend payout needed. Unfortunately, for investors, buybacks are not as helpful as heightened dividend raises, as I have said time and time again.
Prior to the price drop in QCOM, the yield was nothing special: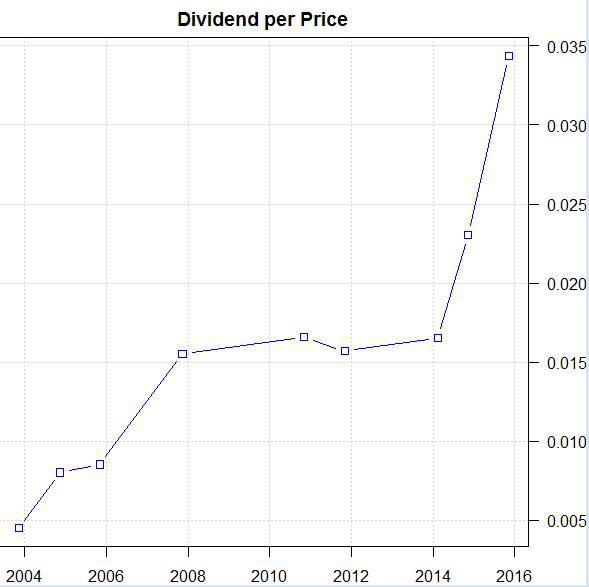 Now, with QCOM at a relative low, the yield is the highest it's ever been, breaking the 4% boundary into 2016. The yield is not high enough yet to create a psychological support (read: investors are not attracted to this yield to the point where an influx of new investors bolster the stock price at a certain level). However, it is a rather attractive yield for a growth stock in the tech industry.
Whether QCOM is growing is not just a growth question; it is also a dividend question. By watching the income versus the dividend payout, we can determine whether the dividend is safe: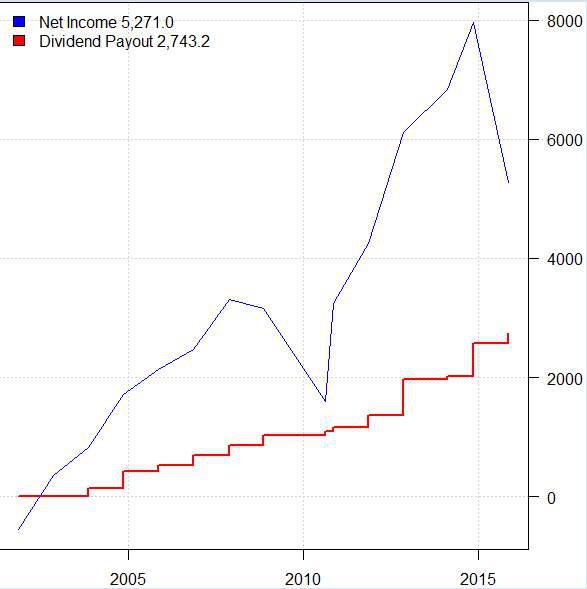 While income has taken a large dip, it still covers the dividend payout. Nevertheless, for a growth stock income is not mainly dedicated to dividend payouts. Of course, if QCOM wants to take the dividend-or-bust road, they can dedicate all their income to maintaining the dividend and still be okay.
However, with repurchase programs, R&D, marketing, and litigation requiring money, income is not a great comparison indicator for payout for this stock. The income simply tells us that QCOM is capable of maintaining the dividend and its increases if they are faced with that choice against an alternative. More important than the dividend is the free cash flow: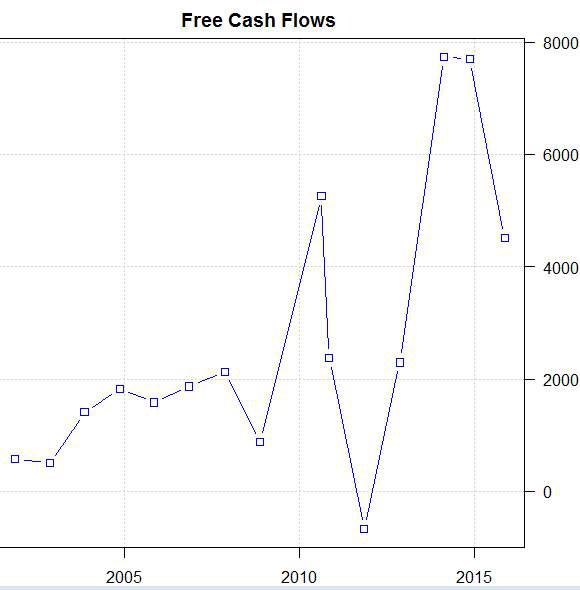 FCF charts are almost always bumpy, especially in the tech sector. Thus, we should smooth the chart with a running average. This running average also gives us a good idea about the cash QCOM has available: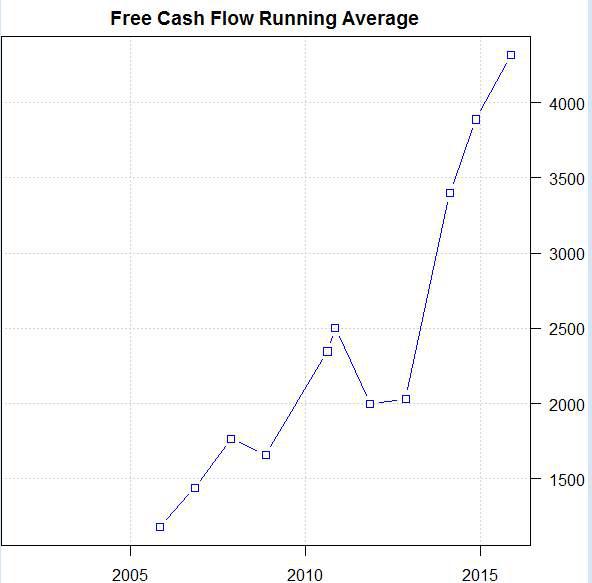 This is a very different picture. Free cash flow is on the rise, on average. Of course, a sudden downturn in business can bring this lower, mimicking the current income situation. In a sense, cash lags behind other financials, but because of this allows the company to adequately plan for dividend increases and slashes.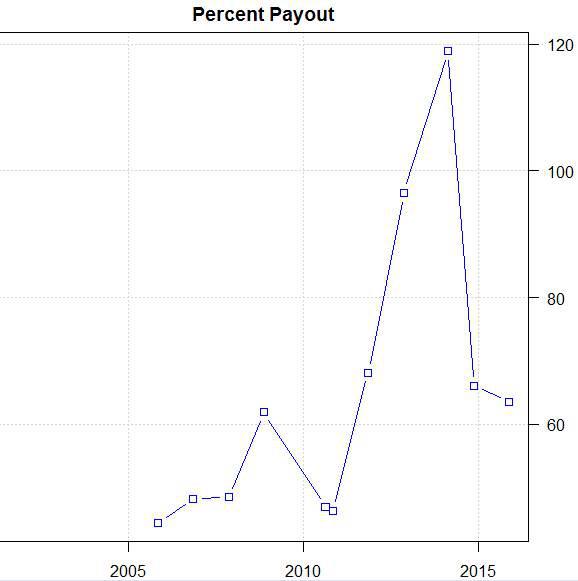 The current percent of cash paid out as dividends has stabilized around 65%. A single bad year can send that percentage above 100%, as we saw a couple years ago. But with cash plentiful and on a steady rise, the dividend looks stable and the increases sustainable.
Conclusion
A low dividend yield (4% or below in the tech sector) can a blessing. Lower dividend yields tend to be associated with stable companies. Even if this is not true in practice, the low dividend sends a signal to potential investors: "We have much more to offer than dividends; we offer growth."
At the present moment, with the works "market crash" on many lips, looking at the dividend history of companies in the 2007 to 2009 time frame can be informative. A company that raised dividends during this time will likely be able to do so during another market crash. Thus, value stock and dividend stock investors should see QCOM as a rather safe choice in light of a market crash.
While the yield of QCOM is too low for dividend income investors, the dividend growth is not. Through my studies, I've found dividend growth to be a catalyst of strong stock growth, indicating strong business practices. Only through income and cash flow increases can a company consistently increase its dividends.
For the past 13 years, QCOM has rewarded investors with dividend hikes. A linear regression analysis on the dividend shows that investors can expect QCOM's dividend to double every six years on average. This is faster than most dividend increases in the tech industry, and is 50% faster that of Intel (NASDAQ:INTC), QCOM's new partner in changing the WiFi market.
When you invest in a dividend stock, you are not always doing so for the upcoming dividends; you're doing so for the dividends far in the future. The idea is to buy the stock at a low, enjoy a high yield now, and expect to enjoy increasingly large dividends in the far future off your initial, relatively small investment. QCOM should allow you to do so, as their dividend and the dividend's growth are both sustainable by the current measures and trends.
Naturally, this concept leads to the question as to whether now is the right time to buy. I've run several analyses on seasonal buying times on stocks only to be met with investors claiming, "You cannot time the market." Although I strongly disagree, I'm going to hold off on investigating a market timing strategy at this time and simply leave you with this thought: If you have the extra money, buy QCOM - now is not too early nor is it too late.
My personal thought on QCOM is that it will trade around the current region ($40 to $50) for the next few months anyway. Stock, tech, and market news will make this stock volatile, so if you're buying, use some technical analysis to buy above a level of support. While the future of the company is uncertain, the future of the dividend is not; get in before you miss out on some delicious yield.
Request a Statistical Study
If you would like for me to run a statistical study on a specific aspect of a specific stock, commodity, or market, just request so in the comments section below. Alternatively, send me a message or email.
Disclosure: I/we have no positions in any stocks mentioned, and no plans to initiate any positions within the next 72 hours.
I wrote this article myself, and it expresses my own opinions. I am not receiving compensation for it (other than from Seeking Alpha). I have no business relationship with any company whose stock is mentioned in this article.