(Editor's Note: Investors should be mindful of the risks of transaction in securities with limited liquidity, such as BMMEF. Brammer's lisiting in London, BRAM.L, offers stronger liquidity.)

Recommendation
Since January 2015, Brammer's share price has lost roughly 50%, hit hard by slowing industrial production in the UK, its exposure to low oil prices and sterling's strength. But is the stock now ripe for a second look? Could the company be a buy at current valuations? I think the stock is currently trading at around its fair value of £1.8. This valuation is arrived to using a very conservative discount rate of about 15% and average historical performance figures, in other words without assuming any particular dramatic future event (acquisition, etc.) or improvement in performance. Recent market volatility can therefore make for some interesting buying entry points.
Company background
Brammer (BRAM.L) is a UK company operating since 1920 with sales of circa £700m and a market value of around £200m. Their core business is to act as a distributor of industrial spare parts and products (or MRO for Maintenance, Repair and Overhaul products) mainly for factories located in the UK, where Brammer make nearly half of their revenue, and in the rest of Europe. They are basically in the business of acting as a spare parts supermarket for factories which operate highly technical and specialized machinery. Even though their product range is very wide (over four million individual product lines from diverse manufacturers around the world and over 350'000 items in stock at any given time), they specialize in bearings (which account for over 20% of their revenues), a mechanical device which reduces friction in a very wide number and range of machines (trains, planes, refrigerators, computers, …). For example there are around 150 bearings in a typical car. The company claims to be Europe's number one bearings distributor with over 10% of market share1.
Brammer's explicit strategy is to use their expertise in bearings as an entry point to then cross sell their other products and services. The MRO market is very fragmented and competitive and, as such, not very attractive (a sign of this is that,just as with most large distributors (Walmart, etc.), profit margins tend to be razor thin at around 2-3%). Brammer must for example offer 24/7 service to its customer to be competitive. As we shall see, in this environment Brammer, along with other market participants, is constantly forced to take on business and financial risk and to try to innovate in order to gain market share, produce decent returns and appeal to the customer as less of a commodity type company. Management for example has pushed programs which seem to be aimed at transforming when possible their customers into partners displaying better consumer loyalty, repeat business and to whom they can sell higher margin products. One way Brammer achieves this is through their advisory/consulting business where one of their engineers is detached into a customer's company/factory to analyze and find a solution to a problem. The engineer will use Brammer products to solve the issue: for example suggesting machines which use parts stocked by Brammer. Another way the company tries to create a closer tie to the customer is through their "Insite", where Brammer actually sets a permanent distribution branch directly inside a client's factory. Other services include industrial vending machines (again installed directly inside a factory) and inventory management services where Brammer makes sure to stock all of the client's inventory needs so the client doesn't have to carry it on its balance sheet and can manage it "just in time". Another key competitive advantage put forward by the company are it's 15 distribution centers located around Europe and which can therefore respond to client's needs very quickly wherever they are and remain close to the customer and adapted to local needs. Furthermore the company operates from over 460 locations throughout Europe.
The common theme of all these initiatives is centered on the company's ability to save money for its customers through reduced costs. Brammer even faithfully tracks every year how much its solutions have allowed its customers to save and has their clients sign off on these numbers. An example the company gives is that of a metals manufacturer with bearing failures at their coal plant. Brammer engineers looked into it and found that the bearings being used were only supposed to operate at 110°C, but actually the temperature regularly reached 130°C. Brammer then recommended a bearing from their catalogue which could work at up to 180°C. They also recommended the customer use a new grease, from their catalogue, designed to work at high temperatures and also recommended they use more of it. This is a typical win-win situation as Brammer got to sell more of its products whilst improving their client's productivity and saving the client about €100'000 in costs2. Finally, since around 2007 management has put the emphasis on servicing key accounts, i.e. big customers, often with pan national or international production facilities (e.g.: Alcoa). Over 50% of revenues are today driven by key accounts. In this line of business it would appear logical that the larger the customer, the more incentive they have to stay if things work out, as their often complex logistical and technical needs are not easily and quickly transferable to another service provider. On the one hand having such a large portion of revenue derive from numerically few large customers is a risk, as the loss of one or a small number of these customers, or even them simply reducing their spending, could have a material impact on earnings. On the other hand large customers also help to diversify the business risk as many of them have activities in several countries, and even continents, which reduces the risk of them being overly affected by business and economic headwinds in a particular European country or even the region as a whole. Even though the company doesn't seem to give the number of their key accounts, they claim that they do not have material "dependency on any single customer"3 (Brammer has a total of over 100'000 customers). In this very fragmented and competitive "commodity" type distribution market, the quality of service (cost savings, availability, etc.) and of the client relationship thus create a crucial network effect which is arguably Brammer's best claim to a moat.
Investment thesis
In this section I will attempt to demonstrate that Brammer's current stock price drop reflects a re-rating of the share based on general market conditions and not anything particularly wrong with the company per se. In other words I will attempt to show that at the current £1.8 level, the company is now fairly valued for an investor requiring an approximately 15% CAGR on the medium to long run. A required return of 15% seems very conservative when valuing a quality company like Brammer. So I view the £1.8 valuation as offering a reasonable margin of safety which one could expect to see for a small cap located in Europe.
Let's start off by seeing how the share price got to this point today. Brammer is not unknown in UK markets, 59% of its shareholders being institutional (as of end of 2014)4 and many of them owning sizeable portions of the company (e.g.: AXA owned 10% and Blackrock 5%). However, the share price, which currently hovers around £1.8 was around £4.89 back in march 2014. The stock got hit hard in 2015 by its exposure to Scandinavian oil producing countries, the sluggish industrial performance in the UK and sterling's strength. In October of 2015, the stock was down to around £2.3. Then the company published a profit warning on November 11th which caused the stock to again fall to around the current levels of £1.8. The gist of the profit warning was that most of the business was actually doing pretty good except for the U.K. (due to a slowing industrial sector, particularly the steel segment) and oil & gas in Scandinavian countries. Continental Europe (ex Scandinavian countries) had actually grown around 11%. UK sales were down 3% but UK represents more than 40% of group sales. Nordic countries (exposed to Oil & gas) were down 16%... The result of all of this is that they expected EBT for 2015 to be around £28m (it was £17.7m in 2014) and were estimating a £6m restructuring cost linked to cost reductions. So they believed net income would be lower than in 2014. Brammer also said they don't expect conditions in the UK market to improve any time soon... Finally sterling strength against euro was also a negative factor (about £2.5m off operating profit).
So why did the stock react so strongly to this news? The stock price has after all gone down considerably more than the operating business numbers, as if the market had reconsidered the company's long term growth prospects.
At first glance, the stock price drop does not seem linked to Brammer specifically per se, but rather to a broader sector weakness, at least for the MRO sector, on the back of wider macro concerns. For example Farnell (PFL.L), another British MRO wholesaler/distributor which specializes in electronic components and with a £375m market cap, saw its share price similarly drop by 40% since Jan. 2015. However, investors seem to also have more specific concerns about Brammer5, first among which is it's poor history as a capital allocator. Indeed, between 2001 and 2003 Brammer's equity got literally wiped out by a string of disastrous years: the company lost a cumulative £60m in those three years alone. My understanding is it was mainly due to one business: "Livingston" which was in the business of renting out industrial equipment. This was a division highly exposed to technology and telecoms. It appears that after the 2001 tech bubble crash spending in this area tumbled. So Brammer sold the loss making business and also incurred restructuring costs. It used the proceeds from the sales of the business to pay down debt. Management then came up with a new strategy in 2004: focus on the MRO business. Management has since rebuilt the company's equity base and nearly tripled revenue. However markets could be forgiven to fear that this is 2003 all over again: with its exposure to the Scandinavian oil sector, has Brammer again fallen into the trap of being overinvested in the wrong sector at the wrong time? Moreover Brammer only just entered the Scandinavian market in January of 2014 and has been growing its presence in the region since, exposing itself to being suspected of arriving late to the party, at the peak. In other words, misallocating capital… So how bad/good is Brammer's management at allocating capital? Since 2005, when the strategy was first implemented, Brammer has spent roughly £128m on acquisitions. To put that into perspective, that is exactly the entire net income the company generated during that period. So to say that management has been aggressive in acquisitions is an understatement to say the least. But have they invested wisely? Well, in the same time, its revenues have increased by over £400m (x2.5). That is pretty good. At their peak in 2013, the profits had increased by £16.6m (x2.2). That's an impressive 16% CAGR over the 2005-2013 period. Sure, in 2014 and now in 2015, the numbers are down and that's what got the stock in this situation. But if one stops at 2013, the numbers look decent. We can also look at the capital allocation efficiency question from the perspective of retained earnings: again, excluding 2014 and 2015, management has retained approx. £0.87 of earnings per share from 2005 to 2013 and improved per share earnings by £0.04 in that same period (cf. table below). It can therefore be argued that the retained earnings of £0.87 a share produced in 2013 a return of £0.04, which equates to a 5% rate of return. Not very good. However, to be fair to management, as we can see in the following table, this encompasses two very different periods: one before 2008 with a high retention ratio and in which most of the retained earnings for the 10 year period where amassed, and one after.

Click to enlarge
From 2005 till 2008, retained earnings were on average 77% of earnings. During these four years this represented about £0.61 per share and EPS increased by £0.08, a 13% return. If we exclude the direct aftermath of 2008, i.e.: 2009, from 2010 till 2013 retained earnings were on average 47% of earnings. During those four years this represented about £0.35 per share and EPS increased by about £0.04, a roughly 10% return. So things are not at all as bad as they first appear to be. Also it is reassuring that management wisely decided to give back capital to shareholders by increasing the payout rate when return expectations were less high. So what about 2014 and beyond, how justified are investors' fears about Brammer's exposure to the oil price sensitive Scandinavian market? The Scandinavian acquisitions were apparently comprised of one big acquisition for about £27m (the Norwegian company Lonne)6 and four smaller Swedish companies7. Revenues from the Scandinavian assets where £53.1m in 2014, or about 7.3% of the group's revenues8. The company recorded £21.8m of goodwill related to the Scandinavian acquisition in 20149, a year where they spent a total of £40.8m on acquisitions10. So the total price paid for the Scandinavian assets could not have been far greater than the goodwill recorded since we still need to account for the other acquisitions. Even if we assume they paid £35m for the Scandinavian companies, that would represent at most 22% of equity. So it looks like the Scandinavian assets correspond to a very recent business for Brammer that do not add up to a huge portion of the company's income statement or balance sheet and which have not been with the company long enough to likely have been significantly developed or made a fundamental part of the business. So even if in the unlikely event that Brammer has to completely write off these assets, it would not risk sinking the boat like the downfall of the Livingston business linked to the tech industry did in the beginning of 2000 and which completely wiped out Brammer's equity. This can further be confirmed by looking at Brammer's country and sector exposure. The company does not seem to explicitly breakdown their customers by sector or industry, but here is an approximation, based on company data, of their end market exposure and their country exposure: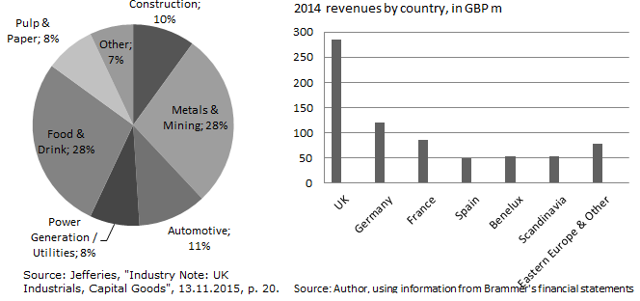 Click to enlarge
One can clearly infer from these graphs that Brammer is relatively well diversified amongst industry sectors and that Scandinavia does not constitute a concentrated risk, unlike its UK exposure.
Another criticism of the company is that is doesn't seem to manage its balance sheet well: on the one hand its acquisitions are perceived to be dilutive and on the other the company is taking on too much debt. And indeed the company's share count has more than doubled from 2005 to 2014, going from 48 million to nearly 130 million, with practically no share buybacks. During 2014 alone, the company issued £52.5m worth of stock. Given Brammer's average stock price of £3.79 during the year, it was, with hindsight, a lucky/shrewd (depending on how you want to look at it) move on management's side. How dilutive has this share issuance activity been and was it justified? Well, if the share issuance had been dilutive, then logically EPS should have gone down, or at least would have shown signs of weakness, over the years. Has this happened?

Click to enlarge
As per the above table, If one looks at the 2005 - 2014 period, EPS went from £0.156 to £0.089, a CAGR of negative 6%, whilst earnings increased from £7.5m to £11.5m, a 5% CAGR... The previous year, in 2013, Brammer had posted EPS of £0.199, which represents a CAGR of just 3% since 2005 while in the same period earnings grew at a CAGR of 16%. So the shares issued seem to have indeed been dilutive at first glance. These intervals however include periods of economic trouble: 2008-9 and the start of the current situation. However if we look at the "normal" years between 2005-8 and 2010-3, EPS CAGR is 16% and 15% respectively, this while earnings increased at a CAGR of 20% for both those periods respectively. As a matter of principle, I must say that I think management should use share issuance as little as possible. However here it is clear that management's use of this financing tool has been certainly value destroying in the down years, but surprisingly good in the "up" years as management seems to have been able to redeploy these funds in projects lucrative enough to create revenue growth sufficiently high to also generate a satisfying return for shareholders. So if it is clear that in this issue management is too trigger happy when it comes to share issuance as it has somewhat decreased the safety of shareholder returns and capital, they were still shrewd enough to make some good investments in the good years. Good returns on equity in the good years and sub-par in the bad ones: have management therefore also been irresponsibly using leverage? This question is particularly to the point in Brammer's case since the company has spent the equivalent of all of its earnings from the last 10 years on acquisitions whilst at the same time distributing roughly half of earnings as dividends, so debt had to go up. Indeed, from 2005 till 2014 Brammer earned and then spent a total of £128m in acquisitions, distributed roughly £65m in dividends whilst at the same time debt went from £60m to £96m (and the number of issued shares nearly tripled). As per the second table below, total debt of roughly £96m in 2014 is mostly long term debt (about £66m of which are due in more than 5 years) out of £314m of total liabilities. The balance of liabilities is mostly made up of trade payables. £96m of debt represents about 5 times average earnings from 2011 to 2013, so it seems manageable compared to Brammer's historical average earning power (cf. first table below). More worrying is the fact that a third of the debt was taken on in 2014 and in the form of long term debt, thus increasing effective interest rate on average net borrowings to 4.8% from 4.5% in 2013. That's about £6.3m in annual interest, or nearly £2m more than in 2013 (cf. second table below) just when earnings have taken a dive… to put this in proportion, it represents 26% of 2013 net earnings and 55% of 2014 net earnings… That is clearly very high and could pose a problem if earnings continue to fall… It is at least slightly reassuring that most of the group's debt is currently fixed rate and they hedge their floating rate exposure. How dependent is Brammer on this debt? In other words, how risky is their balance sheet? Two remarks can be made here: one concerning the goodwill on the books and one on the business's inventory management. At £118m, goodwill represents a good 25% of the balance sheet. For the sake of comparison, Farnell (a Brammer competitor in the UK but which specializes more in electronic components) has goodwill equivalent to roughly only 8% of its balance sheet, and Applied Industrial (a US company in the same industrial distribution business) has goodwill equivalent to about 17% of its balance sheet. This goes to show how central acquisitions are to Brammer's growth strategy. This also means however that return on net tangible assets of roughly £40m was over 60% in 2013, and still over 30% in 2014, and that's subtracting only goodwill from net assets (for simplicity I didn't bother with other intangible assets) and before adding back goodwill amortization to net earnings…

Click to enlarge
Of course, Brammer could not operate on £40m of assets alone since it needs more to support its working capital needs (mainly inventory). But how much capital does Brammer really need to operate its business in a given year? Well one could argue just by looking at the balance sheet that all it really needs, at the very least, are mainly its PP&E which make up surprisingly little of the balance sheet at only £24m, and inventories which at £134m make up nearly a third of the balance sheet. So with £40m of equity capital Brammer could easily cover the PP&E needs and £16m of inventory needs, and would require a little over £100m in, for example, short term loans to cover the remaining inventory needs. But precisely, these inventories do not constitute a heavy burden/danger to the company because MROs tend to be cash generative in the downswing of a cycle as they shed working capital.

Click to enlarge

Click to enlarge
Indeed, as we can see from the table above, on average the company turns over its inventory six times a year, which means that at nearly any given time during the year it could pay down the debt if needs be. And this is actually what happened during 2008-9: inventories dropped 30% and debt levels dropped by the same amount (cf. graph above). So the business model allows for a flexible inventory management which is cash generating in times of stress. To call Brammer capital light would be a stretch, but a case could be made that Brammer is capital "nimble". Indeed as was already pointed out all of its past ten years acquisitions could have been internally funded by earnings but management preferred to distribute over half of the earnings as dividends, a decision probably in part motivated with wanting to maintain a decent level of ROE. It is therefore quite clear that Brammer is not very dependent on its debt for its survival and management has quite some flexibility in which kind of capital structure they would like and how they allocate the capital. Management could choose for example to reduce dividends or not rely on acquisitions to spur growth anymore. There doesn't seem to be clear figures on how growth is split between organic vs acquisitions led growth, but the company communicated the following figures in their latest press release: "Growth in continental Europe (excluding Nordic region) in the four-month period was 10.8% (5.7% organically), and 12.6% year to date (5.6% organic)"11. This at the very least suggests that Brammer is not exclusively dependent on acquisitions for growth (the company is pushing hard its Invend initiative, existing customer base development through cross selling, etc.) and could even increase organic growth if it redirected the capital earmarked for acquisitions back into other initiatives (opening up of new subsidiaries, marketing, etc.).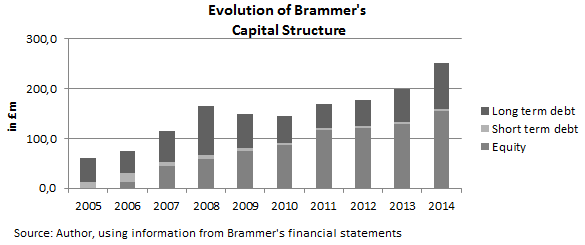 As one can see from this chart, Brammer has been able to rebuild its equity base and, at an equity to debt ratio of roughly 1.6, is now well capitalized. This of course means that it is now better able to cope with volatile conditions and reduces the chances it will have to recapitalize should more serious trouble come along. This capital nimbleness could be one of the reasons Brammer seems to be such a resilient company ever since it embarked on its new strategy: sure, earnings are volatile, but Brammer has not lost money in the last 10 years, and that's including 2008-9. An impressive feat for sure.
Catalysts
This analysis assumes that the European economy is near it's through and that, at worst, it won't significantly deteriorate in the next few years. Growth has been slightly picking up in the region in the last few months and, even though there have been worries about the global economy, the probability of a recession in Europe is quite low12. So buying into Brammer now could be a way of taking advantage of the short term gloom and doom whilst benefiting from medium to long term growth of European manufacturing and the regional economy as a whole. Also, at current prices, Brammer has been rumored to be a potential acquisition target in 201613.
Valuation
Currently the Brammer stock appears to be pricing in a roughly 11% ROE for the foreseeable future. For this I assume that in current low interest rate environment the required rate of return is around 10%. In this case, with the share price often well below £1.8, assuming an ROE of around 11% and average historical PE multiples, would give the required yield. That would mean Brammer earning on average £17m on current equity levels whereas, if we look at the previous table, it managed to earn £24m in 2013 (an ROE of nearly 19%). If however one looks at what happened in the past, every time Brammer came across a big issue which forced it to take a hit to its earnings, Brammer managed to one or two years later bounce right back to around its long term historical average. Average ROE for the 2007-14 period was 15%, and that's including 2008 and the bad results in 2014. Since Brammer's equity had been wiped out after the company's loss streak in the beginning of 2000 (2001, 2002 and 2003 where all loss making), ROE was 750% and 80% respectively in 2005 and 2006. And once the equity base built back up, it was above 20% in both 2007 and 2008. For 2009 the company managed to not lose any money and was back to above 15% ROEs from 2010 till 2013. As noted earlier, this remarkable resilience is probably linked to what I have called Brammer's capital nimbleness. So, even though 2014 ROE stood at an unimpressive 7.4% and 2015 should not be any better, I think there is a good probability that in the medium to long term Brammer will again bounce back to its long term average ROE of 15%. So if we assume that Brammer manages a 15% average ROE over the next five years, an average dividend rate of 53% (the average of Brammer's last 10 years dividend rate), its projected per share earnings should be around £0.24 in 2019. If we apply to this Brammer's average P/E for the last 10 years of around 14, that would mean its share price should trade for roughly £3.3. For an investor taxed at 35% on dividends and paying around £1.8 for a share of Brammer, that would equate to a perfectly satisfactory after tax CAGR neighboring 15%. Here is a table showing how Brammer compares to various of its peers:

As we can see, Brammer is less richly valued in all metrics except P/E. This can probably be interpreted as the market believing Brammer's current lackluster earnings are temporary and believes they will likely normalize in the medium term.
Risk factors
So Brammer seems like a good place to put your money in the medium to long term if you believe there is nothing fundamentally wrong with their business and that the macro environment is likely to improve in that time. So there seem to be two main obstacles from a macro context to this rosy picture in the short run. The first is China's slowing economy (which commentators have been debating for years now, the eternal "crash" vs "soft" landing) and the markets' reaction to the economic data coming out of China. However, to put things into context, whilst being one of Europe's biggest trading partners, China still only represents about 6% of the Eurozone's exports: the same as Switzerland14. The second threat, and even more to the point in the case of Brammer, is the outcome on the U.K. vote on whether or not to remain in the European Union. This vote should take place sometime before the end of 2017 and, obviously, the precise repercussions on U.K. business and economy cannot be known precisely, but it could have a material impact on Brammer.
Now internally, looking simply at the company, the only "weak" spot that Brammer appears to have to be careful of is a management sometimes a little too eager on growth at all cost. The quality of the management per se does not seem to be to blame: the CEO for example, Ian Fraser, is Oxford and Harvard educated and has held management positions with the likes of Exxon. Rather the executive remuneration structure appears maybe overly bent towards growth and "the bottom line". The bonus plan at a maximum of 125% of base salary seems reasonable enough. But on top of this plan the executives can also again earn up to 175% of their salary through the grants of "nil cost" options (that is to say, with a zero exercise price)15. Both the bonus and option plans appear to be heavily geared towards short term growth (from 1 to 3 year periods). The bonus plan is for example solely based over the relevant financial year performance: 80% on EBT targets and 20% for debt management/working capital. The share option plan is based 50% on EPS 3 year growth and 50% on share price 3 year performance versus the FTSE Mid Cap index. In the end, up to 60% of a given year's salary is based on single year variables and up to 40% on 3 year variables16. 67% of management's option bonus is based on them hitting "stretch" targets, further incentivizing them to aggressively pursue relatively short term growth. This reward structure results in hugely variable yearly compensations, the CEO taking home over £3m in 2011 (yes, that's 16% of that year's earnings… a seemingly very large number for a company this size…) and "only" £535k in 2014 (a down year, and representing about 5% of earnings). This compensation volatility obviously risks causing even more short term performance bias from management. And oddly enough, for the last ten years Brammer's "bull" years have all been 3-4 year runs: 2005-8 and then 2010-13… It is decidedly hard to agree with Brammer's definition of "long term" as being 3 years. A 5 year period would probably be preferable. However, this short term-ish reward structure could be one reason to hope management will turn around earnings in the next 3 to 4 years after the disappointing 2014-15 run, and thus continue the historical cycle of the past 10 years. One invested in the stock would just need to keep an eye open from time to time for excessive share dilution or acquisition binges by an overly eager management trying to boost short term profits, and should definitely do a complete review of their investment thesis in about 3 years.
Conclusion
So, even though not perfect under every angle, in our opinion Brammer remains a relatively well run business with solid earnings perspectives. I have a share price target of around £3.3 for 2019-20, making the current price of roughly £1.8 an attractive entry point to start building a position, especially when the price dips below that, as it has so many times in the last few weeks.
1 2014 Annual Report p. 2
2 2014 Annual Report, p. 13.
3 2014 Annual Report, p. 26.
4 Source: Financial Times (http://markets.ft.com/research/Markets/Tearsheets/Business-profile?s=BRAM:LSE)
5 I here will largely be discussing the points made in an article published "The Red Corner" December 2nd 2015 (http://quinzedix.blogspot.de/2015/12/brammer-plc-distributor-of-mro.html)
6 Brammer press release, Jan. 7th 2014.
7 2014 Annual Report, p. 19.
8 2014 Annual Report, p. 20.
9 2014 Annual Report, p. 10.
10 2014 Annual Report, p.75, "Consolidated Cash Flow Statement".
11 Trading Update, November 11th 2015 (http://blog.brammer.biz/trading-update-2/)
12 WSJ, "Eurozone Economy Grows Steadily but Outlook Darkens", 12.02.2016. (www.wsj.com/articles/german-economy-steady-as-robust-domestic-consumption-offsets-weaker-exports-1455261558)
13 Daily Mail, "Rumours rife that Michael Roney has one final interesting acquisition up his sleeve before quitting as chief executive of Bunzl", 03.02.2016. (www.thisismoney.co.uk/money/markets/article-3430407/MARKET-REPORT-Rumours-rife-Michael-Roney-one-final-interesting-acquisition-sleeve-quitting-chief-executive-Bunzl.html)
14 ECB, "Geographical composition of euro area trade in goods" (https://www.ecb.europa.eu/mopo/eaec/trade/html/index.en.html)
15 2014 Annual Report, p. 54.
16 2014 Annual Report, p. 53.
Disclosure: I/we have no positions in any stocks mentioned, and no plans to initiate any positions within the next 72 hours.
I wrote this article myself, and it expresses my own opinions. I am not receiving compensation for it (other than from Seeking Alpha). I have no business relationship with any company whose stock is mentioned in this article.