Click to enlarge
2016 will be the year of dividend cuts for oil stocks. So far, CoconoPhillips (NYSE:COP), Anadarko Petroleum (NYSE:APC), and Noble Energy (NYSE:NBL) have announced dividend cuts. ADRs such as Ecopetrol (NYSE:EC) and PetroChina (NYSE:PTR) have seen what amounts to dividend cuts.
Kinder Morgan (NYSE:KMI) has also slashed its dividend in spite of receiving substantial investments from substantial people. I wrote about KMI's dividend cut previously, but now I wish to address the question as to why all these oil companies are cutting their dividends while Exxon Mobile (NYSE:XOM) walks on, unfettered.
Clearly, KMI must be worth investing in. After all, Buffett, Soros, and Tepper bought in Q4, right before the dividend cut. In fact, the recent movement in KMI above $16 a share (a price target I claimed unlikely in my previous article) seems to have been fueled only by discloser of Buffett's investment: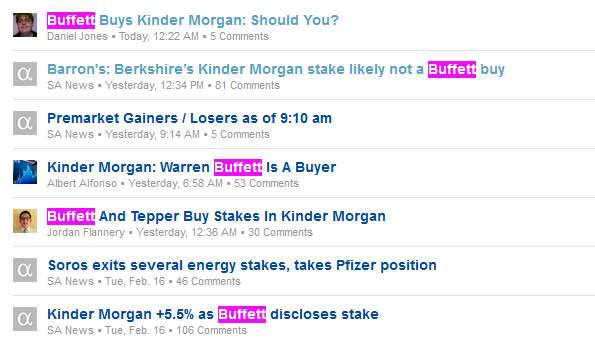 Still, KMI has cut its dividend by 75%, while XOM is likely to raise its next quarter. I think we all can use common sense to pick apart the differences between these two companies' abilities to sustain the dividend. But a deeper financial analysis can give us a better picture of what's so wrong with KMI and what's so right with XOM.
Dividend Sustainability: KMI
Let's start with the dividend itself: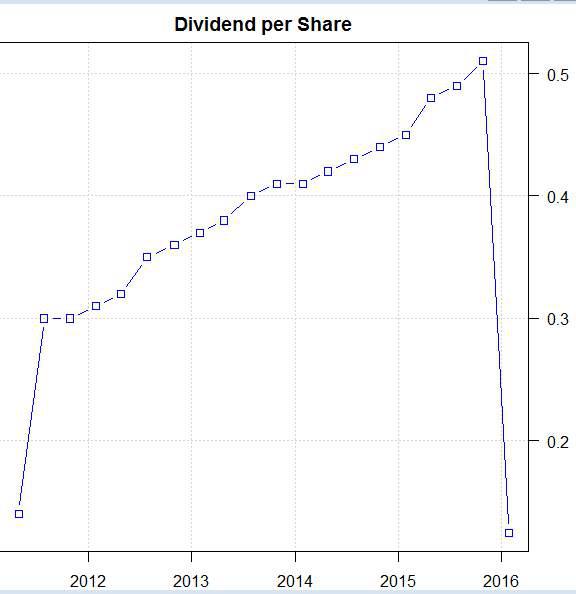 Prior to the dividend cut, KMI's dividend was a steady climber. Now we are way back where we started in 2011. The picture is quite clear, but I still wonder why even bother having a dividend this low? Why not simply suspend the dividend until the financials are better?
Remarkably, the dividend movement and price movement have been in alignment, possibly answering the question I just posed: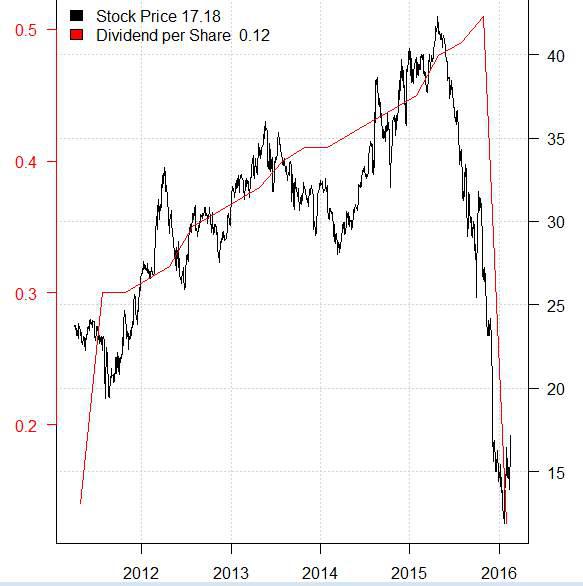 That is, perhaps the management of KMI were aware of the dividend being an impetus to investing, thereby insisting to maintain the dividend as a symbol of good will toward investors. However, if the dividend and stock price are truly linked, dropping the dividend to a tangibly low level should merely imply that the stock is going to stay at a low level as well. Ditch the dividend, for now, KMI.
The yield actually began dropping in 2014: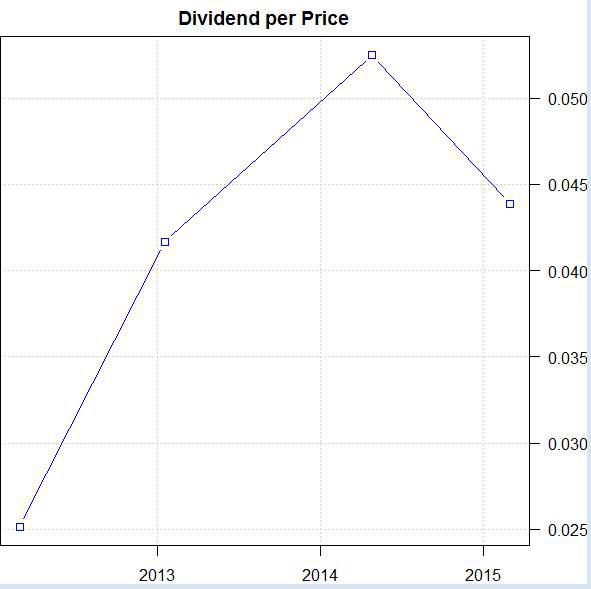 This was the first sign of major problems in KMI. The dividend was increasing while the stock was falling. Yet the stock's downward motion outpaced the dividend's upward motion, leading to a declining yield in a situation that typically results in a growing yield.
The next chart shows the problem actually beginning in 2013: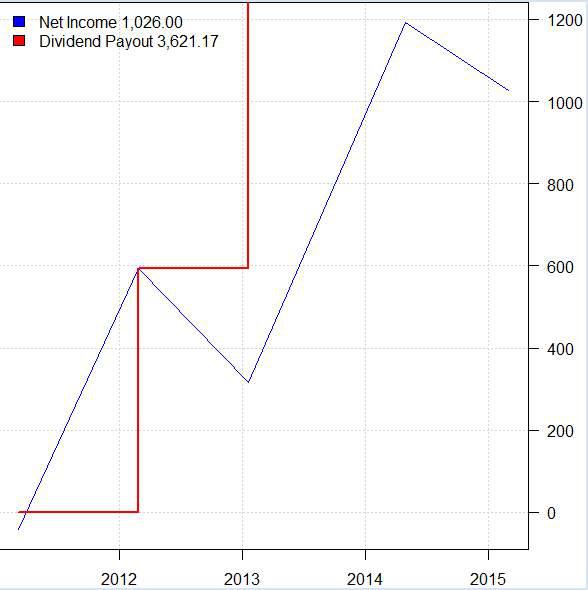 While the income and dividend payouts were matched in 2011 and 2012, the dividend payment spiraled to new heights. The payout is literally off the chart, significantly above the income. This is clearly unsustainable and would require KMI to go deep into debt just to maintain its dividend.
The management did the responsible thing by slashing the dividend. Still, I think a 100% cut would make more sense for now. What's the point of a 75% cut if your company's goal is to climb back to profitability?
KMI's management should forgo taking their private jets and sit on a commercial plane. At the very least, they'd learn something important from the flight safety presentation: When the oxygen masks appear, you take care of yourself before your child. If you cannot breathe, you're in no position to help your shareholders breathe.
Dividend Sustainability: XOM
We saw Goofus; now let's check out Gallant: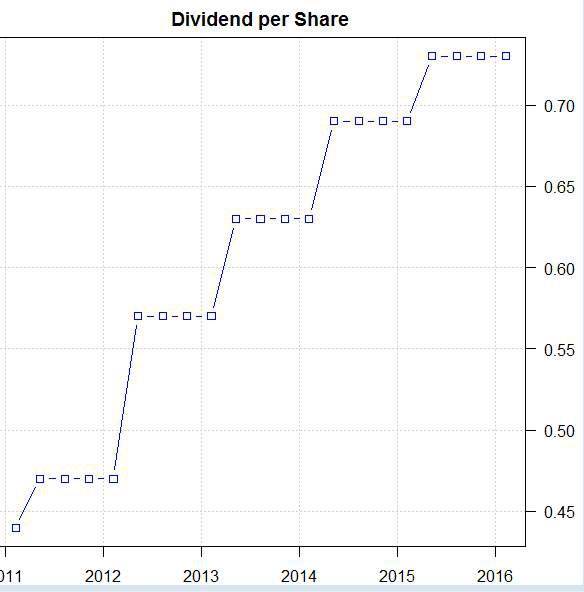 Unlike KMI's dividend, which slowly climbs but not to any clear pace, XOM's dividend is a stepwise function. That is, with a single dividend increase in Q2, management knows in advance how much they will be paying out in dividends. This is called "budgeting" in the standard household and in generally a smarter move than quarterly dividend increases (the latter also makes it harder to join the dividend aristocrats club).
When we chart the dividend with the stock price, we see that the trend breaks: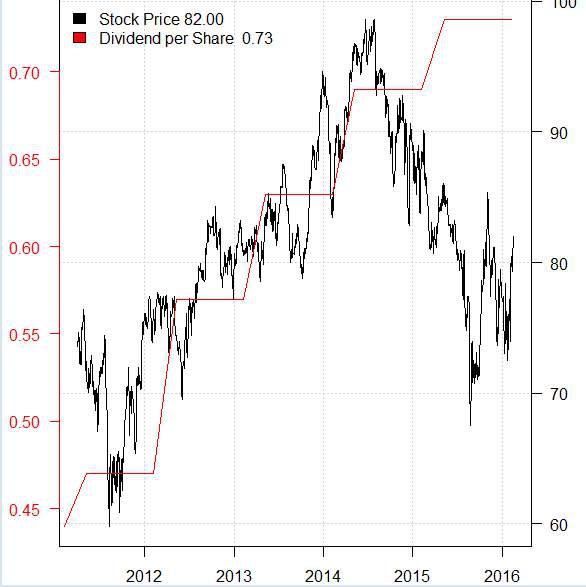 This break corresponds to the beginning of the oil bear market. As I mention in the next section, XOM has true exposure to this bear market, whereas KMI does not. Nevertheless, XOM has managed to consistently raise its dividend despite fundamental weaknesses.
In addition to consistently paying out dividends, XOM has been engaging in share buybacks: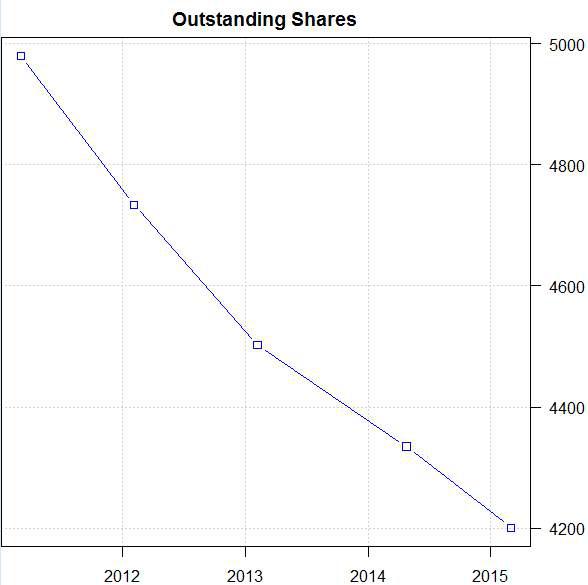 This puts more strain on the financials of XOM. Yet it is a smart decision in the long-run, as it means dampening the speed at which the dividend payouts increase.
Still, the yield of XOM is nothing to write home about: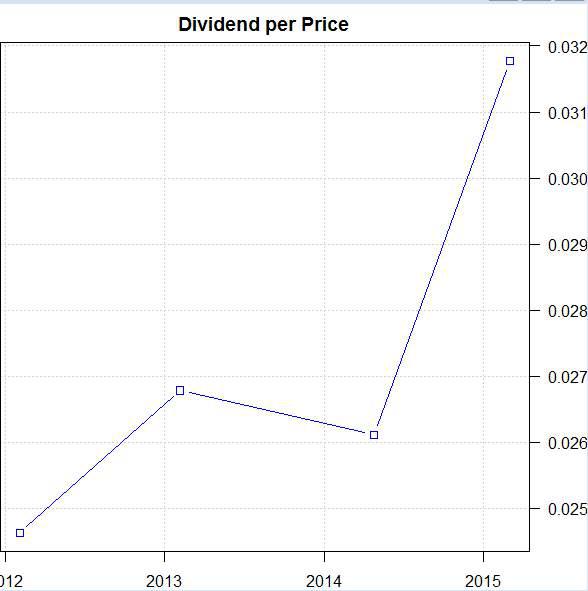 For a commodity stock, we should have a high enough standard to request yields of at least 4%. Through a linear regression analysis, I predict the dividend for 2016 to be $0.79 per quarter. At the current price of XOM, this equates to a yield of 3.9%.
But it is precisely this low yield that allows XOM to get away with paying dividends in a declining market: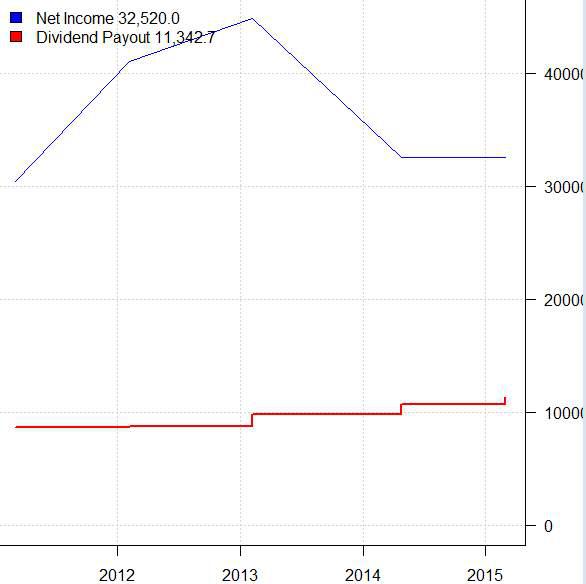 The dividend payout is significantly below the income of XOM. XOM could see a 66% earnings loss and still be able to maintain its dividend. Even the yearly increases don't make a dent in the overall income-to-payout ratio.
Some XOM investors have expressed concern about the dividend in this oil bear market. At first, such a concern sounds silly. But I give them the benefit of the doubt, especially after seeing the crashing free cash flow numbers - as we all know, dividends are paid in cash, not income: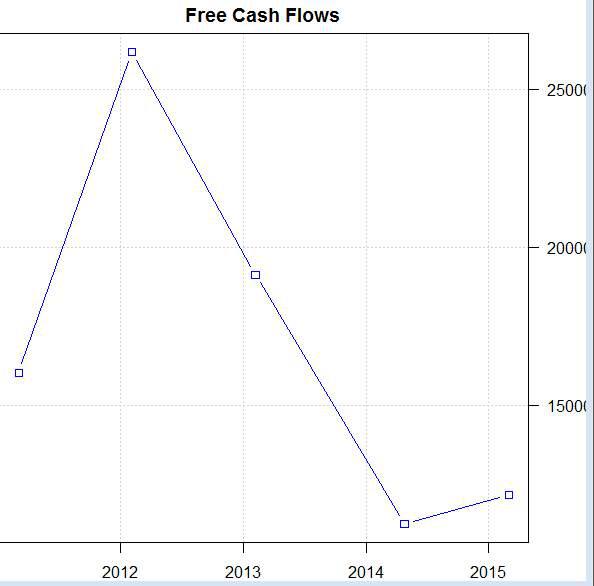 FCF dropped 50% in two years. Nevertheless, with FCF tipping upward, XOM investors can stay hopeful that things will get better. Still, even with the current FCF levels, the dividend is stable: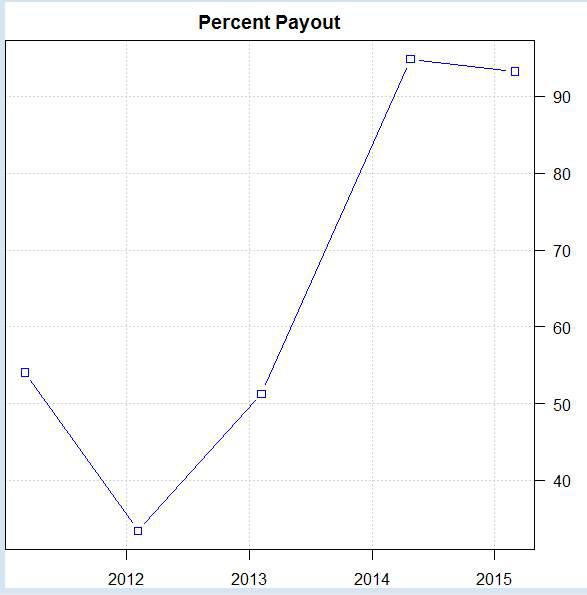 …Stable but expensive. As a percentage of free cash flow, XOM's dividends are occupying over 90% of the company's cash. Thus, concern is somewhat realistic, but XOM, being a dividend aristocrat, wouldn't let something like a lack of cash interfere with its 30 decades of consistent dividend growth.
The dividend is safe, and so are the increases.
Final Note: The Price of Oil
What's ironic about KMI's fast decline in regard to XOM's s-l-o-w decline is that XOM has negative exposure to oil price damage. KMI is a midstream company and as such is not hurt by declining oil prices. XOM has upstream integrated into its business model and is therefore likely to see earnings decline in this section of its business.
Yet KMI has hurt while XOM has remained stable. Nevertheless, KMI investors are in a good position because at this point, KMI has little downside. For now, KMI can focus on reducing their >1 debt-to-equity ratio and restoring its ability to pay dividends.
XOM, in contrast, still has downside. It has fallen 20% since its high of 100 in 2013. As oil falls, XOM shall also fall, albeit slowly.
When oil recovers, XOM also will recover - but again, slowly. With the future of oil unsure, XOM might seem like an interesting play, as it is a dividend aristocrat in an unpredictable sector. But with the future of oil uncertain and XOM moving slowly in this industry, XOM is not a great place to park your money as a speculative investment.
Overall, XOM's is primarily useful for investors who are building a dividend growth portfolio. KMI is primarily useful as a speculative turnaround growth play, not a dividend play. For either investment, I highly recommend you couple it with options plays to bring in extra income, coving the high opportunity costs of investing in either of these low yield stocks.
Disclosure: I/we have no positions in any stocks mentioned, and no plans to initiate any positions within the next 72 hours.
I wrote this article myself, and it expresses my own opinions. I am not receiving compensation for it (other than from Seeking Alpha). I have no business relationship with any company whose stock is mentioned in this article.