The market just posted its first three day rally of 2016 with another day of big gains on Wednesday. Even the beaten down biotech sector, which is in its biggest bear market decline since the end of the financial crisis; has been more than fully participating in the rally.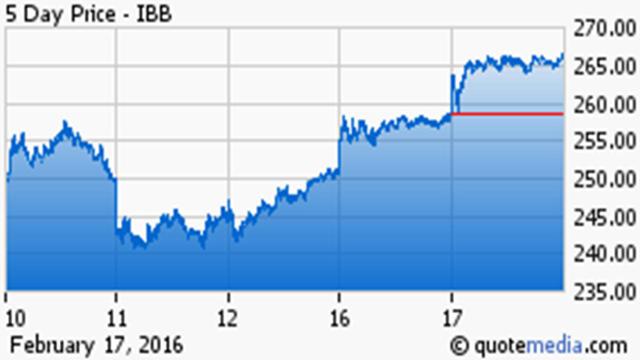 Click to enlarge
The only large cap name I know of that did not end up in the green on Wednesday was Gilead Sciences (NASDAQ:GILD). The stock has shown strength since February 2nd when it posted another blowout quarterly earnings report. The biotech juggernaut posted earnings of $3.32 a share, 10% above the consensus of ~$3.00 a share. Revenue for the quarter was $8.51 billion, almost $400 million above expectations. The company also boosted its dividend payout by 10% and added a whopping $14 billion to already existing $8 billion that was left on a previous stock buyback authorization.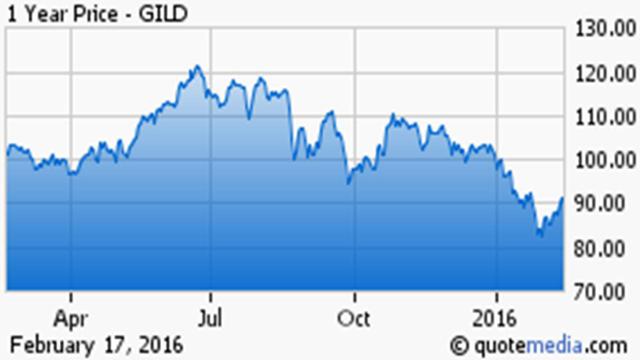 Click to enlarge
Despite sextupling earnings per share from FY2013 ($2.09/share) to FY2015 ($12.61/share) thanks to its blockbuster hepatitis C franchise which consists of Sovaldi & Harvoni, the shares have gotten little love from investors over the past year. In fact, Gilead shares have become Mr. Market's favorite large cap punching bag. Despite blowing out quarterly numbers consistently since Sovaldi was launched in February of 2014, every new perceived threat to its hepatitis C market seems to send the shares down. Yesterday the trigger for the pullback was positive Phase II trials in the HCV space by small cap biotech concern Regulus Therapeutics (RGLS). The longshot threat to Harvoni was responsible for a 2% decline in the stock of Gilead on Wednesday.
This was just the latest of a long line "competition is on the horizon" worries Harvoni & Sovaldi have faced since their rollout. Towards the end of 2014, investors were concerned that Viekera Pak from AbbVie (NYSE:ABBV) was going to be a significant competitive threat in the hepatitis C space. Several analysts had it garnering 20% to 25% of market share in hepatitis C space by yearend 2015. In reality, Viekera Pak's stands closer to seven percent of the overall hepatitis C market by sales right now and AbbVie recently reduced their guidance for 2016's sales for Viekera Pak.
Recently investors have also fretted about new hepatitis C offerings from Merck (NYSE:MRK) which just hit the market. This despite the fact that no analyst I have seen has these new products even hitting $1 billion in sales in 2016. To put this in perspective, Sovaldi & Harvoni did $19.1 billion in revenue in FY2015. Harvoni was also just approved for two more HCV indications.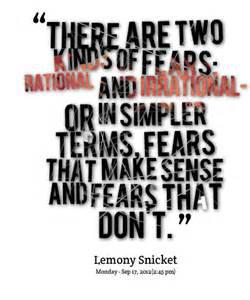 This latest worry about possible years out in the future possible competition from Regulus doesn't even pass the smell test in my opinion. Even after Wednesday's rally, Regulus has a market value of less than $300 million if you take out cash on hand. If their product was going to be a legitimate competitor in the HCV space, Gilead could spend $1 billion and buy them out for more than a 200% premium and that would amount to less than one month of Gilead's free cash flow. So could their competitors in the HCV space like AbbVie or Merck.
Given the equity value of RGLS, Mr. Market is saying Regulus is not a significant threat to Gilead's hepatitis C franchise. Nevertheless, these worries knocked some $2.5 billion off Gilead's market capitalization yesterday. Ironically, that amounts to eight Regulus' at current market value. There was also a good article today on why Regulus is in all likelihood not a significant threat to Harvoni's franchise as well.
I don't know when sentiment will turn more positive on Gilead, but I do know that the stock provides great value here and investors who have abandoned the Gilead story has lived to regret it over the past 15 years. As I recently noted, Gilead has retired some 20% of its outstanding float over the past five years utilizing its free cash flow. Those efforts have gone on overdrive as the company's free cash flow is exploding. Currently, the company is on track to retire more than one percent of its float every month at these prices. This means Gilead will have retired one third of its stock over the past half dozen years by yearend. How many companies can say that?
In addition to using its free cash flow which should amount to some $15 billion this year to buy back stock, the company has continue to lift its dividend payouts and now yields just under two percent as well.
Analysts have consistently been behind the curve in estimating Gilead's earnings power since Sovaldi rolled out in the first quarter of 2014. In the last four quarters, Gilead has beat the bottom line consensus by at least 10% each time. Consensus earnings estimates have move up two percent over the past month to ~$12.20 a share in FY2016. Analysts and the market also do not be giving Gilead any credit for its expanding pipeline outside its core HIV and HCV franchises, which I recently articulated as well.
Finally, analysts are still not factoring in that Gilead will buy more than 10% of its float in FY2016 and the continue persistence of Harvoni & Sovaldi revenues despite constant worries about "competition". If Gilead does not make $13.00 a share or better this fiscal year, I would be surprised. This mean GILD sells for under seven times this year's likely earnings and offers more than a 10% free cash flow yield. Investors should ignore all the noise on Gilead, and just do what the company is doing; just continue to accumulate the shares. STRONG BUY
Disclosure: I am/we are long ABBV, GILD.
I wrote this article myself, and it expresses my own opinions. I am not receiving compensation for it (other than from Seeking Alpha). I have no business relationship with any company whose stock is mentioned in this article.