Devon Energy (NYSE:DVN), the oil and gas producer which also owns 25% of midstream master limited partnership EnLink Midstream Partners (NYSE:ENLK) and 64% of its general partner EnLink Midstream (NYSE:ENLC), has recently reported its fourth quarter results and laid out an aggressive cost cutting plan as it braces for a tough oil price environment.
Earnings recap
During the quarter, Devon Energy posted 2.4% year-over-year increase in total production to 681,000 barrels of oil equivalent per day, including 7% increase in net production from core assets in US and Canada to 571,000 boe per day. Total oil production, the company's highest margin product, increased 16% from a year earlier to 278,000 barrels day, of which nearly 90% came from core assets.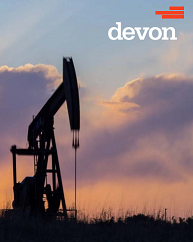 Image: Devon Energy
But the realized price for liquids and natural gas fell 23.3% to $29.44 per boe, after accounting for the impact of hedges. Consequently, revenues from sale of hydrocarbons dropped 46.4% to $1.12 billion while total revenues, including marketing and midstream revenues, dropped 51.9% to $2.89 billion. That missed analysts' consensus revenue estimate of $3.63 billion, according to data compiled by Thomson Reuters.
But due to lower costs, and a boost from the midstream business which generated operating profits of $210 million in the fourth quarter, the company remained profitable in the downturn and posted adjusted earnings of $0.77 per share, excluding $5.34 billion write-down and $78 million in restructuring charges. The earnings were better than Wall Street's estimate of a profit of $0.70 per share.
The company also slashed its quarterly dividend from $0.24 to just $0.06 per share, expects to lay off 20% of its workforce and significantly reduce capital budget for exploration and production by 75% from last year to the range of $900 million to $1.1 billion in 2016.
Devon has also planned to sell 55 million shares in a public offering while the underwriters will have an option to buy an additional 8.25 million shares. The company intends to use the proceeds to reduce debt, improve liquidity, fund the capital program and meet general corporate needs.
Analysis
Devon Energy delivered a decent performance in the fourth quarter. The oil and oil equivalent production was well within the guidance Devon gave in the third quarter of 276,000 to 286,000 barrels a day and 662,000 to 682,000 boe a day respectively. But more importantly, Devon continues to expand in the higher margin oil business. The liquid volume represented 62% of the company's production from core assets. Meanwhile, it is delivering on the cost cutting front. The company reported 20% decline in field-level operating costs, which includes lease operating expenses and production taxes, and 25% drop in general and administrative costs on a per barrel basis from the fourth quarter of 2014.
But Devon's shares have declined 4.4% following the earnings release and will likely remain under pressure. The negative reaction from shareholders is understandable, considering the large dividend cut, dilution fears following the public offering which could increase the number of outstanding by up to 15% and the anticipated drop in production which will negatively impact earnings. But I believe Devon has taken the bold, commendable decision to reduce its cash outflows. This shows that the company's management is determined to preserve the financial health at all cost.
Devon's plan to reduce dividends will have a positive impact of $320 million on annual cash flows. The share offering will have a negative impact on EPS moving forward and it will be costly considering Devon's shares are hovering near 52-week lows, but it could give a much needed boost to Devon's financial health which wasn't great to begin with. Overall, through dividend reduction, decline in G&A on the back of layoffs and lower field-level operating costs will allow the company to save up to $1.2 billion in 2016.
As a reminder, Devon has been one of the highly- leveraged large-cap E&P companies. At a time when oil producer are scrambling to improve balance sheet, Devon's debt actually climbed 23.5% from the end of last year to $12.14 billion. That's significant considering Devon has a market cap of $8.3 billion and it has been free cash flow negative. Moreover, Devon has no meaningful downside protection for 2016, unlike last year when hedges softened the blow coming from cheap oil. In the fourth quarter, for instance, the cash settlement on derivatives lifted the realized price from $17.85 to $29.44 per barrel. The company, therefore, needed to take some tough decisions to protect its financial health; and that's what it has done.
But I believe the biggest positive from the earnings release was that Devon is still committed to balancing 2016 spending with cash flows. The company talked about achieving cash flow neutrality last year, with support from asset sales and MLP distributions, when oil price environment was considerably better than the current range of high-$20s to mid-$30s a barrel. I wouldn't have been surprised if the company were to abandon its cash flow neutrality ambitions due to deteriorating business environment.
But instead the company has taken the prudent decision to take a swipe at its capital budget. The reduction in capital expenditure is bigger than I, or perhaps any other SA contributor or sell side analyst anticipated. Devon has made the sensible move to abandon its production growth ambitions, since growing oil volumes at a time when prices are already near multi-year lows and market is struggling with excess supply will not help anyone. The company is now projecting 6.7% decline in oil production and 9.5% decline in total production, based on the mid-point of its guidance, in 2016. It was previously aiming for low-single-digit increase in oil production.
Disclosure: I/we have no positions in any stocks mentioned, and no plans to initiate any positions within the next 72 hours.
I wrote this article myself, and it expresses my own opinions. I am not receiving compensation for it (other than from Seeking Alpha). I have no business relationship with any company whose stock is mentioned in this article.