Valero (NYSE:VLO) stock is down almost 20% year to date here and the slump in the share price has resulted in a nice value play especially when you consider its latest fourth quarter results and the 20% hike in the dividend. Valero's slashed its quarterly dividend back in 2010 to $0.05 a share but I believe there is little risk to the dividend at present due to the company's low valuation and earnings growth. The company did $87.8 billion in revenues in 2015 and net incomes of $3.99 billion which was very impressive. Can it continue into 2016? Probably not due to gasoline inventories being very high although low prices should keep demand levels elevated. Average EPS estimates for 2016 is $7.51 and then $7.76 in 2017. Revenues are expected to dip in 2016 down to $70.51 billion and then rise meaningfully to $82.58 billion in 2017 as shown below.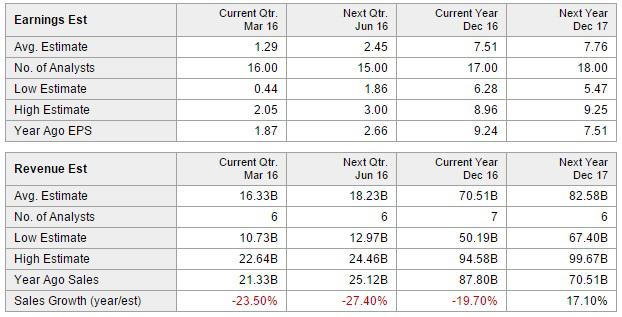 However analysts lower expectations seem to be fully priced into the share price and this company clearly has momentum especially when you see the 23% surprise to its earnings beat last quarter. 2016 and 2017 EPS projections are also well up over the last 3 months confirming analysts renewed bullishness on this stock.
Bullish expectations are also down to the stock's present valuation. Valero presently has an earnings multiple of 6.4 which is well below the company's 5 year average of 9.6. The forward earnings multiple is slightly higher at 7.4 which is in line with lower earnings projections but what really makes this stock stand out are its favorable fundamentals across the board. Its current ratio of 2.06 and debt to equity ratio of 0.34 illustrates that liquidity is not a problem. Free cash flow has soared in the recent quarters which has given the company a trailing twelve month free cash flow average of $4.2 billion. Even with the recent dividend hike, dividend payments only come to $1.15 billion annually which means there is plenty of scope for meaningful dividend increases in the next few years. Furthermore it's not so much the excellent dividend growth rates that are attracting yield investors but the pace of the share buybacks which increased by $724 million last year (see chart).
The company's target is a pay-out ratio of 75% (dividend and share buybacks) over the next couple of years. What's the takeaway? With the stock coming off its highs, one would be hard pressed finding a stock with a 4%+ yield and a lower dividend pay-out ratio than Valero. I have learned through the years than anytime you can pick up shares in a company with financials such as Valero, it always works out to be a solid long term investment.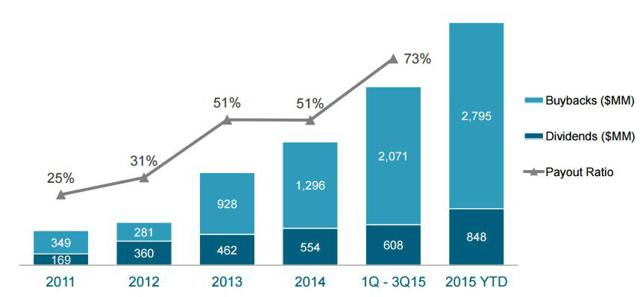 Click to enlarge
Source : Company Website
On the weekly technical chart, we can see that the stock has strong support (2014 highs) where it is trading at present (just under $58 a share). Furthermore the RSI indicator is showing a pop is imminent plus the slow stochastics indicator has reached the lower end of its range which illustrates that downside risk is limited at these levels.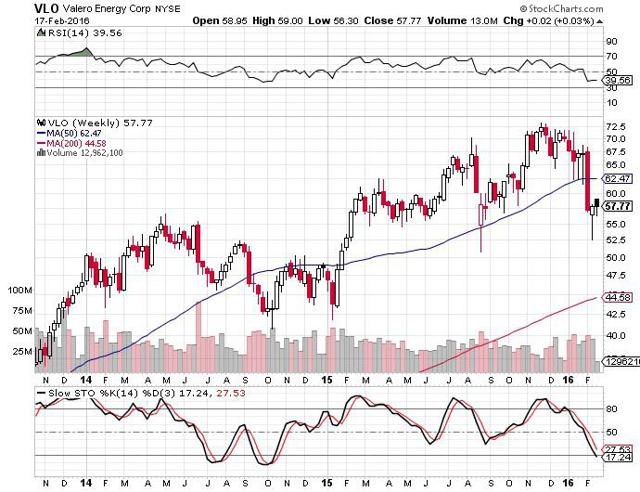 Click to enlarge
With respect to fundamentals, here are a number of growth drivers that should keep profits elevated over the next couple of years. Bears quickly point to crack spreads and the present oil price (which everybody assumes will go up) as being bearish for Valero's margins going forward but when you consider the amount of shale oil that is ready to come back on stream plus the latest production freeze, it is apparent that oil prices will be capped at least in the near term. Nevertheless even if they rise, Valero has the fundamentals to keep earnings elevated
Revenue was well down last year due to lower price realizations but ongoing pipeline projects will increase supply and turnover accordingly. The company is projecting more than 1,400 million barrels per day shortly
Increased used of domestic discounted crude will keep margins elevated
Valero's can shift its mix processing (light crude or heavy crude) depending on economics at short notice. This versatility ensures sustained high performance
The one outlier is the cyclicality of this business which is the reason for its current low earnings multiple. We see this also in the auto industry with companies like Ford (NYSE:F) trading at very low valuations despite having record sales in 2015. However I believe oil will remain range bound for the foreseeable future which is why we are adding Valero Energy to the elevation portfolio.
The portfolio after today will be about 29% invested. This portfolio will be all about increasing trade activity among some overvalued dividend growth stocks like McDonald's (NYSE:MCD) so that over time we can pump more capital into our lower valued dividend growth stocks which by nature should be paying higher dividends - IBM (NYSE:IBM). We need to do this to keep the portfolio diversified as this increases our reward potential going forward as income portfolios are all about share count which we will increase substantially over time.
I'm going to be adding a good few dividend stocks to the elevation portfolio over the next several weeks when I see value. It's imperative that they are not correlated and don't all have similar valuations to ensure income is brought in every month which over time will increase our share count. Follow along by pressing the "Follow" button above. Let's see how quick we can get this to $20k in annual income.
Disclosure: I am/we are long VLO.
I wrote this article myself, and it expresses my own opinions. I am not receiving compensation for it (other than from Seeking Alpha). I have no business relationship with any company whose stock is mentioned in this article.