In a recent press release, Walmart (NYSE:WMT) announced that it plans to open more than 300 stores this year. That number comprises 50 to 60 supercenters, 85 to 95 Neighborhood Markets and 10 Sam's club in the U.S., and another 200 to 240 stores will be opened internationally. If they achieve that, it will be one of the biggest years of international expansion in the history of Walmart.
The Strategy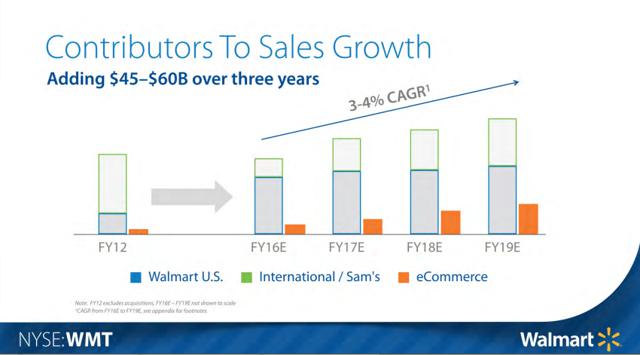 Click to enlarge
Source: Walmart
Walmart plans to add $45 to $60 billion to its top line over three years.
Growth drivers are North America and China. (Supercenters and Neighborhood Markets)
Using e-commerce to provide a seamless integration between online and in-store experience.
The BIG Question
Such growth can look impressive on paper - and make for some great PR - but does it really work out for Walmart? Let's see what happened around the world and in the U.S. to see why Walmart may be about to repeat a mistake they've been criticized for several times.
Walmart's International Footprint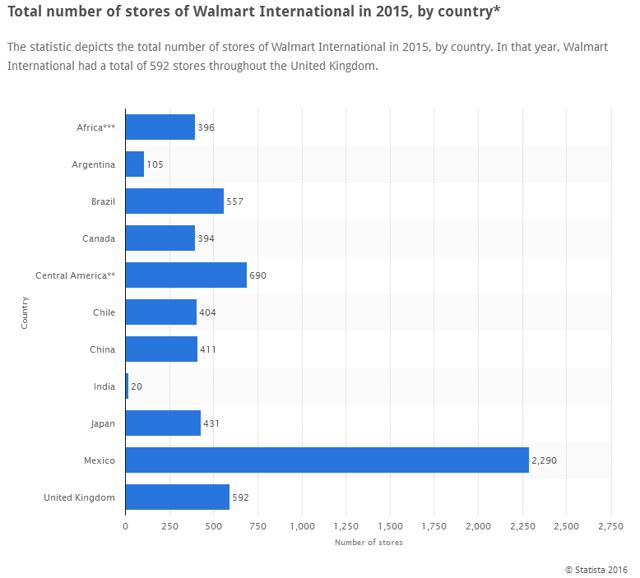 Click to enlarge
After North America, Mexico is the second largest market for Walmart with 2200+ stores, followed by Brazil with 557 stores, the UK with 592 stores and China with 411 stores. Walmart's Europe foray hasn't been quite the success they'd hoped it would be. The company closed its German operations in 2006 after struggling to gain foothold in one of the strong economies of the world. The exit from Germany is such a good example of why a simple repeat of the strategies the company follows in its home market may not work the same way in overseas markets. Country-specific regulations, local unions and a host of logistical problems pose major hurdles for Walmart wherever they go - not to forget the negative PR that plagues them every step of the way.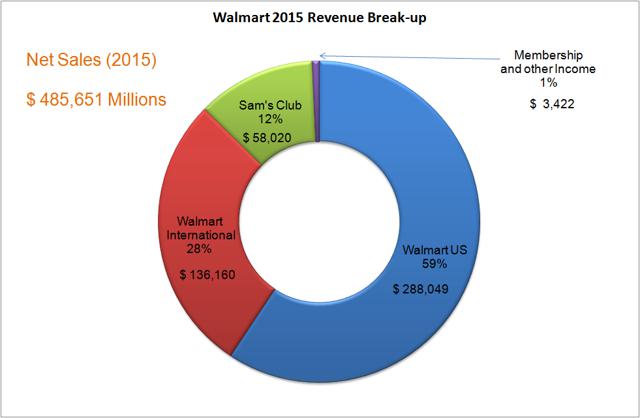 Click to enlarge
Though the company draws less than 30% of its net sales from its international operations, the $136 billion it represents is significant.
China, the UK and Brazil are the three countries where the company has a sizeable presence. Of these, the company considers China to be the main hub of its international expansion plans.
The China Angle
From their Q3 Earnings Call: CEO Doug McMillon
"China remains a huge long term opportunity. We started in China in 1996. We've grown the business, reached profitability years ago and grown our level of profitability. We obviously learned a lot about Chinese customers and the market and that's an asset. A few weeks ago I was back in Beijing and Shanghai walking stores, clubs and visiting our e-commerce offices. We now have a total of 12 Sam's Clubs open and they're performing very well. Our stores have clearly improved operationally in recent years in particular and now they're supported by a supply chain that positions us to win. We see that e-commerce, online grocery and convenience are critical in the dense urban areas that make up so much of the Chinese opportunity. That's why our Yihaodian acquisition is of such strategic significance.
We also recommitted to our work on food safety, environmental sustainability and empowering women during my visit, announcing another investment in the China Women's Development Foundation. With the improvements we've made to our stores and clubs and the full acquisition of Yihaodian we have a unique opportunity and a plan to put it all together to win in China."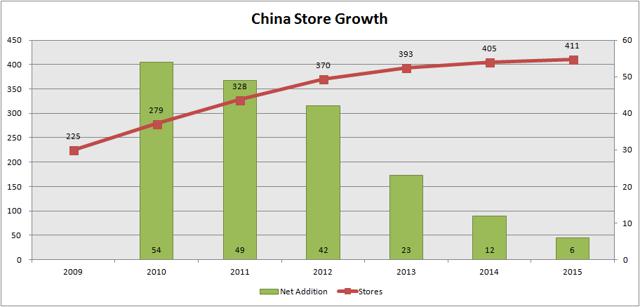 Click to enlarge
Walmart wants to improve its Chinese footprint by adding 115 new stores by 2017 - a near 30% jump from their 2015 levels. Let's not forget that Walmart has been in China for nearly two decades and they are still struggling to significantly improve their operations.
Despite the setbacks, the company has stuck it out in this region - while at the same time willing to make an exit from markets like Germany and South Korea. Walmart does, indeed, have long-term plans for the PRC, and they will fight to stay there even if they have to change their thinking.
But what I see is a glaring disconnect in their strategy…
Investor-speak: A New Walmart?
"We're closing some stores because we got enamored with growth," said Raymond Bracy, head of corporate affairs at Walmart China. "We're not going to do that again. We're focusing on quality first."
Now segue into their target of opening 115 stores by 2017 and you'll see the disconnect I'm talking about.
In the past, whenever they've expanded rapidly (even within the United States) they've had to go back and close a bunch of stores. In some cases they've had to close down all operations in an entire country. In China, in 2011, their 25 store closures came after the realization that the country that makes the cheapest products in the world doesn't value price as much as it does quality. Go figure! That happened after a period of rapid expansion as well.
So what does Walmart intend to do differently this time?
The way I see it, Walmart executives don't have the inclination or patience for any kind of growth that can't filter down to their EPS a mere one or two years after they implement it. That's what happened with Walmart Express, as I covered in my article called Wal-Mart Makes A Tough Call On Underperforming Stores... Lessons Learned?.
Once again they seem to have been afflicted by the 'speed over steady' attitude that's caused them so much pain over the years.
The only positive I can see in all this is that they've chosen to roost in China, so now they only have two markets to really focus on - China and the United States. Also, their focus on the fresh produce segment in both these markets will adequately support their bottom line. And finally, their neighborhood market concept where they're trying to 'marry' online and offline shopping will definitely justify the effort if they wait long enough to reap the returns.
I believe these opportunities will add up over a period of time - as long as they try and curb their appetite for aggressive growth in exchange for gradual but steady growth.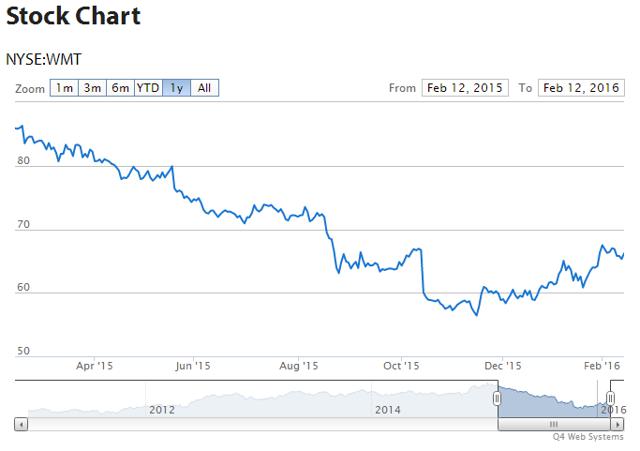 Click to enlarge
Since November their stock has been steadily climbing. If you want in, then there will be plenty of opportunities to buy in the next four quarters, as the company expects EPS to drop this year. The announcement of closures in the United States have actually done them good, and their focus for China and the U.S. will carry the stamp of learning that's been sorely missing from their growth mix so far.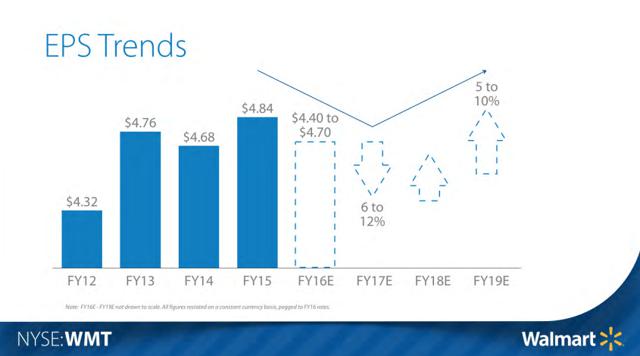 Click to enlarge
Source: Walmart
Investors now realize that Walmart is aware of its mistakes; hopefully, their faith will be justified as Walmart moves forward in 2016 and beyond - and in a way that continues to validate the assumption that the company now recognizes its weakness and intends to play to its strengths.
Disclosure: I/we have no positions in any stocks mentioned, and no plans to initiate any positions within the next 72 hours.
I wrote this article myself, and it expresses my own opinions. I am not receiving compensation for it (other than from Seeking Alpha). I have no business relationship with any company whose stock is mentioned in this article.