The Coca-Cola Company (NYSE:KO) has just announced yet another dividend increase, its 54th consecutive, as Seeking Alpha has covered here. As usual, the company stuck to its pattern of announcing the dividend increase on the third Thursday of February each year. An alarm clock would be proud of this timing!
This article was written back in 2014 when Coca-Cola announced its 52nd consecutive dividend increase. With the latest increase in mind, let us re-evaluate the numbers.
Current Yield: The new annual dividend of $1.40 per share gives Coca-Cola a current yield of 3.21%. As can be seen in the chart below, this is the highest yield Coca-Cola has had over the past five years. Many beginners make the mistake of looking at only the current yield and shun an investment.
But stocks like Coca-Cola and Johnson & Johnson (NYSE:JNJ) have been yielding close to 3% for a very long time, despite decades of dividend increases. This is because these stocks generally have a floor at a particular yield point and the share price goes up slowly over time to catch up with the increasing dividends. Essentially, investors get a slow and steady increase in their income as well as share price.

Click to enlarge
Source: YCharts.Com
Payout Ratio: The payout ratio has gone up to 83% with this latest increase, up from 63% after the 2014 increase. This should concern investors a little as expanding payout ratios leave little room for future dividend increases. But let us evaluate the company's ability to pay one more way below.
Free Cash Flow:
Total shares outstanding: 4.34 billion
New quarterly dividend: 35 cents per share
Quarterly free cash flow required to cover dividends: $1.5 billion
Coke's average quarterly free cash flow over the last five years: $1.93 billion
Although the payout ratio is expanding, we aren't too alarmed at this point. Free cash flow is generally a better metric as earnings can be temporarily impacted by rare events that are unlikely to recur. With the average free cash flow nearly 30% above the dividend requirements, investors can relax a little.
Dividend Growth Rate: The 5 year dividend growth rate now stands at 8.30%. It was 8.28% after the 2014 increase. This pattern reeks of consistency as well.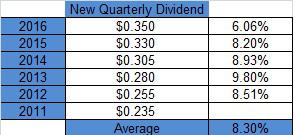 Source: Yahoo Finance
Extrapolation: To do a fair comparison with 2014, the table below assumes a 7%/yr dividend increase for the next five years and 5% increase/yr for the last five years. The yield on cost will grow to 5.76% in this time period. This number was 5.90% in the 2014 article. This yield on cost isn't earth shattering but when you factor in the reliability and the likely hood of the share price catching up to dividend increases, most income seeking investors will take it.

Source: Current share price and dividend data from Yahoo Finance.
What Does The Future Hold?:
The recent earnings report had many encouraging aspects for investors. Despite all the odds, Coca-Cola showed volume growth in many major components. Classic Coke grew 1%, Coke Zero 7%, Sprite 3%, Water 8%, and Tea 6%. Coke is also an expert when it comes to slashing costs and carrying out restructuring programs. The ongoing bottler restructuring program will save $1 billion in the next few years. Not to forget the expanding growth initiatives as well.
While the market has recovered a little this week, all three major indexes are still down at least 5% YTD. Coca-Cola is one of the eight stocks in the Dow Jones Industrial Average that is in the green YTD, with only five stocks performing better than it. Investors should not be fooled by the rally this week and must brace for sell-offs if recent reports are to be believed. Safety doesn't get better than this stock.
Conclusion: As with the 2014 article, we still believe Coca-Cola as an income stock is holding its promise of delivering consistent and predictable dividend increases. If your investment thesis calls for stability, current income, and growing income, stick with Coca-Cola. We are.
Disclosure: I am/we are long KO, JNJ.
I wrote this article myself, and it expresses my own opinions. I am not receiving compensation for it (other than from Seeking Alpha). I have no business relationship with any company whose stock is mentioned in this article.