VASCO Data Security International (NASDAQ:VDSI) is the developer, manufacturer and retailer of security solutions, both hardware and software, for financial transactions.
I decided to look in to VDSI after a great Top Idea article from Seeking Alpha contributor Ariana Research who is definitely worth a follow. In the article, Ariana outlined that VDSI was significantly over-valued at the time due in part to a building bubble in data security stocks and the risks to its business model. This played out quite well if you went short VDSI at that time: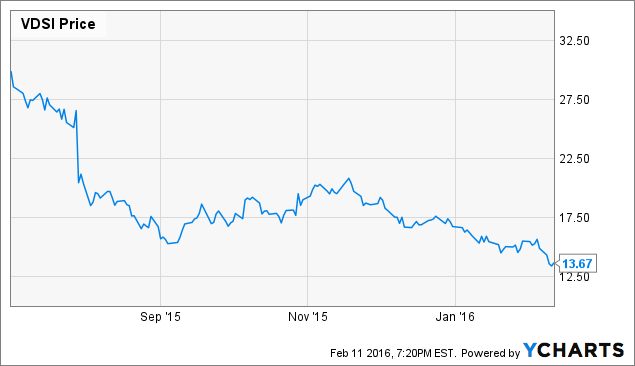 However, this trade has even overshot Ariana's downside target which made me ask the question: has the sell off become overdone? VDSI had a few key events since then that are worth exploring further.
Earnings
VDSI had decent earnings in both Q2 and Q3, though its Q2 were significantly better received than Q3's. Q3 still showed revenue growth of 14% over last year's quarter but this was a decelerating trend from the prior quarter. Additionally, its margins shrank, at both the gross margin and operating margin level. The gross margins, while still high at 60%, were down from 66% in the year prior. This reflected the increasing proportion of revenues derived from its hardware segment (notably through Rabobank) for key fobs etc. which have margins 25 to 35% below its software business. This combined with moderately higher G&A costs to result in reduced operating income year over year despite the increased revenues. The market started to sell off VDSI due to these results, combined with the fact it only reiterated guidance of $230 - $240m in revenues in Q3.
VDSI announced Q4 earnings February 16 which largely met these expectations; revenue was slightly above its most recent guidance at $241.5m, up 20% from 2014 while gross margins were down to 61% for the year, from 63% in 2014. This was largely due to the completion in late 2015 of a large one-time hardware deal with Rabobank. Operating income was up to $50.5m in 2015 from $38.1m in 2014, again driven by the one-time Rabobank hardware deal. All in all, the results seemed good.
However, the company then issued weak guidance for 2016 with revenues of $205 to $215m (well down from 2015's levels) and operating margins of between 10 and 12%, also well off the 21% rate in 2015.
The impact of the Rabobank one-time hardware upgrade cannot be underestimated. Worth approximately $70m in revenue over late 2014 and the first three quarters of 2015, this was essentially a one-time windfall for the company. Management has indicated that hardware margins are between 25 and 35% less than the overall company margins. If we look at the higher of these, this means that the Rabobank deal contributed roughly $21m almost directly to the bottom line as it likely didn't cause significant increases in G&A or R&D since Rabobank is and remains an existing customer of VDSI's.
We can see this when we normalize the company revenues to break out the Rabobank impact for the last two years compared to its projections:
| | | | |
| --- | --- | --- | --- |
| in millions USD | 2014 | 2015 | 2016 |
| Revenues (Gross) | 201.5 | 241.5 | 205 - 215 |
| Less: Rabobank impact | (17.5) | (52.5) | 0 |
| Revenues (normalized) | 184.0 | 191.0 | 205 - 215 |
Source: Company filings, author estimates, Q4 conference call
We can see that their underlying business continues to be in a growth trend. The market has become concerned that VDSI was not going to maintain its growth trend since there was no project coming to replace the Rabobank revenues. This deal was free operating margin for VDSI, so you can't really blame management for taking it on, even if it hurt certain metrics like margins and sequential growth; it is the nature of business to have ebbs and flows, even if analysts don't like it. If we factor out the Rabobank numbers, the underlying business is continuing to develop well.
Recent disappointments from Yelp and LinkedIn have had the market spooked; combined with the overall sentiment and there was a real risk to be had with its earnings. While VDSI did sell off 3.7% after releasing its Q4 results and outlook, on a very strong up day for the market, this could have been substantially worse. To an extent, it looks like we are nearing a peak in the pessimism towards VDSI.
The Silanis Acquisition
On October 6, 2015, VDSI entered into an agreement to acquire Silanis Technology Inc. for $85m, paid out of VDSI's substantial cash balances. This is a step towards improving their margins as Silanis is a software company which has developed the eSignature technology. VDSI is very excited about this acquisition, devoting a full slide to its benefits: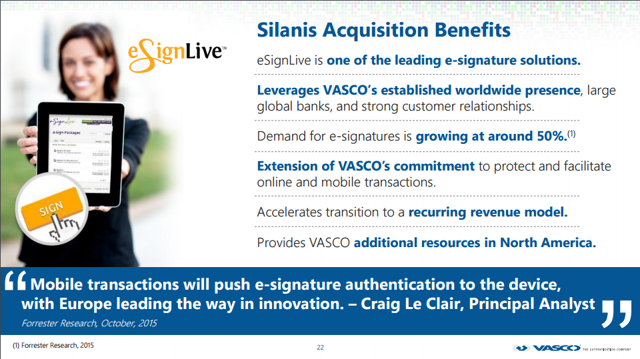 Click to enlarge
Silanis' eSignLive is a natural fit with VDSI's current line of products. As management noted above, it is a clear growth area capitalizing on the continued digitization of financial transactions as well as decentralized business being conducted more through mobile applications.
According to its press release, management doesn't expect this acquisition to be accretive until 2017. If we look at Silanis' financial statements, this would appear to be right as they had a very high cash burn: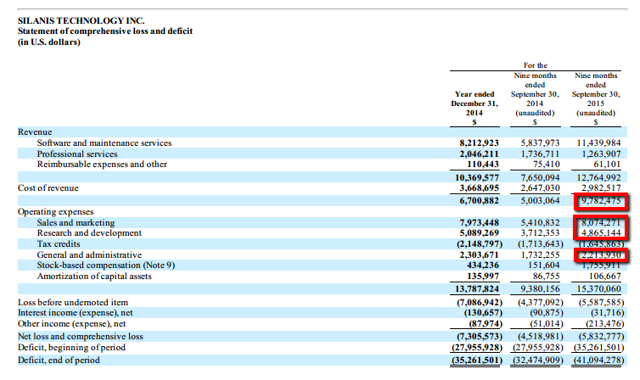 Click to enlarge
Source: 8-K Filing
With gross margins of 77% through nine months in fiscal 2015, Silanis will clearly help improve VDSI's gross margins. However, I found the lack of accretion in 2016 odd. Based in Montreal, it would be very easy to bolt on the sales and G&A team to VDSI's existing infrastructure while bringing over a small portion of the R&D team. This would be more than accretive if we look at how the revenue is pacing in 2015. So what is happening in 2016 preventing any bump to the bottom line?
Normally, I would expect that this would be a result of a massive restructuring to the acquired company, bringing about restructuring charges that in the short run eat up the contribution margins. However, when I reviewed the Silanis website career page, there were 25 job opportunities, predominantly in the sales and R&D areas; this is a lot for a company with only 156 employees that had just been acquired. The website is already branded with the VASCO header so I think it is unlikely to be a stale website. As a result, not only does it not appear that Silanis is being restructured but it also appears to be growing. So where is the non-accretive activity?
I suspect that the restructuring may be done at the US based offices instead. With the low Canadian dollar, VASCO could take the opportunity to near-shore some of its SG&A costs, essentially getting the same value at a 40% discount. The restructuring costs at the US entity will be higher but the long term cost structure will be improved; as upfront integration costs are common to most acquisitions, these restructuring costs are being assigned to the Silanis acquisition transaction but will help to further right-size the overall company cost structure.
The primary driver of the acquisition was to put VDSI's cash balance to use and acquire a growing, complementary technology to further diversify their revenue base to higher margin activities. However, I also believe that the chance to further contain its operating expenses through a "near-sourcing" opportunity in Canada may also be in play. In its Q4 conference call, management stated:
"...we will maintain a steadfast commitment to the fiscal responsibility that VASCO is well known for. We have never subscribed to grow at any cost mentality that was pervasive in our segment and that is now falling out of favor."
The Silanis acquisition has also brought a further benefit in further propelling a shift in management focus.
Corporate Re-organization
VDSI is going to obtain a lot of value from the Silanis acquisition. However, I believe they significantly overpaid for it. If we look at a few comparable transactions in the last 2 years in the user authentication space, we can see how the Silanis transaction fits in:
| | | | | | |
| --- | --- | --- | --- | --- | --- |
| Acquirer | Target | Year | Price | Sales | P/S |
| Gemalto | Safenet | 2014 | $890m | $337m | 2.6x |
| Neustar | TNS | 2015 | $173m | $60m | 2.9x |
| VASCO | Silanis | 2015 | $85m | $16m | 5.3x |
Source: Corporate Press Releases
I think it is pretty clear that VASCO paid a very hefty premium for Silanis. You cannot really use expected synergies as an excuse to justify the price since pretty much every acquisition is expected to generate those, at least at the outset. This was simply an overpay; fortunately, with a substantial cash balance, they are not going in to debt or diluting existing shareholders; they will likely generate a positive return but they could have paid less a lot less, especially since Silanis was starting to run low on funding.
I don't think it is a coincidence that the day prior to announcing the Silanis transaction, VASCO announced the hiring of Mark Hoyt as their new CFO. Mr. Hoyt was previously CEO for the EMEA area of Groupon. 68% of VDSI's 2015 sales come from this area, so gaining Mr. Hoyt's experience is a big win for VDSI, especially on the M&A front. This is not to say that outgoing CFO Cliff Brown did anything wrong (he is heading to planned retirement in May 2016) but VDSI has been able to add a more focused skill set moving forward.
This management change is further driven home with the hiring in December 2015 of a Chief Strategy Officer Scott Clements. Mr. Clements will be in charge for M&A and strategic development activities. He spent the last 11 years at Tyco (NYSE:TYC), most recently filling the same role he will be taking on at VDSI. I believe this is a direct response to the corporate strategy going forward as well as a realization that if they are going to conduct M&A, they need to do it well. According to the latest conference call, Mr. Clements will be leading the integration of Silanis with VDSI, something he has significant experience with at Tyco.
Combining these two personnel changes, I believe the Board recognized that although Silanis is a good strategic fit, they could have negotiated a lot better. As such, they are re-organizing their management team going forward.
Valuation
In order to get a better idea of the value proposition behind VDSI at this time, I made the following assumptions:
Revenue within the range of management guidance, then escalated at the 11% CAGR they have historically experienced
Gross & Operating Margins per management guidance and historical precedents
The EV/EbITDA multiple of 7.5x is in line with VDSI's historical multiple before the 2015 ramp up
Depreciation includes $5m currently incurred annually with an additional $10m associated with the 3 to 7 year amortization period the company uses for intangibles
I end up with the following picture (all amounts in millions):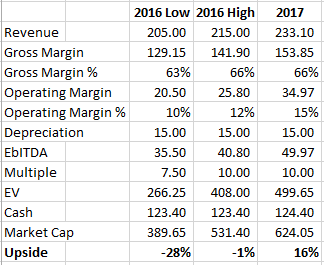 Source: Company Guidance, Author Assumptions
To an extent, this is not surprising. Although management is making a lot of the right moves (complementary expansion, cost controls, management growth), the contraction of its operating margin in the short-term while Silanis is being integrated is difficult to overcome. Combined with its recent multiple contraction, in the near term there does not appear to be much upside in VDSI shares. The lowered guidance, even if it has been anticipated, will certainly not reward VDSI with an above average growth multiple. While they are legitimately growing their recurring revenue, the loss of the Rabobank deal with no replacement is still a blow to those expecting increased growth.
However, all is not totally lost either. With $123.4m (post-acquisition) in the bank, this represents 23% of VDSI's current market cap, with no debt. As well, the company continues to generate decent cash flows, resulting in a very low historical cash flow multiple: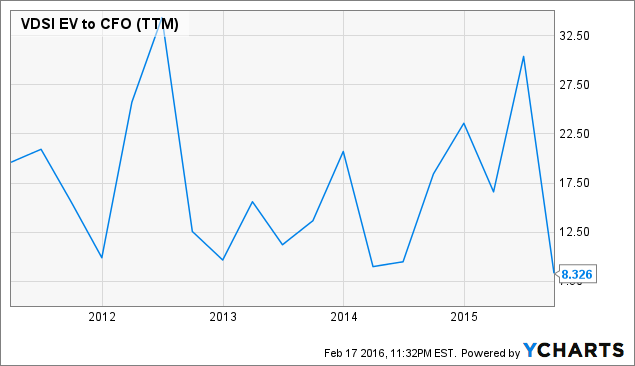 VDSI EV to CFO (NYSE:TTM) data by YCharts
While the multiple is near its low for the last 5 years, this doesn't reflect the reduced guidance going forward; going back to 2014 this was at an elevated level due to its growth which is now somewhat in question.
There also continues to be an elevated short position in VDSI, with over 30% of the float short (per Finviz). While this has dropped dramatically in the last months, it is still very high; to an extent this will serve as a bid for the stock as these positions are closed. It is much harder to go short here than it was back in July of 2015 when VDSI had a substantially escalated multiple and several negative catalysts that had not yet played out (expiration of Rabobank, reduced guidance, etc.). They are also further supported by CEO Ken Hunt's 23% stake in the company, making the short interest even more supportive.
Conclusion
Despite the substantial sell-off in VDSI, it is still not the time to go in on the company. Management is re-organizing itself in a positive manner and has made a good, but expensive, acquisition in Silanis. However, this isn't enough yet to make VDSI a compelling proposition.
For continued discussion, please don't hesitate to comment below; I learn from your feedback. If you like what I'm doing, you can follow me by hitting the "Follow" button at the top of this article. Plus, you can follow me in real time by selecting that option. It might give you somewhat of a head start whenever I write an article, as to what actions I am taking and the reasons behind them. Good investing!
Disclosure: I/we have no positions in any stocks mentioned, and no plans to initiate any positions within the next 72 hours.
I wrote this article myself, and it expresses my own opinions. I am not receiving compensation for it (other than from Seeking Alpha). I have no business relationship with any company whose stock is mentioned in this article.