On the surface, the Facebook (FB) story is an interesting one, with 800 million users, huge ad revenue potential only partly tapped, and one of the leanest companies around. The company has succeeded where others have failed, and is on a solid growth trajectory. There are a lot of reasons to love Facebook. But management has a difficult job ahead of it, and vulnerabilities are starting to appear.
We can all appreciate how important management is to a company, no less so than are generals to a war. The CEO sets the tone and steers the ship. Even personal events in the life of the CEO such as divorce or a death in the family have been shown by several studies to lead to a material decrease in the price of the company's stock.
The CEO of Facebook is twenty-seven years old. As someone from the financial industry, this age raises yellow flags with me right away, since almost without exception the trading problems I have witnessed on trading desks -- and there were a number of them -- occurred on the watch of men in their early 30s. These desk managers were smart, talented traders, but hadn't been around enough to sidestep pitfalls that should have been avoided. Among other traits, they were too aggressive.
In fact a recent study by Li, Low, and Makhija on "young" CEOs found that younger CEOs were more likely to enter new lines of business and discard old ones; were 10-15% more likely to restructure the firm; were more likely to acquire other companies. Additionally, production plants tended to be more efficient. But the definition of "young" for purposes of the study was under 50 years old--a "young" CEO would still be old enough to be Mark Zuckerberg's father.
Perhaps out of his youth, Zuckerberg has mishandled what to my mind is the paramount issue of social networking: privacy. The clearest example of a privacy misstep was the 2010 change to privacy controls that required users to "opt out" of a lower privacy setting, rather than to "opt in." Unless Facebook users raised the privacy bar manually, their personal information was exposed, and as we know, the internet is forever. Because of this and other privacy-related issues, Facebook is now required by the FTC to undergo quarterly "privacy audits" for the next twenty years.
Zuckerberg seems flat footed around the privacy issue despite numerous mistakes in that area since the company's inception, and seems unable to understand the genuine concern many customers share regarding their personal information. Even after the privacy setting issue and a host of tech-related security problems, the company admitted to attaching "cookies" to visitors to their site, and is openly developing facial recognition software. These are issues that could potentially be properly managed, but so far Zuckerberg has not heeded the call.
To his credit, Zuckerberg has successfully navigated a rather negative portrayal in the movie "Social Network," and now seems to enjoy a rather positive perception. He has built a seasoned management team, including COO Sheryl Sandberg, 42, a former Google executive and member of President Obama's Council on Jobs.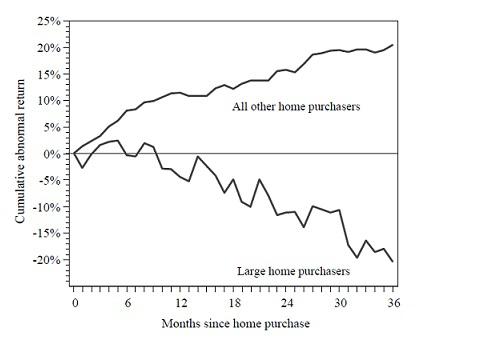 When Sandberg recently began construction on what is expected to be one of the largest houses in Menlo Park, the foundation was so large that neighbors wondered if it was an underground condominium complex. According to a 2007 study by Liu and Yermack, the authors found that "future company performance deteriorates when CEOs acquire extremely large or costly mansions or estates."
The study also find an inverse relationship "between the value or size of a CEO's residence and the returns on his company's stock subsequent to the home purchase." As shown in the comparative graph from the study (above), on average from the time of home purchase the stock performance of "large home purchaser" CEOs declines significantly, while "all other home purchaser" CEO stock performance is much better.
Sandberg is not the CEO, of course, but she is widely seen as a counterbalance to Zuckerberg's youth. However, she is not the only Facebook executive vulnerable to the impact of wealth. Although she was the highest-paid Facebook executive last year at $30.9 million, two other executives, the CFO David Ebersman and VP of Engineering Mike Schroepfer, were also very highly paid, at $18.6 million and $24.7 million respectively.
The authors of the study on CEOs and large houses were left to speculate as to why CEO buyers of large houses underperformed their peers. If the underperformance is tied the distractions that come with wealth or too high of a level of comfort, as the authors speculated is a possibility, then the Facebook team may face further challenges in the future.
A separate study by Malmendier and Tate titled "Superstar CEOs" may shed further light on the wealth effect, at least an indirect one. In their 2007 study the authors looked at the effect that "superstar status" plays on CEO performance. Specifically, the authors measure stock performance after the CEO won an award. They found that companies with CEOs with "superstar status" experience "declining performance ... for three years following the award" and a decline "in the ability to meet market earnings expectations." Zuckerberg is nothing if not a superstar; it is of course not yet known whether the wealth effect will have a similar impact on him or on other senior managers.
These factors -- the age and judgment of the CEO, the new home of the COO, the temptations of wealth -- are not unique to Facebook. It is entirely possible that these issues will be managed responsibly, and Zuckerberg's decision to reduce his annual salary to one dollar is a step in the right direction, purely symbolic though it may be. But managers are human, and Facebook is a very young company. This is not to say it's a bad company, of course, or that Facebook won't do well. However, it does beg the question as to what multiple we're willing to assign to its new IPO.