Business Description and Strategy
Kinder Morgan, Inc. (NYSE:KMI) is the largest energy infrastructure company in North America, owning and operating an extensive network of pipelines, terminals, and storage facilities for natural gas, refined products, crude, and carbon dioxide. The following asset map from the company's website highlights how extensive their reach is: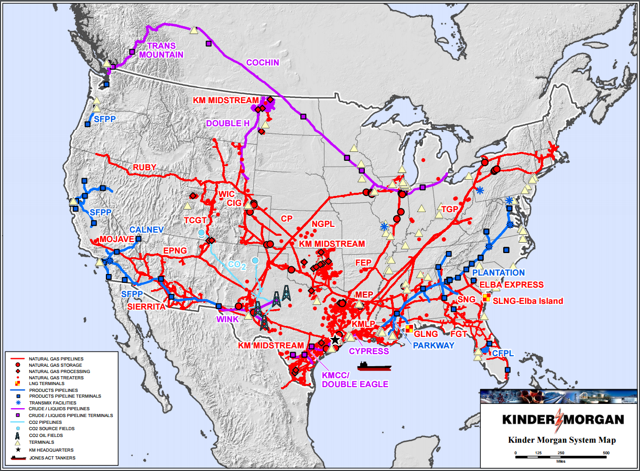 Click to enlarge
KMI seeks to acquire, expand, or build assets that are strategically important for the growth and development of North American energy production and usage while avoiding commodity price risk. Owning long-lived, critical infrastructure assets allows the company to collect a toll-like fee for transporting and storing energy related products that results in cash flows that are reliant on volume and thus relatively stable, but with a long term bias towards growth as energy demand increases. The cost and regulatory approvals required to build similar assets is nearly prohibitive in many cases, giving KMI's footprint a very strong competitive moat. As a result of this strategy, the company has historically been able to tap debt and equity markets for huge amounts of capital to acquire or build high-return projects while also paying out a generous distribution to master limited partnership interests and shareholders.
Brief History of the Company
KMI's predecessor companies were founded by Richard D. Kinder and William V. Morgan beginning with Kinder Morgan Energy Partners (NYSE:KMP) in 1997 using the master limited partnership structure to rapidly grow the company through acquisitions, expansions, and new build projects. In 1999, Richard Kinder took over KN Energy, which became Kinder Morgan, Inc. A third company, Kinder Morgan Management, LLC (NYSE:KMR), was formed in 2001 with its only assets being partnership units in KMP.
In 2007, Richard Kinder led a $15B management buyout of KMI, then took it public again in 2011. The next year, KMI acquired El Paso Corporation in a transaction that created El Paso Pipeline Partners, L.P. (NYSE:EPB), the fourth publicly traded entity under Richard Kinder's control.
Although the MLP structure worked for the initial growth phase, this multitude of companies and complicated structure became inefficient from a tax, capital raising, and management perspective, so in November 2014, KMI rolled up the publicly held interests in KMP, KMR, and EPB in a $76B transaction.
Income Investors Took Many Hits In 2015
Despite consolidating the assets into a C corporation structure, the tax benefits of large non-cash depreciation and deductible interest expense allow the company to continue to view its distributable cash flow as a means to return high yields to investors as it did as an MLP. In announcing the roll-up acquisitions, the company also stated its intention to pay a dividend of $2 per KMI share in 2015 and that it expected to grow this dividend by approximately 10% through 2020. As a result, KMI continued to attract income oriented investors, including many in tax-deferred retirement accounts.
As the next chart shows, although the sharpest decline in United States Oil (NYSEARCA:USO) prices began in mid-2014, KMI share price performed very well until mid-2015 as a result of the level and perceived safety of its yield and as the 10 year treasury yield continued to fall, forcing investors to seek riskier sources of income.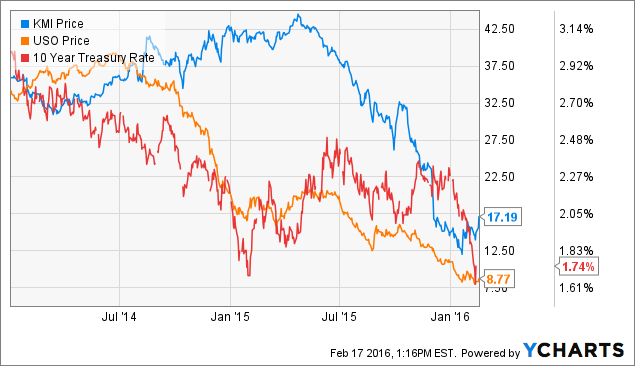 This is why I do not believe that the KMI share price was just tracking oil prices since 2014, although the correlation was strong once KMI did begin its steep share price erosion. As low energy prices became lower for longer, as I wrote about earlier, the fear grew in the market that KMI's upstream customers would have severe cash flow problems, especially after their 2015 hedges rolled off. This was apparent in the stocks of exploration and production companies such as in the SPDR S&P Oil & Gas Exploration & Production ETF (NYSEARCA:XOP):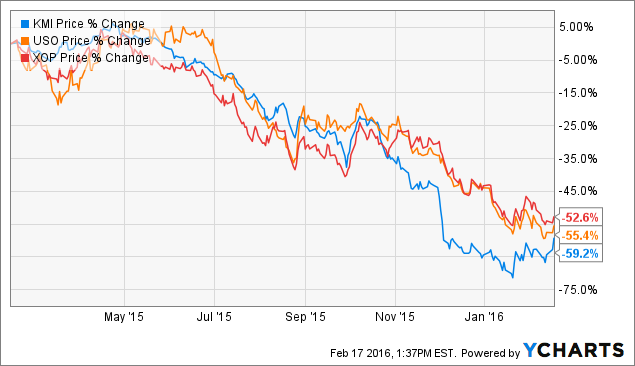 I believe at the time there were several negative feedback loops at work during this time:
As energy prices declined, investors large and small sold more energy related shares across the sector. With large amounts of money today managed through sector rotation and ETFs, the baby was likely thrown out with the bathwater.
Negative momentum as selling begets selling. In April and October 2015, thousands of people who owned KMP and EPB in retirement accounts were hit with large surprise tax bills triggered by Unrelated Business Taxable Income from the 2014 roll-up. I believe this prompted many IRA shareholders to bail out of the stock, exacerbating tax loss selling that was occurring in regular taxable accounts and funds.
Lower KMI share prices and higher debt costs reduce the ability to fund new projects, which leads to lower future cash flow growth, which lowers the share price further. On December 1st, 2015 Moody's changed the KMI credit outlook to negative after the company increased its stake in the struggling Natural Gas Pipeline Company of America from 20% to 50%.
During this time, KMI and several MLPs in the sector where being criticized for funding dividends by selling equity. For example, in the year ended 2014, the company generated $4.5B in cash flow from operations, used $5.2B in CapEx and investing activities, and paid dividends of $3.8B. In fact, such criticism ignores the fact that the majority of CapEx goes to growth projects which increase future distributable cash flows, while sustaining, or maintenance, CapEx is estimated by the company at only $574mm. Management proved this by increasing distributable cash flow to a record $4.7B in 2015 despite the tough environment for the oil and gas sector.
In response to these issues and the declining share price and to try to stabilize the company during a difficult period, on December 8th, 2015 KMI cut its dividend 75% to $0.50 on an annualized basis. This was part of a larger announcement to "live within its means" by altering its 2016 budget to eliminate the need to access the capital markets. The following table from KMI's January 27th investor presentation (which is well worth reviewing in full) highlights the strength of the company's cash flows: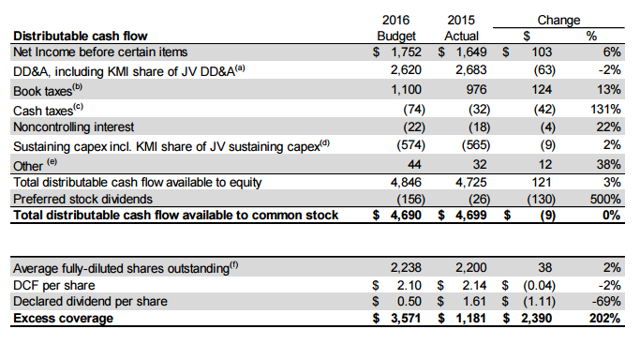 Click to enlarge
The strength of these cash flows should not be that surprising. The low energy prices in the market are the result of excess supply, not lack of demand. Therefore, volumes that need to be transported and stored are up, not down. KMI owns great assets that are well-positioned to benefit from long term growth in natural gas and energy usage.
Bear in mind that 67% of KMI's cash flow is derived from take-or-pay contracts, another 24% is fee-based, 6% is hedged, and only 3% is exposed to commodity risk.
Regarding counter-party risks, the company has very little customer concentration and 82% of its revenues come from investment grade partners. As for the others, it should be remembered that even in Chapter 11, creditors maximize their recoveries by keeping the operations producing and this production still has to be transported and stored. So while some contracts may be re-negotiated if they are above market, this business will not just go away.
Conclusion
Recent 13F filings show a number of well known investors - including Berkshire Hathaway (NYSE:BRK.B), David Tepper, and George Soros - initiating or increasing positions in KMI. I believe that this will prove to be the floor for the stock as it marks the shift in shareholder base from disappointed income investors to value and opportunistic investors who recognize that there is nothing broken in the company. Reduced access to capital market funding has reduced its near-term growth, but this will likely prove temporary.
For a long term investor such as Buffett, this is a company with high quality assets, stable and growing cash flows, excellent management aligned with shareholders (Richard Kinder earns $1.00 a year and gets no options and management owns 14% of the equity), strong barriers to entry, and well-positioned for future growth in energy demand without commodity exposure.
Disclosure: I am/we are long KMI.
I wrote this article myself, and it expresses my own opinions. I am not receiving compensation for it (other than from Seeking Alpha). I have no business relationship with any company whose stock is mentioned in this article.