Nvidia's (NASDAQ:NVDA) strategy of transforming itself from a commodity chip company into a platform solutions company is working for it in all four of its target markets: PC gaming, professional visualization, data center, and automotive. But, automotive was the standout in Nvidia's fiscal 2016 Q4 results. Revenue from automotive was up 68% y/y.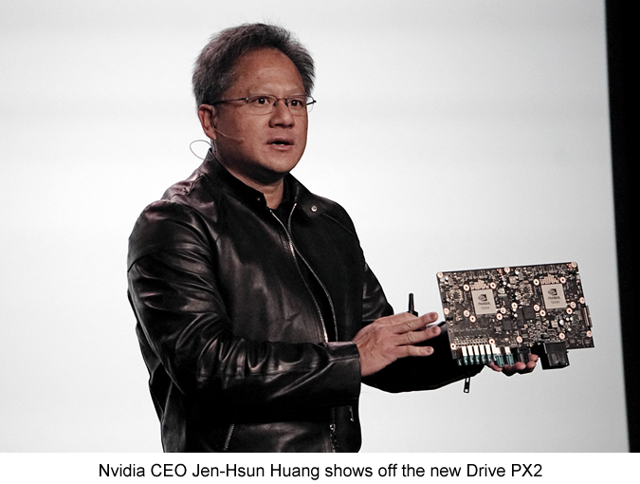 Click to enlarge
Source: engadget
Gaming Leverage
Overall, Nvidia's Q4 revenue of $1.401 billion was up 12% y/y, and operating income was $252 million, up 9% y/y. PC gaming continues to be the strong center of the company with revenue rising 25% y/y to $810 million. This is 69% of Nvidia's total GPU revenue of $1.178 billion. Nvidia continues to take market share from AMD, which suffered a 29% y/y decline in its Computing and Graphics segment in the December quarter.
I have questioned how much more share there is for Nvidia to take from AMD after the 2015 November earnings report, but on the conference call on February 17, Nvidia CEO Jen-Hsun Huang continued to be bullish about growth in this market.
This issue was probed several times by analysts during the conference call. Huang pointed out that Nvidia has an installed base of over 100 million gaming platforms, and that about 2/3rd of these are upgrade candidates. The upgrade cycle among gamers can be as little as a year at the high end with an average of 2-3 years for the entire installed base.
Huang also pointed to growth of PC gaming in emerging markets such as South Asia and Southeast Asia. The increasing availability of broadband in these regions is fueling interest in PC games. Huang pointed to free-to-play online games as a very low-cost form of entertainment.
Huang is probably correct that PC gaming has a lot of room to grow. Fundamentally, it's being driven by ever more ambitious content, which drives the need for higher performance hardware. Given the fact that PC rigs can be upgraded as frequently as personal budgets allow, PC gaming is driving progress in interactive entertainment. Consoles have a much longer multi-year product cycle, so these tend to follow the PC lead.
Nvidia is fortunate that early on it started to develop the CUDA software developer kit that allows the GPU to perform general purpose computations. This served as the wedge that opened up the other key target markets to GPU applications. The continuing demand for higher performance gaming GPUs continues to drive Nvidia's progress in other markets.
Finding a Home for Tegra
As Nvidia has leveraged its GPU business, the Tegra ARM processor segment has seemed to get left behind. Tegra processor revenue still lags the GPU business substantially, generating only $157 million in revenue in fiscal Q4.
Tegra still has some important roles to play. The Tegra K1 Denver is present in the Google Nexus 9 tablet, and the newer Tegra X1 is in the Google Pixel C Android 2-in-1 as well as Nvidia's own Shield TV set top box.
But, the important home for Tegra now appears to be automotive. Tegra powers the huge touchscreen of the Tesla (NASDAQ:TSLA) Model S sedan as well as the infotainment systems of many other cars. According to Nvidia management, Tegra is now in 5-6 million automobiles with 25 million more in the pipeline.
It's no wonder that revenue is up for Q4 68% y/y to $93 million. And Nvidia isn't stopping with infotainment systems, but has been positioning itself to be the platform of choice for autonomous vehicles. At this year's CES, Nvidia unveiled the Drive PX2, claimed to be a supercomputer the size of a lunch box.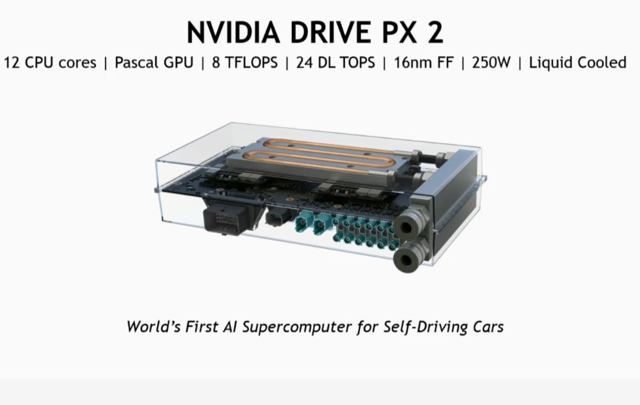 Click to enlarge
Source: Trusted Reviews
Contained in the few images of the new system are tantalizing glimpses of the "next generation" Tegra, which lacks specific identification. Nvidia has needed a new generation. Last year's Tegra X1 featured 64 bit ARM Cortex-A57 cores, but the industry has moved on to more powerful 64 bit ARM processors, such as Apple's A9x and other systems on chip (SOCs) based on the latest ARM Cortex-A72 designs. Most likely, this new Tegra will feature the A72.
Drive PX2 is in many ways the perfect product for Nvidia, since it combines both high performance GPUs and ARM SOCs in a single platform. It also features a suite of software APIs intended to support autonomous vehicle processing, including sensor processing and situational awareness.
Nvidia is pushing its deep learning software platform both for vehicles and for big data analysis in the Cloud. When pressed by analysts regarding the market for deep learning platforms, Huang frankly admitted he didn't know. However, Volvo has decided to try out Drive PX2 in 100 of its SUVs for autonomous vehicle development. If Volvo makes progress, this could give Nvidia's deep learning a big boost.
An analyst asked about Nvidia's open software approach to Drive PX2 versus the "closed" platform provided by Mobileye (NYSE:MBLY). Huang had very good points to make about the need for an open platform.
First and foremost, autonomous driving is a problem that no one yet has completely solved. Huang doesn't think that any one company or group can solve the problem. Instead, it's going to be solved on an industry scale, by many players collaborating. I think he's right.
The other point Huang made is that the driving experience offered by the car makers is very much part of their brand. Autonomous driving is going to be a new experience, but the car makers still want it to reflect their unique brands. Therefore, the car makers have to be involved in defining the software and operating characteristics of the autonomous driving solutions that they offer. Right again.
Semicustom Anyone?
Perhaps the most interesting question that was asked during the conference call was about the possibility of semi-custom work being done by Nvidia. What was interesting was that the question was greeted with about 20 seconds of complete silence, while Nvidia management decided how to answer it. The answer was non-committal. Huang acknowledged that Nvidia was open to semicustom work, but had nothing to announce.
In my article on Nvidia's fiscal Q3 results, I brought up the fact that Google (NASDAQ:GOOG) (NASDAQ:GOOGL) was rumored to be searching for a chip partner for tailored chips to work with Android devices. I pointed out that this is an adaptation to the broad industry trend in mobile devices that has seen Apple (NASDAQ:AAPL), Samsung (OTC:SSNLF), and Huawei all field smartphones with their own custom SOCs.
The silence certainly suggests that something is in the works. However, I believe that Qualcomm (NASDAQ:QCOM) is the more likely Google partner for smartphones. If there is semicustom work for Nvidia to do, it's probably in the area of SOCs for future Android tablets and notebooks such as the Pixel C. As I've pointed out, it appears that Google wants to expand Android into a broad personal computing platform that spans smartphones, tablets, and personal computers.
Investor Takeaway
Nvidia is intelligently leveraging its core GPU technology to be able to move into markets such as the data center and automotive. Although there have been some on-going restructuring costs following the pull-out from the smartphone space, just about everything else is working for Nvidia.
Nvidia guided to $1.26 billion in revenue for its fiscal 2017 Q1, a y/y increase of 9.5%. Although Nvidia's share price has been dragged down since the start of the year along with much of the tech sector, I continue to be bullish on Nvidia and recommend it as a buy.
Disclosure: I am/we are long AAPL.
I wrote this article myself, and it expresses my own opinions. I am not receiving compensation for it (other than from Seeking Alpha). I have no business relationship with any company whose stock is mentioned in this article.