By Youce Ji, Sarocha Leelamanthep, Chen Ray, Xue Yang
Section I: Recommendation
We recommend Macy's (NYSE:M), which currently trades at $40.26 per share. We recommend Macy's stock for these reasons:
Given Macy's solid capital structure, Macy's stock is underpriced.
Macy's maintains a balance of debt-and-equity ratio in comparison with its competitors.
Macy's strategy to restructure and expand the brand is set to target a larger group of customers, including Millennial and overseas customers.
Due to Macy's ability to maintain high standard customer service, it has an established set of loyal customers with an advanced strategic position.
The catalysts for Macy's growth include its international expansion, restructuring of business targeted to a new generation of consumers, and integration of new technology for customers' experiences. The risk factors include the general economic conditions, specifically potential collapse of the Chinese economy and strong currency, as well as failure to properly execute business strategies and competitions within the retail sector.
Section II: Company Background
Macy's is one of the USA's leading retailers with a sales of $28.11 billion in 2015, led by CEO and chairman Terry J. Lundgren. As a retailer, Macy's focuses on providing its customers with multiple seamless channels. As of April 2015, Macy's owns 900 stores in 45 states under department store names of Macy's, Bloomingdale's, Bloomingdale's Outlet, Macy's Backstage, Bluemercury as well as its online e-commerce websites. As a diverse company, Macy's employs approximately 166,900 employees. Through its global expansion, Macy's plans to achieve an increase in operating earnings and cash flow. Macy's competitors include J.C. Penney (NYSE:JCP), Kohl's (NYSE:KSS), Nordstrom (NYSE:JWN), L Brand, Sears (NASDAQ:SHLD), Ross Stores (NASDAQ:ROST) and TJ Max (NYSE:TJX).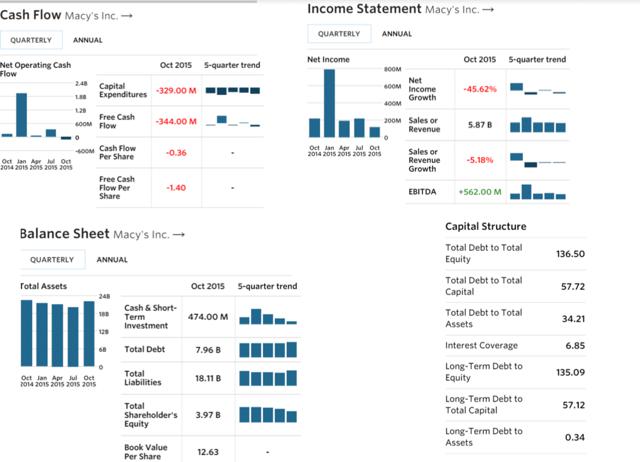 Click to enlarge
For the past year, Macy's stock price has dropped to $40.27. Macy's has experienced a increasing revenue from $26.41 in 2012 billion to $28.11 billion in 2015, which ranked the third among its competitors. Its earnings per share dropped from $0.56 to $0.37 for the past three fiscal quarters. With its innovative strategy and marketing expansion, Macy's EBITDA has increased from $3.5 billion in 2012 to $3.82 billion in 2015. Its gross profit margin is between between 38.77% and 41.89% for the past three fiscal years and now reached 39.79%.
Section III: Investment Thesis
The public holds an overall pessimistic attitude upon Macy's as Macy's just closed down 2,500 jobs and 5 stores. In fact, the recent stock market declines amounted to over 30% throughout last year. However, there are several key areas of potential for Macy's.
As an established prominent American retailer, Macy's has a loyal customer base. Macy's Omnichannel, allows Macy's to form long-term relationships with its customers while maintaining customer loyalty.
As the dollar's value rises, the consumers will demonstrate greater purchasing power of Americans. Thus, there is reason to expect a surge in Macy's sales and revenue.
Macy's Debt/Equity ratio seems relatively balanced compared with other competitors such as, TJX and J.C. Penny, since the ratios of these companies are either too small or too large. This implies that they are either not using the resources well to maximize the profit or extensively burdened by debt, which makes them more vulnerable.
Macy's has demonstrated great profitability as its gross margin is 36.13 with the debt. According to Macy's P/E ratio (10.54), there is not much of a bubble in Macy's price and thus this is a good time to purchase Macy's shares.
Section IV: Catalysts

In the past year, Macy's has restructured the company and formed new strategies to incorporate technology to accommodate for the Millennial generation of shoppers of age 13 to 30. The catalysts that will expedite Macy's growth include Macy's international expansion, restructure of business strategies and incorporation of technology.
Right now, Macy's already has a solid base for international consumers through its online websites, which sells its products online in over 100 countries. With its strong international customer foundation, Macy's is expanding its business to open the first international Macy's store and the second Bloomingdale's in Abu Dhabi. This international expansion will not only allow Macy's to be more well known among more potential international customers but also gain more profit outside the U.S.
In addition to its global expansion, Macy's is restructuring its business strategies to fit the new generation of customers. Macy's does this by specifically identifying their customers lifestyle, and enhancing and localizing their merchandise assortments accordingly. To adjust to the fast-pace lifestyle, Macy's adjusts the organizational structure to support the speed in decision-making and product development. These include making faster decisions and being more responsive to improve customer services. To further improve its customer relationship management and retain its foundation for customers, Macy's plans to reward its loyal customers. This strategy will not only help maintain its customers but also bring in other customers.
In terms of technology, Macy's has made innovative refinements to their localization, Omnichannel integration and Magic Selling customer engagement, which is also known as "M.O.M." In 2014, Macy's introduced Buy Online Pickup In Store (BOPS) which is soon implemented in Macy's Inc and Bloomingdale's locations nationwide, which significantly undermined the doubts certain customers hold against online shopping. Research has shown that over two thirds of the Millennials' shopping trips begin from customers researching on internet, therefore Macy's Inc has integrated their strategies into various electronic devices such as mobiles, kiosks and tablets.
Section V: Valuation
We assume that the company's future revenue can determine its current valuation. Based upon this assumption, we look into a few estimates on the company's future metrics, such as revenue.
Forecast Earnings Growth (from Nasdaq.com)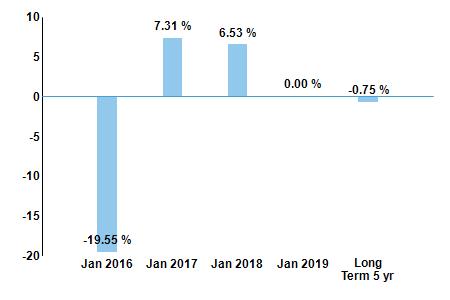 The graph demonstrates the forecast on Macy's earnings growth. Macy's move to shut down several stores will further lower their operation cost by around 400 million dollars. In addition, this strategy will also allow Macy's to focus more on their online store and invest more heavily in online strategic development, especially on "Omnichannel". This strategic development can help Macy's gain more competence advantage which could be hard for its competitors, such as Kohl, to match. Moreover, currently, dollar's value rises while other countries' currencies are devalued such as Chinese Yuan, which is weakened by 0.51% recently. As a result, with a strong dollar, American people has more purchasing power as the cost of imports is lowered by the exchange rate. In the meantime, this strong dollar also lower Macy's cost of expanding internationally. Therefore, with lower operating cost, greater strategic advancement and a favorable currency situation, there is reason to expect a major revenue rise for Macy's and market's prediction confirms our prediction. Consequently, from our assumption, we can conclude that Macy's will have a greater valuation due to the rise in its income.
Section VI: Risk Factors
Despite Macy's fairly balanced debt to equity ratio and being a more established company, Macy's recent downturn still presents itself as a significant challenge to Macy's survival. With some competitors TJ Maxx (TJX) and rise of e-commerce, in-store retailers now face new challenges of drawing and retaining customers, as well as they sell similar brands and products. In particular, with the introduction of the M.O.M. and BOPS programs by Macy's, Macy's still faces competition with e-commerce, such as Amazon.
Furthermore, there's always the worst-case scenario of the collapse of the Chinese economy that could bring about diminished production capacity and market demand for retail goods that could adversely affect Macy's. Conjoined with the fact that it have weaker than expected results for full year earnings and the investor's lack of faith in it, Macy's really need to improve its revenue record this coming year. But the collapse of Chinese economy could really destroy Macy's if China cannot make enough inexpensive exports anymore. Thus, Macy's investors should be more careful with China's current economic environment. But besides that, Macy's is having a strong outlook in the future.
Disclosure: I/we have no positions in any stocks mentioned, and no plans to initiate any positions within the next 72 hours.
I wrote this article myself, and it expresses my own opinions. I am not receiving compensation for it (other than from Seeking Alpha). I have no business relationship with any company whose stock is mentioned in this article.