RenaissanceRe ("RenRe" or "RNR") (NYSE:RNR) was started in Bermuda in 1993 and became a market leader in the short-tail property catastrophe market ("property cat"). In recent years, due to prolonged distress in reinsurance rates (property cat pricing down 30%+ in just two years) and secular shift to alternative capital solutions (cat bonds, ILWs, etc) forced management to acquire Platinum, one of its Bermudan peers, in early 2015 for scale and diversification. It shifted the business mix towards more 50%/50% split between property and casualty, altering return profile to higher combined ratio, thus lower returns.
Historically, RenRe enjoyed a substantial premium valuation when they were generating high-teen or low-twenty returns on equity, while peers often traded below or at book due to lower profitability. Expecting sustained hardened reinsurance rates in the near future is remotely impossible, leaving RenRe's returns hovering around 10-11% ROE going forward. With that kind of profitability, it no longer warrants a premium to book valuation. In addition, the underlying business is facing a few more challenges which we will address below.
Business Model Economics
To put every reader on the same footing, below is a quick illustrative demonstration of how the underlying economics would work for a P&C reinsurer. As a Bermuda-domiciled entity, RNR enjoys a near zero tax rate. The example below basically reflected RenRe's 2015 underwriting performance. The key to generate decent ROE is prudent underwriting (low loss) while running a nimble organization (low expense).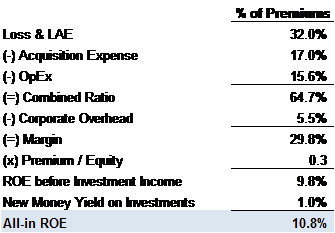 Looking at the historical 10 years combined ratio, we see reserve releases slowing and expense ratio trending up. There are some good explanations, but most importantly, property cat reinsurance (which was the crown jewel of the business) is facing immense pressure on rates and record amount of competition and capital, further driving down returns.

Click to enlarge
High-Margin Property Cat Business in Decline
Property cat reinsurance is facing overcapacity, leading to the entire sector getting paid less for the same type of risks. In addition, rate hardening for this business will be difficult to come by as capital interested in this risk is excessively abundant and it can enter the market much more quickly with less friction in today's environment. Therefore, management decided to reduce premium in this segment by 10% for 2016 as opportunities meeting return hurdles continue to fade. From the table below, we also start reserve releases thinning out 2014 and 2015.

Click to enlarge
Mortgage Reinsurance Profitability Needs More Time to Play Out
To support premium growth, management stated that they have been underwriting more mortgage reinsurance business, which apparently started right after the financial crisis, except now the volume is larger. Disclosures in this business (part of the reporting segment called Specialty Reinsurance) is nearly zero (2015 10-K hasn't been released as of 2/18/2016). But, during earnings call, management indicated that it takes about 10-13 years to run off, i.e. less certainty in reserve development since there is no prior experience management could derive from. The earliest blocks written during financial crisis would need another 3-4 years to develop in order to find out the ultimate performance of earlier vintages. Furthermore, management highlighted its intention to grow Specialty premium by 20% in 2016, hinting mortgage reinsurance would be a big push as a byproduct.
When asked about profitability, Company suggested that the returns would be similar to the broader Specialty segment. In 2015, the combined ratio reached 82%. This is another reason to believe the returns would continue to be depressed as the overall business mix gravitates toward this segment (39% already in 2015).

Click to enlarge
Disappointing Lloyd's Results
Since inception in 2009, RenRe's Lloyd's platform produced only one year of underwriting profit in 2014. Lloyd's, based in London, is a market where participating insurers pool together as syndicates to insure risks. Average combined ratio for this segment was 118.3% (see table below). This is primarily attributed to higher than expected expense ratio (55.8% on average, compared to property cat segment of 22.6% during the same period). Management explained that operating in Lloyd's proved out to be more expensive than initially forecasted due to increased regulatory frameworks in addition to heightened price competition.

Click to enlarge
What's more troubling is management's forecast to grow premium in this segment by 20% in 2016 without outlining 1) any justifications in believing regulatory framework would improve in the near term, 2) reasons for purchasing less cession to lower expense ratio, 3) concretely quantifying the marginal benefit of writing Lloyd's business for the rest of organization since management claimed that Lloyd's platform allows RenRe to realize "organizational benefit."
Narrowing Outperformance in Returns
Due to the above reasons, we are witnessing RenRe's outperformance in financial returns compressing against its peers. The industry widely uses Operating ROAE, parsing away the impact of gains and losses related to investments and other one-time adjustments, to benchmark performances. As we can see below, RenRe's behaving much more like its peers now, compared to a larger spread in early part of the last ten years.

Click to enlarge
Conclusion
Overall market pressures are continuing in 2016, leaving analyst consensus projecting 10-11% ROE for RenRe. Management's topline guidance continues to suggest diversification away for its historical core property cat business while placing growth emphasis in its Specialty and Lloyd's segments. As data shown above, shifting business toward those lower-margin products will likely further lead to overall return deterioration. With 10-11% ROE on a going forward basis, premium to book is no longer warranted in my opinion, given current cost of equity for this sector is right around there. For readers' benefit, 4Q2015's tangible book value per share is $92.54 and all-in book value per share is $99.13.
Disclosure: I/we have no positions in any stocks mentioned, and no plans to initiate any positions within the next 72 hours.
I wrote this article myself, and it expresses my own opinions. I am not receiving compensation for it (other than from Seeking Alpha). I have no business relationship with any company whose stock is mentioned in this article.
Additional disclosure: Readers are advised that the material contained herein should be used solely for informational purposes. Readers should conduct their own research and due diligence and obtain professional advice before making investment decision. We will not be liable for any loss or damage caused by information obtained in our materials. Readers are solely responsible for their own investment decisions.