In 2014, I argued that the financial world needs another animal in addition to the bull and the bear, and suggested - the duck.
Indeed, being "duckish" proved to be the right call as neither equities nor interest rates have impressed since the beginning of 2014. Consider the following two charts: the first shows the S&P 500, the second chart depicts the nominal U.S. 10 year Treasury rate.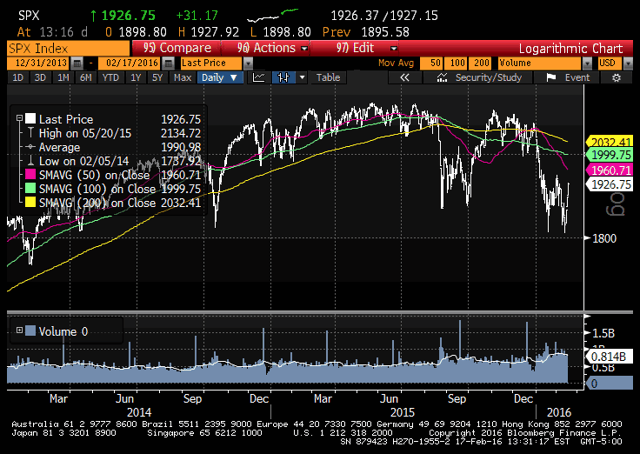 Click to enlarge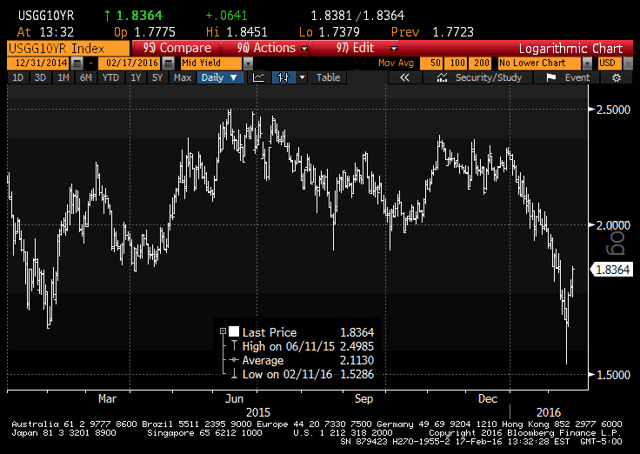 Click to enlarge
In 2016, asset allocation will be challenging as central banks are intervening in markets in unprecedented ways and the cumulative effects and risks of these interventions are practically impossible to estimate.
The amount of global stimulus is higher than ever, with the Bank of Japan (Sweden, Denmark, etc) introducing negative rates, the Bank of England setting the stage to ease if necessary, and the ECB doing even more QE.
Unsurprisingly, 2016 has started with investor pessimism and questions about the strength of the recovery.
Although a recession is likely not imminent, it is hard to believe that the world will outgrow its economic problems this year. World GDP will be lukewarm, printing around 2.5% to 3% in 2016.
Stretched valuations, high debt levels and modest growth create the risk of an asymmetric payoff: limited upside potential at the risk of considerable downside. Ongoing central bank meddling does not help at this stage anymore.
Interest rates in many developed countries are negative. The first chart shows certain developed country 5-year yields (Germany, France, Japan, Switzerland) - in Switzerland's case, even the 10-year is negative.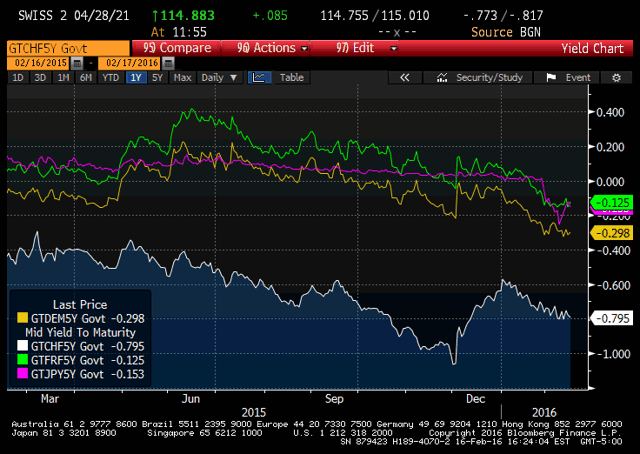 Click to enlarge
The chart below shows two benchmark bond indices: the Barclays US Aggregate bond index, and the Barclays EUR Aggregate bond index (both in USD). The performance of both indices since 2000 is nothing but impressive, with the US index dominating clearly on a risk-adjusted basis as it has only a fraction of the volatility. In fact, on a risk-adjusted basis the Barcap US Agg has beaten the S&P 500, as its low volatility profile makes it perfect for leverage.
Bonds are in a bubble, but that doesn't mean that the bubble has to burst anytime soon.
With the rest of the world easing, the US has no choice but to hold off on future rate increases, hoping to let the currency settle around parity with the EUR (1.05 is a nice number for the EUR as it has good support, while the dollar index (DXY) keeps running into resistance at 100).
(click to enlarge): The yellow line is the US index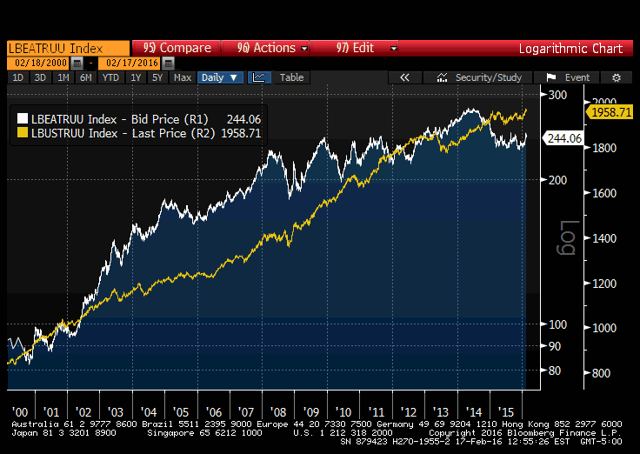 Click to enlarge
Developed stock markets are fueled by central bank liquidity, and as much as some may want to see major differences between them, the following chart shows considerable co-movement between the S&P 500, Nikkei and Europe's Stoxx 600. Cointegrated central bank policies lead to cointegrated stock price behavior.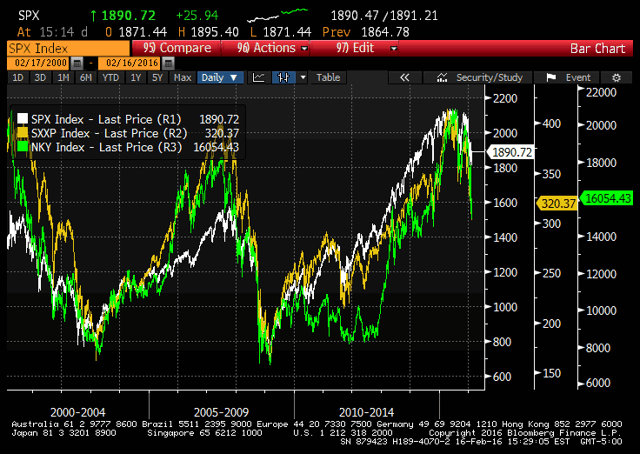 Click to enlarge
Equity prices are driven by earnings growth and multiple expansion, and earnings growth has failed to impress for the past few years (chart below). There is some room for multiple expansion, but that would require positive investor sentiment.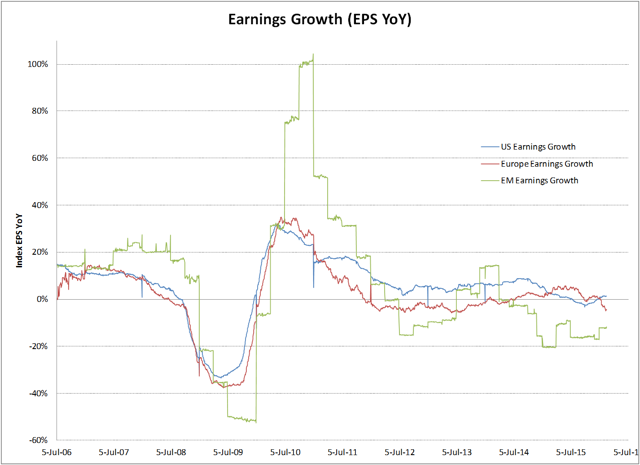 Click to enlarge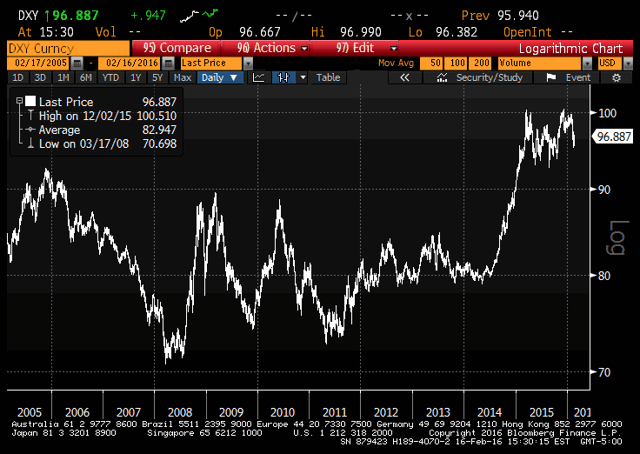 Click to enlarge
Conclusion
My base case scenario for 2016 is that US equities will correct until the volatility regime has completely removed QE from its system, and stabilizes around its pre-2007 range. It is possible that the rest of developed equities, despite their own QE efforts, will be affected by US price performance. If the US relaunches QE or cuts rates, all bets are off.
Up until volatility normalizes, bonds will continue to outperform equities on a risk-adjusted basis. Afterwards - with inflation and growth still weak, both US bonds and equities will wobble sideways until year end.
To put some numbers around this approximation, I expect the S&P to drop to around 1600 to 1650-ish and subsequently grind higher, finishing the year around current levels (1850-1900).
The Target Asset Allocation For 2016H1
33% Cash, 33% U.S. bonds (US Barcap Agg or lower duration), 33% U.S. equities (S&P 500). (Yes - equal weights as volatilities and correlations won't be stable, and neither risk parity nor traditional portfolio optimization will be able to cope with estimation errors from the regime change)
For U.S. equities: favor defensive sectors (Consumer Staples, Telecom, Healthcare, Utilities). Stay away from basic materials and energy until there is a clear sign of a turnaround. The oversupply (and general overabundance story) has not gone away, regardless of the occasional short-covering rally.
Stay away from Europe until earnings growth is comparable to the U.S.
Don't anticipate a bottom in Emerging Markets, let the dollar, commodities, and EM prices stabilize, and then take another look.
NB: Although I am recommending staying away from EM equities, the probability of a China hard-landing is low, and I am still waiting for somebody to show me the details of a 3% GDP growth calculation.
DISCLAIMER:
The views expressed in this publication are the personal views Paul Ticu. This document is not research and should not be treated as research. This document does not represent valuation judgments with respect to any financial instrument, issuer, security or sector that may be described or referenced. This publication has been prepared solely for informational purposes. The information contained herein is only as current as of the date indicated, and may be superseded by subsequent market events or for other reasons. Nothing contained herein constitutes investment, legal, tax or other advice nor is it to be relied on in making an investment or other decision. This publication should not be viewed as a current or past recommendation or a solicitation of an offer to buy or sell any securities or to adopt any investment strategy.
No representation or warranty, express or implied, is made or given by or on behalf of Paul Ticu or any other person as to the accuracy and completeness or fairness of the information contained in this publication and no responsibility or liability is accepted for any such information. By accepting this document, the recipient acknowledges its understanding and acceptance of the foregoing statement.
Disclosure: I/we have no positions in any stocks mentioned, and no plans to initiate any positions within the next 72 hours.
I wrote this article myself, and it expresses my own opinions. I am not receiving compensation for it (other than from Seeking Alpha). I have no business relationship with any company whose stock is mentioned in this article.