"Charlie Ledley-curiously uncertain Charlie Ledley-was odd in his belief that the best way to make money on Wall Street was to seek out whatever it was that Wall Street believed was least likely to happen, and bet on its happening."
- Michael Lewis, The Big Short: Inside the Doomsday Machine
In the film based on the non-fiction 2010 book of the same name, The Big Short by Michael Lewis about the financial crisis of 2007-2008, which was triggered by the build-up of the housing market and the credit bubble; and in Al Gore's film, An Inconvenient Truth, the following quote is mis-attributed to Mark Twain:
"It ain't what you don't know that gets you into trouble, it is what you know for sure just ain't so." - Everybody's Friend, or Josh Billing's Encyclopedia and Proverbial Philosophy of Wit and Humor (1874). What can we say, Mark Twain is more popular than Josh Billings?
"There are two major issues driving banks down this quarter, the governments seem to be running out of QE, which has been bailing them out of their mistakes for the last 7 years and, this time, the fact that the banks have refused to lend to consumers has deprived them of a base of mortgage and small loan revenue streams they can fall back on when commercial loans are in a rocky climate. The banks have lived by the commercial loan and now they risk dying by it." - Philip Davis
Widening Debt Spreads
Above an astute anecdotal observation of the banking sector disintermediation (due to razor thin NIM's) caused by monetary policies QE/ZIRP/IOER and the consequences thereof. But those chickens coming home to roost are also evidenced in a dearth of liquidity. Witness below junk bonds are now trading with spreads over 20%...
Perhaps some are trying to get ahead of the curve vis a liquidity squeeze involving banks and dealers being exacerbated by the fallout or fear of the unholy NIRP. In effect, CCC and lower debt (read companies holding) are now shut out of primary markets (in which there is also a dearth of liquidity) and since they can't roll the debt, if the situation worsens, default rates will spike.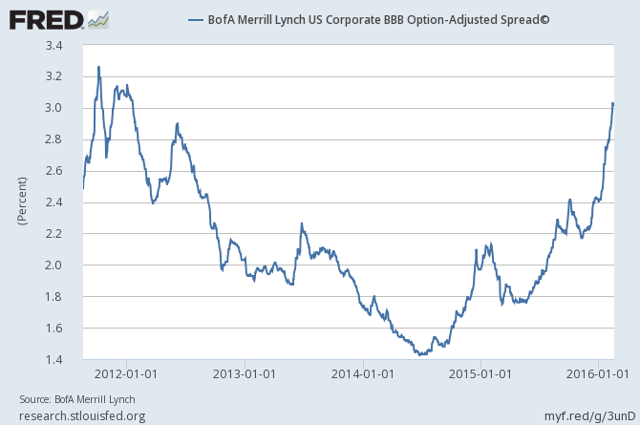 Above note, concomitant with CCC, BBB Corporate doubling to 3%, and the contagion is spreading (pun intended) as now in tandem, highly rated corporate bond spreads are moving wider. As some of my freaky deaky Dutch friends say, how TOIT (tight or ill liquid) is it? Last week, there was ZERO bond issuance in the corporate space, which last occurred in a non holiday calendar week, in 1995. Unfavorable spreads or a perceived dearth of takers? Either way, TOIT is the word.
Sub Prime MBS and Hot Coco
IMHO there are some wonderful shorting opportunities out there and these two are already in play, $300B in banking Coco's (contingent convertible or bail in as these bonds when distressed convert to company shares) issued since 2013; and $1T in non agency commercial and residential RE securities (CMBS, RMBS) outstanding, i.e. sub prime or Alt-A loans (rated below AA).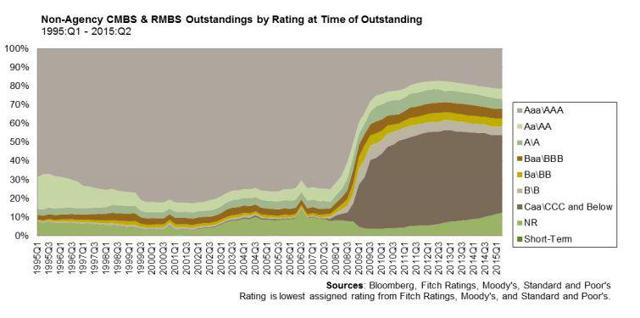 Above note, that huge dark bubble percolating under the surface is $600B outstanding and rated Caa/CCC or below.
Student and Automotive Loans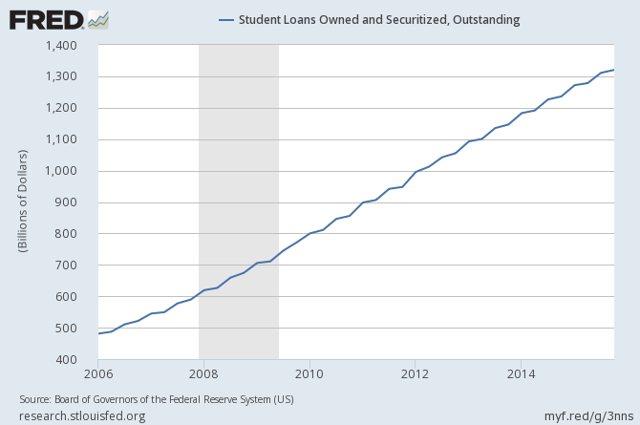 Above note, $1.3T in student loans outstanding.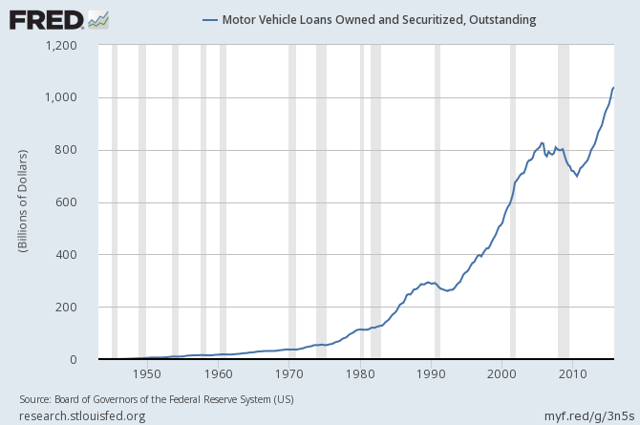 Above note, $1T in auto loans outstanding and there are another $209B in auto leases outstanding.
The Big Short?
"If you want to make it big, here is what we suggest à la "Big Short," given last week we mentioned that Italian NPLs have now been bundled up into a new variety of CDOs and that the Italian state guarantees the senior debt of such operations and thinks it is unlikely ever to have to honour the guarantee (as equity and subordinated debt tranches will take the first hit from any shortfall to the price the SPV paid for the loans), maybe you want to find someone stupid enough to sell you protection on the senior tranche of these "new CDOs." - Martin at Macronomics
Here we go with our countdown, at number #3... bonds tied to student loans, $95B in issuance since 2010. Of the $1.3T outstanding student loans, 93% are federally backed. However, there are est. $375B in FFELP loans which were made by private lenders of which $70B have received multiple rating downgrades.
At number #2 in our countdown... sub prime auto bonds, accounting for $170B of the $1T outstanding.
And finally at #1 in our countdown... Italian NPL (non performing loan) bonds, $330B or 18% of outstanding of which 80% are corporate. These toxic loans will get bundled into structured ABS - Asset Backed Securities and the top tranches will be the last ones to absorb losses. A high credit rating will be stamped on the senior tranches and a guarantee by the Italian government will transfer Italy's BBB- credit rating to the lower tranches. Although the ABS are still backed by the same toxic loans, voila! as crap collateral is magically transmogrified for ECB QE purchase, major agency rating approval, middleman broker/dealer packaging and resale to unsuspecting investors.
The best part we save for last: most of the NPL's will NEVER be repaid. Why? The average default age is SIX YEARS AGO and most of the entities involved, no longer exist. As such, this tops "The Big Short" aka US MBS "deja vu all over again". Validation of Phil Davis's previously noted observation, the Italian banks appear to be living and dying with the corporate debt, and in this case the central bank is bailing them out and passing all the risk onto the public.
Caveat Emptor applies and as Martin suggests, it would be nice if you could find someone stupid enough to sell that insurance, and if you do please PM me as opportunities for "The Big Short" seem to abound. TBD. As Casey Kasem said at the end of every American Top 40 Countdown he hosted from July 4th, 1970 until January 3rd, 2004 : "And don't forget, keep your feet on the ground and keep reaching for the stars."
This is the 13th in a series of thematically related missives which will attempt to identify the macroeconomic forces with potential to adversely affect capital, commodity, equity, bond and asset markets.
I wish to dedicate this missive, to one of my mentor's Salmo Trutta, who is a prolific commenter on SA. Without Salmo's tutelage, and insistence in not masticating and spoon feeding the baby ducks, as in learning the hard way, by doing the leg work and earning it, this missive would not have been possible. To you "Proximo"... "win the crowd and win your freedom" - Spaniard
Since the market potential is broad in both scope and scale, our conclusion: more grief in the dollar "short" or squeeze and its associated liquidity issues, with the potential to adversely affect capital, commodity, equity, bond and asset markets. Will it happen? TBD, and forewarned is forearmed.
As for how all of the above ties into the potential and partial list of market plays below... the market as a whole could be influenced, and this would tie into any list of investments or assets. Those listed below happen to influence the indices more than most.
Would like to thank you folks fer kindly droppin in. You're all invited back again to this locality. To have a heapin helpin of Nattering hospitality. Naybob that is. Set a spell, take your shoes off. Y'all come back now, y'hear!
Investing is an inherently risky activity, and investors must always be prepared to potentially lose some or all of an investment's value. Past performance is, of course, no guarantee of future results.
Before investing, investors should consider carefully the investment objectives, risks, charges and expenses of an investment vehicle. This and other important information is contained in the prospectus and summary prospectus, which can be obtained from the principal or a financial advisor. Prospective investors should read the prospectus carefully before investing.
Below, recommended reading for those invested in mutual and bond funds, ETFs, REITs, HY, leveraged, EM, oil, energy, bonds and the broader markets. Why? There are many macroeconomic cross sector and market asset correlations involved that affect your investments. Economic conditions, the eurodollar, global dollar debt and monetary policy all influence the valuation of the above and market plays below, via King Dollar's value, credit spreads, swap spread pricing, market making, liquidity, monetary supply and velocity, just to name a few.
Market Warning: Reading not only those listed below, but also every installment of these multi-part missives could lead to a better understanding of the market forces in play and how to profit from them.
For a complete missive series listing, click here.
These global economic developments could affect numerous capital and asset markets, sectors, indexes, commodities, forex, bonds, mutual funds, ETFs and stocks.
A List of Potential Market Plays (Long or Short?):
Disclosure: I/we have no positions in any stocks mentioned, and no plans to initiate any positions within the next 72 hours.
I wrote this article myself, and it expresses my own opinions. I am not receiving compensation for it (other than from Seeking Alpha). I have no business relationship with any company whose stock is mentioned in this article.
Editor's Note: This article covers one or more stocks trading at less than $1 per share and/or with less than a $100 million market cap. Please be aware of the risks associated with these stocks.