This article is a follow up to my preceding article on Nabors Industries (NYSE:NBR), published on October 29, 2015 about the 3Q'15 results.
Source: Nabors Rig 536. NBR website.
Description of the Fleet
Nabors can be divided into different segments (actively marketed rigs):
Offshore drilling: Nabors owns seven jackups and 37 offshore platforms
Land drilling: Nabors owns 500 rigs
Nabors owns and operates approximately 500 land drilling rigs throughout the world. Nabors' actively marketed offshore fleet consists of seven jackups and 37 platform rigs in the United States, and multiple international markets.
Q4 2015 Earnings Results Snapshot
You can find an important link to the conference call transcript here.
Financial Snapshot: (Five Consecutive Quarters)
2015
Q4 2015
Q3 2015
Q2 2015
Q1 2015
2014
Q4 2014

Total Revenue

$ Billion

3.7917
0.6937
0.8124
0.8637
1.421
6.8097
1.785

Total Revenue from drilling (excluding rig services)

$ Billion

3.8644
0.7389
0.8476
0.8631
1.4154
6.8042
1.7838

Adj. Net income from operations

$ million

(329.5)
(161.1)

(250.9)

(41.89)
124.4
(669.3)
(886.4)

Non-cash impairment + other charges

$ million

368.97
123.56
245.41
-
-
1027.42
1,010.4

Cash and Cash equivalent and short-term invest.

$ million

274.59
274.59
276.56
469.90
621.17
536.17
536.17

Long-term debt

$ billion

3.6552
3.6552
3.738
3.691
3.817
4.331
4.349

Adjusted

EBITDA

$ million

1,127.42
223.33
247.63
288.18
368.28
1,749.40
446.12

Earnings from continuing operations

Adj. $/s

basic $/s

(1.14)

(1.29)

(0.57)

(0.58)

(0.86)

(1.02)

(0.14)

(0.13)

0.43

0.43

(2.28)

(2.28)

(3.06)

(3.08)

Shares

outstand.

in million

282.982
276.371
284.112
286.17
285.36
290.694
296.21
Detailed Operating Revenue Q4 2015 and comparison
Q4 2015

$ million

Q3 2015

$ million

Q2 2015

$ million

Q1 2015

$ million

Q4 2014

$ million

Q3 2014

$ million

US
222.06
259.94
321.2
453.8
544.9
571.7
Canada
28.31
29.93
21.41
57.84
88.2
80.5
International
448.51
516.18
458.55
445.4
432.1
424.7
Rig services
72.86
73.52
100.60
144.08
190.4
191.4
Total Operating Revenues
771.74
879.6
901.8
1,101
1,256
1,268
Completion and Production services
Completion
-
-
-
(55.2)
361.8
254.0
Production
-
-
-
(3.3)
239.9
259.9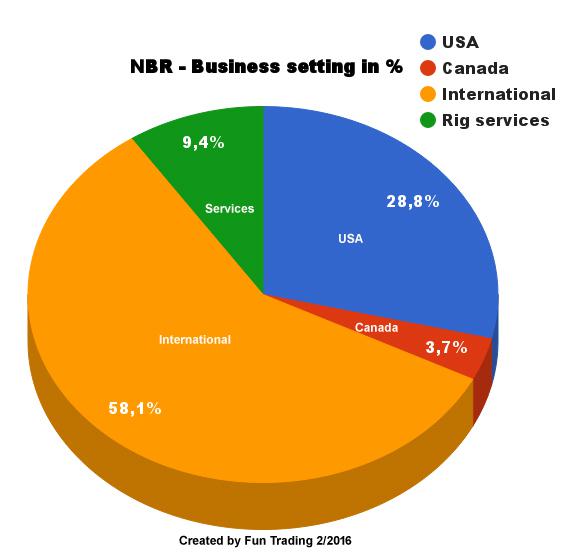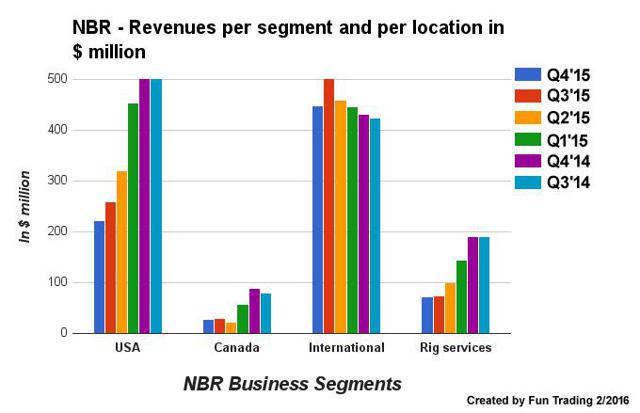 Click to enlarge
Rig count and drilling activity from the conference call:
1 - In the Lower 48, our rig count today stands at 57 rigs, including six rigs on rate. We exited the fourth quarter at 68 rigs total, including six stacked on rate. Of the 68 at the end of the quarter, 40 rigs were working on term contracts... We also expect the first quarter average daily margin to decline below the $7,000 level... Second, the drilling market in Canada remains depressed.

2 - International segment, rig years totaled 117 in the fourth quarter. Given current trends and our outlook, we could drop by as many as 10 rigs in the first quarter. However, our daily rig margin should improve by as much as $2,000 per day. Primarily, this results from a positive shift in rig mix. Bear in mind, we enter 2016 with nearly $3 billion of total contractual revenue backlog in our International segment. 2016 constitutes over 40% of that amount... International segment, activity is likely to decline sequentially.
Commentary:
Nabors Industries released its 4Q'15 and full 2015 results, on February 17, 2016. M. Anthony G. Petrello, CEO, said in the conference call the following:
For the fourth quarter, Nabors generated EBITDA of $223 million. Revenue was $739 million. Despite these market headwinds, our operations generated free cash flow, including working capital and after capital spending and dividends, in excess of $100 million.

Nabors' worldwide rig activity declined to 223 rig years from 242 rig years in the third quarter. Adjusted EBITDA was down 10% sequentially. Given the current market conditions and our outlook, we impaired the value of several assets in the fourth quarter. The most significant of these were the International and U.S. Drilling segments.
I think these comments above are explaining what is at stake here, and the very difficult path ahead. No need to calculate this and that, or get a ratio of that, to realize that the business outlook is getting worse. It is a fact.
One good element about graphs is that, they show quickly what we need to know. If we look at the graph above, we see that the lower 48 and Canada, have been declining regularly since Q3'14 and lost over 60% from 3Q'14 to 4Q'15. Rig services are following the trend, of course, less rigs working means less service to perform.
Now, the important question is whether this decline finds a real bottom or not? The answer is both easy and extremely difficult to formulate, and depends on the oil prices. If oil prices cannot get any support and soon start to increase to a value that allows drilling, then we may be at a bottom. However, if oil prices continue to languish in the $30s level, NBR will have to battle some extremely difficult headwinds for the rest of 2016.
Now, let see what Nabors accomplished this quarter.
First, Nabors completed the merger of its Completion and Production Services operation with C&J Energy Services. Looking at this acquisition was a mistake in retrospect, in my opinion. I really do not see any interest in this merger and any synergy whatsoever. Time and energy have been wasted on this issue that could have been allocated to the main business.
However, it is done and the company will have to make it profitable. One positive is that the proceeds from the transaction, internally generated cash flow and the new term loan - In October 2015, NBR drew the available $325 million off of its unsecured term loan facility - Nabors decreased total debt by more than $675 million.
Recently, on January 7, 2016, the Market Realist wrote that NBR debt was a concern.
Click to enlarge

Since then, we have gotten the 4Q'15 EBITDA of $223.33 million and $1.127 billion for 2015, a reduction of 16.5% of the trailing EBITDA, from 3Q'15. The Net debt is now $3.38 billion and the 4Q'15 is approximately 12. We are now approaching x3 what we had in 1Q'15.
Another concerning aspect is that the business continues to deteriorate rapidly. M. Petrello said in the conference call:
The downward trend since the beginning of November has caused our global customer base to rethink spending plans. The Baker Hughes Lower 48 rig count has already responded. Operators dropped rigs for the last eight weeks, including a 47-rig plunge in the first week of February. The Baker Hughes International rig count outside of North America is down approximately 8% since September.
Conclusion, the debt reduction is not enough to eliminate my concerns, and I am surprised that the company has not reduced or even suspended the dividend, which is a huge waste of cash that could help reduce the high-level of debt, especially when the business outlook is still extremely negative. This move could save another $80 million per year, but of course, it will not be popular among shareholders.
Meanwhile, NBR is acting responsibly and intends to cut expenses and CapEx in 2016.
For 2015, capital spending for our current portfolio of businesses finished below $800 million and $100 million below the forecast we made from the first quarter. At this point, our targeted CapEx for 2016 is less than $500 million, at approximately $475 million.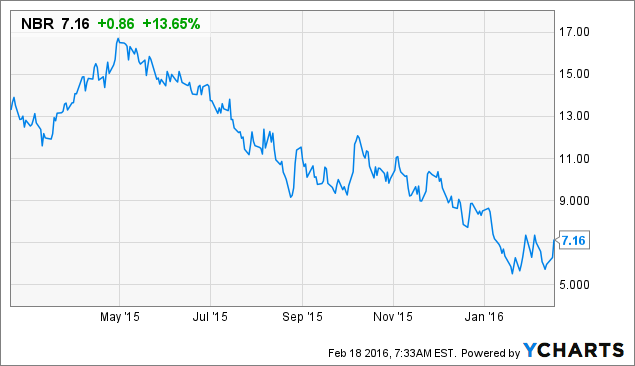 After listening to the conference call, I realized that the situation will not change for the better next quarter, and the company will be faced again with some tough decisions, to be able to survive this bear cycle, unfortunately. I recommend NBR as a hold now, and wait for the $5-$6 level that could be coming, if the company is forced to suspend the dividend in 1Q'16. I could change my mind if the oil prices start go up strongly and reach $40s.
Disclosure: I/we have no positions in any stocks mentioned, and no plans to initiate any positions within the next 72 hours.
I wrote this article myself, and it expresses my own opinions. I am not receiving compensation for it (other than from Seeking Alpha). I have no business relationship with any company whose stock is mentioned in this article.