Casey's General Stores (NASDAQ:CASY) reported monthly sales for January.

The company saw a meaningful slowdown in same-store sales while fuel margins bounced back after a weak December. Remember, convenience stores as a whole were supposed to see a significant boost from the Powerball lottery.
So what happened?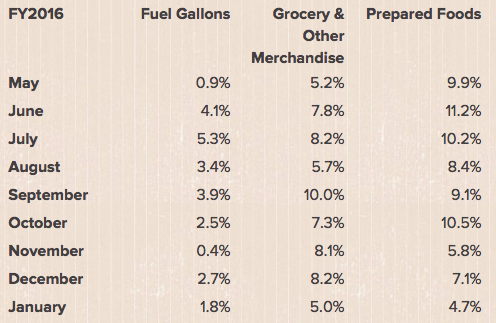 December Sales
December bounced back after a below-trend number in November. Fuel volumes rose 2.7% and in-store sales were led by 8.2% Grocery sales. Prepared Foods rebounded but remain below managements 10% target.
Management disclosed that fuel margins came in below their 16.7 cent per gallon target, which was a sharp decline from the 24.7 cents per gallon earned in Q2.
January Sales
January sales came in well-below expectations, especially considering the "hope" after strong interest in the Powerball lottery, while fuel margins continued their volatility rising sharply in the month. Recent OPIS data suggests margins were nearly 25 cents per gallon.
Prior year comparisons for Grocery and Prepared Foods were 10.2% and 16.9%, respectively boosted by unseasonably warm weather.
Powerball Bust
While the Powerball lottery boosted traffic in the first half of the month, it failed to translate into strong inside store sales. One commentor had this to say:
"What you hear from retailers is that when these mega-jackpots happen there tends to be a decrease in other in-store sales," Lenard said. "That's because convenience stores sell convenience. If you have difficulty finding a parking spot or you are in a hurry and you don't want to stand in line, you will go somewhere else," to make these purchases.
While Casey's management had a positive outlook early on, the momentum petered out as the month progressed:
Casey's General Stores said sales for the next drawing have picked up since the jackpot surpassed $1 billion. "And a good share of people buying lottery tickets will buy other products while they are in the store," said Bill Walljasper, senior vice president and chief financial officer.
While traffic rose, it appears the lottery failed to translate into a meaningful increase in Grocery and Prepared Foods sales. Simply, customers bought a ticket and little else.
That said, certainly the impact of harsher winter weather this year is magnified for a regional chain like Casey's. I look forward to further management commentary when they report Q3 results.
Covering all the bases
"Only when the tide goes out do you discover who's been swimming naked."
This marks the second out of the past three months where Prepared Foods sales came in below managements 10% goal. I continue to emphasis Prepared Foods because without it, Casey's is pretty much just another retailer that sells commodity fuel and cigarettes.
Over the past several quarters, all convenience stores have benefited from the rising tide of lower fuel prices, which have driven fuel margins and inside store sales higher. However, the traffic and sales boost from lower gas prices isn't, in my view, sustainable nor is it a long-term investment thesis. It will normalize eventually and the year over year benefits will subside.
In the long-term, the business will build value over time and differentiate itself via Prepared Foods. The emerging pizza business continues to improve store productivity, increase margins and fuel higher same-store sales. It also leverages the commodity fuel retailing business to build a unique franchise that consumers love.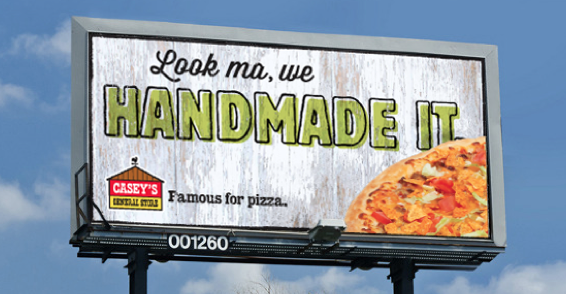 Success in Prepared Foods is a key pillar to my long thesis. On the Q2 call, management highlighted the slowdown in November will likely (and hopefully) be temporary. The rollout of pizza delivery, digital initiatives and major remodels are still expected to boost Prepared Food sales in Q4.
I'll be watching.
Disclosure: I am/we are long CASY.
I wrote this article myself, and it expresses my own opinions. I am not receiving compensation for it (other than from Seeking Alpha). I have no business relationship with any company whose stock is mentioned in this article.