While Chesapeake Energy's (NYSE:CHK) equity remains a gamble, especially with the recent downgrade by UBS to a $0.50 PT, the bonds are enticing to high yield investors. Yes, the potential returns on these bonds are massive and in a down market like what we're currently experiencing, they could more than offset the losses you're likely experiencing in equities if you allocate correctly. With big news from the company last week that they will be paying down the March 2016 bonds, we have to start looking at the other issuances to gauge their attractiveness. If you're shopping for high yield debt, perhaps CHK's corporate bonds just became your next purchase.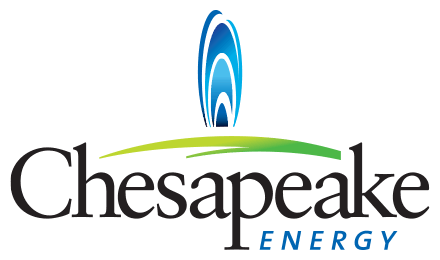 Laying It Out
Below is the current maturity lineup. Obviously, significant pressure has arisen around the March 2016s, as well as the January 2017s and the August 2018s. These are the closest maturities and now that the March 2016s are being paid down by Chesapeake, we'll look at the latter two issuances to see if they pose attractive investment options.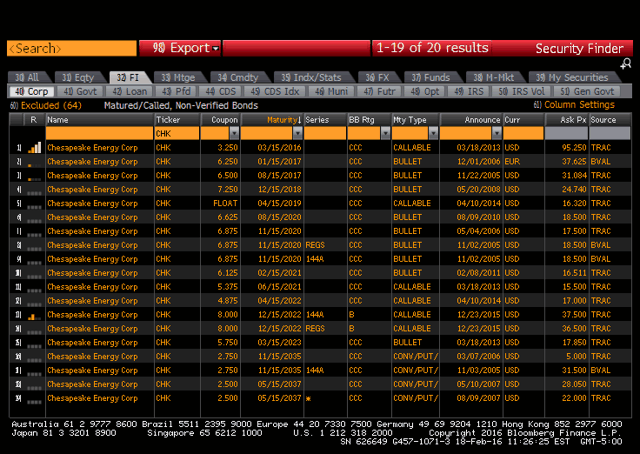 Click to enlarge
Source: Bloomberg
Which Issuance To Play?
Tying to gauge the risk level on these high yield bonds is incredibly difficult, especially when we factor in that many of those reading this article are retail investors and not capable of gaining access to more lucrative institutional prices. As you can see below in the March 2016 bonds, there are a few brokers that will allow you to trade these products, but their prices are slightly higher than others. Assuming you could get orders through and your broker showed an ample amount of liquidity for entering and exiting, the risks would still be substantial given the company's non-investment grade credit rating. For this particular issuance, the risks are now incredibly low considering the company has already announced plans to pay it down.
Below are the quotes for the March 2016 bonds: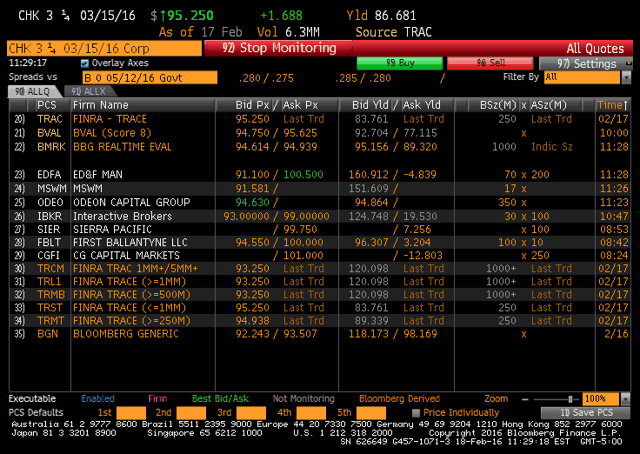 Click to enlarge
Source: Bloomberg
Now, these bonds trade at a YTM of 80.27%, which is much higher than what I've seen quoted elsewhere on Seeking Alpha, but I'm pulling these YTM's directly from HP on the Terminal, so I'm going to assume these yields are correct. The average YTM on these bonds is 14.5%, with the high yield breakout only occurring at the end of January. The company experienced a high YTM on Feb. 11 of 220.08%, which is pure insanity, but makes complete sense given the company's highly speculative credit rating.
Moving forward, below are the quotes for the January 2017 bonds: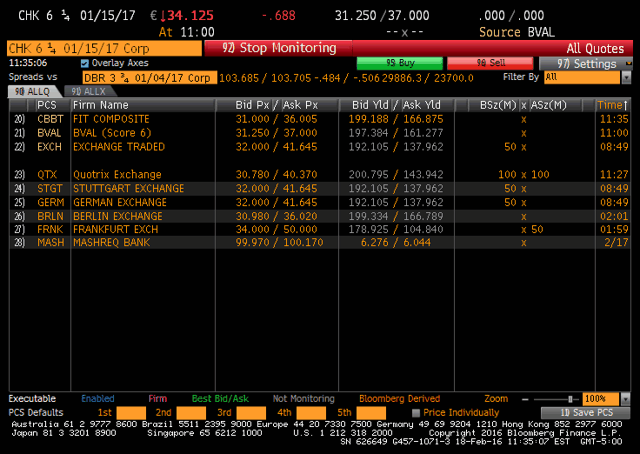 Click to enlarge
Source: Bloomberg
What's interesting about this particular issuance is that it's denominated in euros. So, not only are you subject to a constantly fluctuating euro exchange rate, but you have all the same risks as taking on one of Chesapeake's other bonds. As we can see above, the bids are generally in the low 30s and are up slightly from last week. More importantly, trading just 30 cents on the dollar on the low end, these bonds are attractive purely because they're cheap relative to other corporate debt. While they aren't the cheapest in the energy sector as many other companies are facing liquidity crunches and debt problems, they represent a massive upside premium if they are bought now and held to maturity.
Furthermore, you could be the beneficiary of a situation like what the March 2016 bondholders are experiencing where they're getting a near guarantee on their investment. The current YTM on these January 2017 bonds is 178%, which is down, which is up drastically from the beginning of February as well as from the new year. The average YTM on these is 24.32%, but naturally this represents a history of little movement in the prices throughout 2H 2016.
Third, below are the quotes for the August 2017 bonds: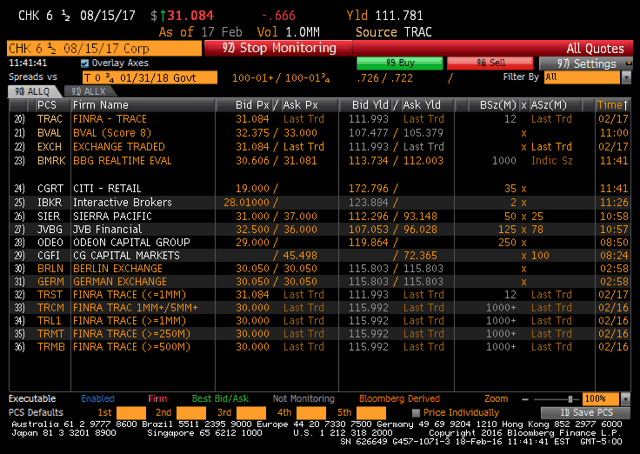 Click to enlarge
Source: Bloomberg
This issuance is also creating pressure on Chesapeake given how relatively close the maturity date is. Like the January 2017s, the bids are trading around 30 cents on the dollar, with a few quotes slightly below that on the bid side. The YTM on these is 111.78%, down from its high of 148.48% reached on February 10. The average YTM is 19.23%, but again this is due to a history of low prices in 2015.
Now, there are two more issuances due before 2020, the December 2018s and the April 2019s. By the time these mature, CHK is arguably banking on a recovery in natural gas and oil prices. If prices were to remain at current levels for both of these commodities, the company would likely not be able to service their debt.
The company has stated that it has no plans for bankruptcy, which if you're an equity investor is a small relief, but operational headwinds could certainly dictate otherwise. However, it is these three issuances listed above that the most immediate danger to this company's short and long-term stability becomes known. If the company cannot pay these down, then either further restructurings have to take place (which push both FI and equity prices down) or the company has to file for bankruptcy, in which case you hope that you're high up on the totem pole to receive your investment back.
The profitability of these bonds really rest on CHK's liquidity, which naturally we'll get much more visibility on when the company reports Q4 2015 earnings next week. The company last reported $1.8 billion in cash and cash equivalents on its balance sheet during the Q3 report, but had ST debt over $470 million and this is before the consideration of the $500 million payout to cover the March 2016 bonds. Based upon what I'm looking at and understanding, without further divesting a considerable amount of non-core assets there's no way Chesapeake won't tap its $4 billion credit facility to help service debt and reduce quarterly interest payments. The company is currently shelling out $88 million in interest per quarter.
The Equity Reflects Trouble
Just take a look at this company versus both the WTI and the Henry Hub over the LTM. It's an incredibly dismal chart. If the stock heads any lower, speculation will start to arise over delisting, reverse splits, and additional offerings that could heavily dilute the float. The equity remains a pure gamble and in no way advise anyone to try and speculate on it. The big names are getting out, too, as George Soros just disclosed the sale of his stake in a recent 13-F.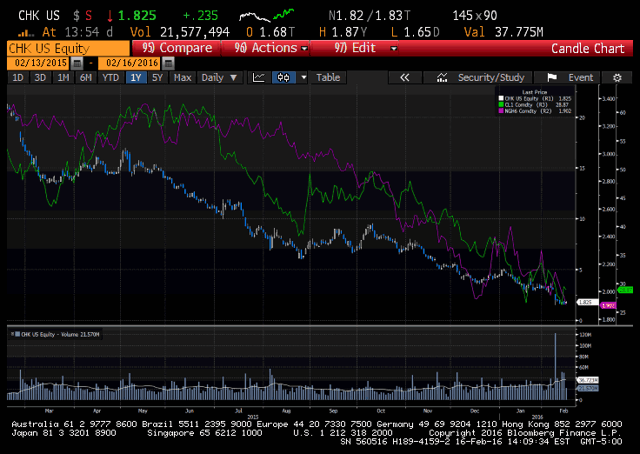 Click to enlarge
Source: Bloomberg
Conclusion
Naturally, the scenario for these bonds and the equity could change drastically if the fundamentals in the operating environment improve over the next few weeks, but I don't see this being likely. A recovery takes time and having a lack of optimism is a perfect hedge in this market. I'll reiterate that I do not believe Chesapeake is the company to allocate capital to given the high risk attached to corresponding fixed income and equity strategies. Chesapeake will report earnings on February 24th, which is next Wednesday, so ready your portfolio for some heavy volatility.
Disclosure: I/we have no positions in any stocks mentioned, and no plans to initiate any positions within the next 72 hours.
I wrote this article myself, and it expresses my own opinions. I am not receiving compensation for it (other than from Seeking Alpha). I have no business relationship with any company whose stock is mentioned in this article.