Revisiting yesterday's article, Cobra Electronics (NASDAQ:COBR) did move based on earnings, unfortunately though not in the direction its higher volume and gains going into today had predicted. COBR fell over 20% in Friday morning trading after its earnings release. This appears to be a reversal of a move based on higher expectations. Near-term traders were caught off guard by a quarter that (after all the sugar coating) had a lower EPS than 2010.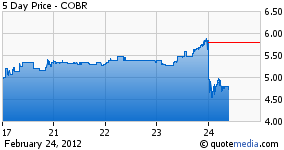 Positive Trends Despite a Drop
Today's downward move covers up the fact that the 2011 was a pretty good year for Cobra. An upward trend could continue if the company continues its progress into 2012, as suggested in today's report. Revenue rose 7.7% quarter over quarter. Gross margins increased to 31.4 percent from 27.6 percent. Earnings per share rose to $0.47 from $0.21 in 2010, leaving the Cobra with a modest price to earnings of under 11.
Domestic sales saw a 9% increase in areas largely central to the company such as two-way communication and navigation devices. European market sales rose 4% primarily attributed to the increased sales of GPS devices and a luxury item in the company's line, the Snooper Shotsaver Golf GPS device. This item does have limited competition from the likes of the Garmin (NASDAQ:GRMN) Approach GPS line, but the novelty of this device makes Cobra's position in this area potentially more lucrative. Further, attention to the sector, including the stellar earnings report from Trimble Navigation Limited (NASDAQ:TRMB) and good news from Garmin and VOXX (NASDAQ:VOXX), make this a hot area to diversify toward.
An Anomaly, Not an Excuse
With positive news on many fronts, why the drop? While the blame game is usually spun to a positive with many stocks, it is true that a main contributing factor to Cobra's less-than-stellar earnings release was out of its control. A significant customer's unexpected bankruptcy was the prime reason for lower Q4 earnings per share year over year. This is bad debt COBR has experienced in nearly 15 years. Cobra has a high debt ($18.7 million) to cash ($1.0 million) ratio, and therefore a lower tolerance to uncertainties and a reason to diversify if you are a current investor or contemplating investing in this equity.
Where to Go From Here?
The nature of small-cap investing contains a bi-polar element in the short term, but long-term gains can still net investors big wins in the long run. With continual product development and success as predicted, Cobra's current debt is reasonable considering revenue of $123.3 million for the year. Bottom line: today is a missed opportunity based on the attention this smaller cap was garnering in volume, but it still may be a time to take a position for long-term gains. Don't count Cobra out as you are hunting for small caps for a speculative play.
Disclosure: I have no positions in any stocks mentioned, and no plans to initiate any positions within the next 72 hours.