OTC Markets Group (OTCQX:OTCM) has been a company that has been sitting under my nose for a very long-time. A few week ago, I was looking though a list of OTC traded companies and stumbled upon OTCM. It took me a minute, however I then realized that investors can buy stock of the company that hosts all of the data for OTC companies. After drinking at least a pot of coffee and reading through the company's financials, it dawned upon me how valuable the company's business model really is.
Summary
OTCM operates and hosts the open, transparent and connected financial marketplace. Their marketplace is known by investors as the OTCQX Best Marketplace, OTCQB Venture Market Place and the OTC Pink Open Market Place. Furthermore, their financial marketplaces feature over 10,000 US and Global securities.
Backing the story up a bit, the OTCM marketplaces have roots that go back to 1904, back in the day when the company was known as the National Quotation Bureau (ask your grandpa for more info). However, in the year of 1997, a group of investors bought out the company (which was led by OTCM's current CEO). Since then, there have been no changes in ownership.
As a company, OTCM has three business segments; OTC Link ATS, Market Data Licensing and Corporate Services.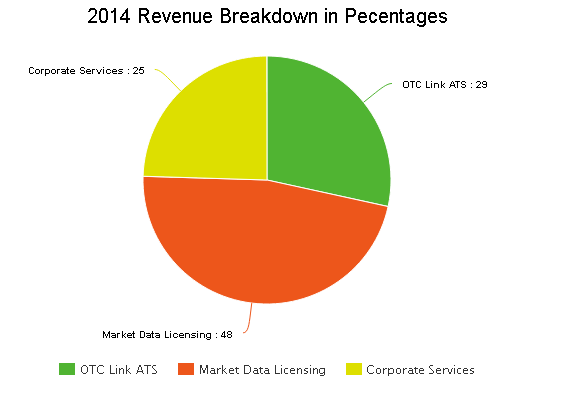 Source: Meta-Chart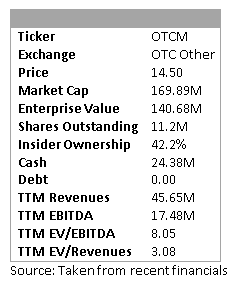 Investment Thesis
OTCM is an unfollowed microcap stock (avg. three month volume is 2,410) that has a very valuable business model with potential for high single digit to mid double digit topline growth. Furthermore, I believe that the company has a near-monopoly, a great shareholder friendly management team and very real returns for the long-term oriented investor.
Competitive Advantage and Near-Monopoly
When I realized that you could buy stock in the company that owns the OTC website, I thought to myself…
"They are the only players in this game".
In order to help more so, 'prove', the fact that OTCM has relatively low competition, I quickly jumped on Morningstar to look at their historical margins and profitability.
| | | | | | | |
| --- | --- | --- | --- | --- | --- | --- |
| | 2014 | 2013 | 2012 | 2011 | 2010 | 2009 |
| Gross Margins | 55.47 | 60.44 | 56.65 | 61.16 | 60.46 | 61.04 |
| Operating Margins | 32.42 | 24.66 | 27.07 | 21.19 | 18.10 | 23.57 |
| Net Income Margins | 19.18 | 16.25 | 16.15 | 14.71 | 10.49 | 14.64 |
| Return on Assets | 24.19 | 19.20 | 20.51 | 22.50 | 17.00 | 20.97 |
| Return on Equity | 41.34 | 32.91 | 39.15 | 43.84 | 34.58 | 45.45 |
The company's financial history only dates back to the year of 2009. Yet, since the reporting started in 2009, OTCM has historically posted high double digit returns and profitability.
I was not surprised that OTCM has historically posted high double digit returns and profitability, given my belief that the company faces relatively low to no competition. However, high returns and profitability are not a 100% suggestion that a business has certain competitive advantages or barriers to entry. Moreover, I had to do further due diligence to strengthen my belief.
As for competitors, the NASDAQ (NASDAQ:NDAQ), CME Group (NASDAQ:CME) and the NYSE really are the company's only real competition. Even then, the NASDQ, CME and NYSE are really not direct competitors due to the totally different companies and customers that each company serves. I mean the Jobs Act has helped companies gain better access to the NASDAQ and NYSE yet OTCM continues to carve out their niche business model, with literally zero direct competition.
Interestingly, OTCM benefits from regulations preventing national security exchanges from listing securities of non-SEC registered foreign companies. Furthermore, OTCM has recurring and predicable revenues that help to further enhance the value of its business model (we will talk about this more latter).
Finally, on a relative basis, OTCM is trading for a discount to its peers…
| | | |
| --- | --- | --- |
| | TTM EV/EBITDA | TTM EV/Revenue |
| NASDAQ | 11.22 | 3.51 |
| CME Group | 14.06 | 9.37 |
| OTC Markets Group | 8.05 | 3.08 |
The reason why the relative undervaluation probably exists is due to the lack of analyst coverage and visibility as a whole. For an example, OTCM has one analyst covering the company, while the NDAQ and CME have multiple analysts. Also, OTCM is listed on the OTC boards, which the majority of institutions and retail investors wholly avoid.
Not only is OTCM undervalued on a relative basis, but the company has a stronger balance sheet, higher payout ratio, better forward growth prospects and stronger margins than the NDAQ (its main indirect competitor). Interestingly, few know about the company and even fewer will take advantage due to the OTC listing.
Shareholder Friendly Management Team
A lot of investors that I know view OTC companies as value traps, scams, illiquid securities and with untrusted financials. Furthermore, I don't really think that these negative connotations will go away in the near or mid-term, which to me is fine (gives me an edge over the majority of the street). However, I do agree and believe that there are a lot of garbage securities in OTC land that could be deemed as value traps.
OTCM is far from a garbage security and for long-term investors, is not a value trap. Besides the potential for forward high returns, another item that makes OTCM an interesting security for long-term investors is the shareholder friendly acts management performs.
First, the company pays a quarterly dividend which they recently upped to $0.14/share from $0.10/share. Not only do they pay a quarterly dividend, but the company also has a history of paying a special dividend. Moreover, the company upped their special dividend to $0.60/share in November of 2015, from $0.50/share YOY.
Furthermore, management recently enacted a share repurchase program in February of 2015, to purchase up to 300,000 shares outstanding. Since the announcement, the company has repurchased 50,826 shares with a purchase price between $14.00-$14.10/share. With 249,174 shares left to be repurchased and at an average price of $15/share, it would only cost the company ~$3,737,610. Finally, if the company purchases the rest of the shares they can with their current program, this would equate out to retiring 2.22% of the shares outstanding.
Additionally, with the company's pristine balance sheet, and ability to generate substantial FCF, these shareholder value enhancing programs should continue, in the near and mid-term.
| | | | | |
| --- | --- | --- | --- | --- |
| | TTM | 2014 | 2013 | 2012 |
| Operating Cash Flow | 17 | 13 | 8 | 9 |
| Capex | (1) | (2) | - | (1) |
| Free Cash Flow | 16 | 11 | 8 | 7 |
| Shares Outstanding | 11.20 | 11.20 | 11.20 | 11.20 |
| Free Cash Flow Per Share | 1.43 | 0.98 | 0.71 | 0.63 |
| Current Price | 15.00 | 15.00 | 15.00 | 15.00 |
| Free Cash Flow Yield | 9.5% | 6.5% | 4.8% | 4.2% |
In millions expect for per share items
Furthermore, OTCM has a very scalable business model. What I mean is, the company does not have to substantially increase its capex in order to grow FCF. Thus, in the past four years, FCF has grown at an annualized CAGR rate of 22.95%, with virtually the same amount of capex, year after year. Moreover, even if the company can only grow their FCF at a 10-15% rate going forward, the FCF yield should incrementally increase from the current stock price.
Will management continue to create shareholder value in the future? I believe so, given the fact that management has a decent amount of 'skin in the game'.

Click to enlarge
Source: 2014 Annual Report
Remember, this has been the same management team that took the company over in 1997, continued to invest in the business, took modest salaries and persistently increased shareholder value. Finally, if you have not done so already, I urge you to go to the company's recent annual report and read their values that they aspire to live by (very interesting, unique and shows management's dedication to shareholder value).
To end this section of my report, I would like to leave off with what the CEO stated in the 2Q15 conference call…
"This is our 27th consecutive quarterly dividend and is a 40% increase from last quarters $0.10 per share dividend. And record obtaining quarterly and special dividends also highlights our continued growth in revenues and net income. We are pleased with the strong operating results and are optimistic about future growth based on our solid base of recurring revenues and new product development but we also want to make sure that we are always focused on providing long term value and returns to our shareholders".
Forward Growth and Value
There are a few key items that have been stated in this report thus far, that I would like to state again before moving on (due to importance).
The company has a very valuable business model with relatively low to no direct competition. This has allowed the company to enjoy double digit profitability and returns. Furthermore, because the company has been in existence since 1907, another company trying to step in and takeover what OTCM has created may prove to be more difficult than said (due to brand awareness and strong reputation).
Management at OTCM is very shareholder friendly and helps to unlock shareholder value via dividends, special dividends and repurchases. Also, due to the nature of its business model (recurring revenues and low capex requirements), FCF should continue to grow at attractive rates for the foreseeable future. Finally, management has 'skin in the game' which will help ensure continual shareholder friendly activity.
Why does the company have a valuable business model and how will the company continue to grow? Good question.
The value in OTCMs business model relies upon the fact that they are the only company that provides visibility, transparency and a more efficient market for OTC listed companies. To put in better context take the following example.
Many individuals view the stock market as the DOW Jones, NASDAQ, NYSE and all of the huge well-known corporations that thrive in these markets. However, what many individuals do not realize is that the vast majority of business/commerce is done on a much smaller level in the form of small and microcap companies. In order to provide an efficient market for small companies, OTCM steps in to facilitate this market data.
For a better perspective on how big the OTC market is, the table below represents the number of OTC securities traded on the OTCQX, OTCQB and OTC Pink Marketplaces for the past three years…

Source: 2014 Annual Report
Interestingly, the NASDAQ has around 3,100 companies, and the NYSE has around 2,800 companies. Furthermore, it costs companies much less money to trade on the OTC markets for as little ~$10,000/year, and even less depending on the exchange they are looking to be put on. Compare and contrast this with the NASDAQ's entry fees.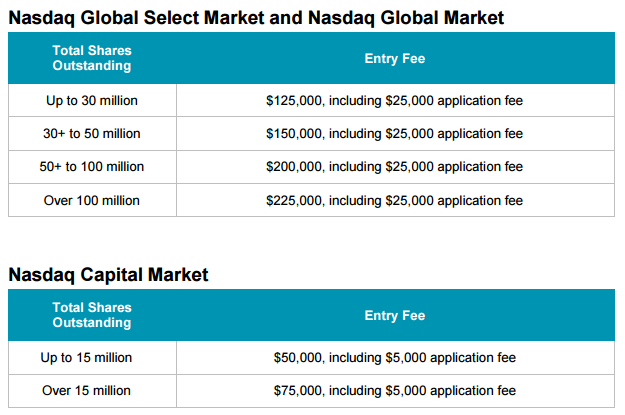 Source: Listing Center NASDAQ
Will there always be a need for the services that OTCM provides? Unless you think that big business will overtake the world and there will never again be startups, smaller companies and entrepreneurs, then yes, OTCM's services will continue for the foreseeable future.
I hope you are starting to see the value in OTCM's business model.
Another area of interest that makes OTCM's business model valuable is its ability to have recurring revenues in nature. Almost 99% of OTCM's revenues are subscription based revenues. For an example when broker-dealers sign up to utilize OTCM's services, they pay a monthly license, subscription and connectivity fees in order to use the OTC Link ATS. In other words, broker-dealers pay OTCM monthly to quote and send trade messages of OTC stocks
As for the Market Data and Licensing business segment, subscribers also pay a monthly or annual fee. Subscribers to the Market Data and Licensing business segment get market data on OTC companies, historical quotations, company financials, corporate references and compliance data. The vast majority of customers who utilize this data are investors, traders, institutions, accountants and regulators.
Finally in the Corporate Services segment, companies register their securities on the OTCQX, OTCQB and Pink Sheet Marketplaces. In this business segment, there is a one-time registration/application fee and an annual fee.
What I find interesting and equally valuable is that improvements in any of OTCM's business segment will provide useful and valuable synergies to their other business segments. For an example, the more companies that sign up to be on the OTC Marketplaces, the higher tendency it will drive investors to utilize the market data and there will also be complements from broker-dealers who will want to list that security on their site. Thus, growth in one business segment, has a very high tendency to promote growth in the other, vice versa.
You may be thinking now that OTCM's business model is solid and produces recurring revenues, but how can they continue to expand their topline down the road? It does seem like growth could stall. However, at least in the near and mid-term, I believe the company has strong prospects for future growth.
One tailwind that will help provide forward topline growth is from their Corporate Services and Market Data Licensing. Investors, regulators and broker-dealers want more available information, higher compliance standards and better risk profiles of each individually listed company. Thus an upswing in higher compliance standards will provide and drive an increase in revenues in the long-run.
Recently in 2014, OTCM opened the OTCQX Rules for Banks. This provided and continues to provide a cost effective, public market for local banks. Furthermore, this new marketplace helps to leverage bank regulatory reporting standards, coupled with better transparency and more efficient pricing. Interestingly, this new marketplace in September of 2015 contributed to a 14% increase in the number of OTCQX US companies.
The OTCQX for Banks is a disruptive market due to the fact that banks are already overregulated. More importantly, community banks already have to spend a significant amount of money on federal regulations that up-listing to the new OTCQX for Banks will save the community banks money from additional regulatory fees, instead of listing with the NASDAQ or the NYSE. Furthermore, community banks want and need access to capital markets so listing to the OTCQX makes a significant amount of sense from the counterpart NASDAQ or NYSE.
There was also an increase in the number of OTCQB listed companies as of September 2015 to 959 from 118, YOY. This increase in up-listing, was one of the primary drivers of revenue in the first nine months of 2015. The reason for the increase in up-listing was due to a two year promotional annual subscription fee rate of $7,500 from $10,000. 50% of the 959 companies (479.5) decided to take advantage of this promotion with the other paying $10,000/year.
Doing the math, we can see that these 479.5 companies should on average bring in $3,596,250/year in annual fees. Furthermore, when the two years are up, this annual fee will increase to a consolidated $4,795,000/year, or a 33.33% increase. Given the fact that in 2015 the annual subscription renewal rate was 86% (up from 84% YOY), it's a very high possibility that the majority of these 479.5 companies will continue to utilize OTCM's services even after the jump up in price after two years goes by.
Investors should note that the vast majority of the 16% of companies that did not renew were from the Canadian Mining industry due to the downturn. Once a company is listed on one of the exchanges, typically they do not want to delist or downgrade to a lower exchange (for visibility and shareholder value). Thus, companies usually only downgrade to lower exchanges such as the Pink Sheets due to hard times/downturns.
Key items that I would like readers/investors to remember are…
The company will continue to have recurring revenues as long as there are small businesses that need access to capital markets. Also, as one of OTCM's business segments grow, the others will benefit and grow was well. This is a useful and very valuable synergy.
Future growth in the near-term will be provided by the new OTCQX Bank Marketplace and continual growth to the Venture Marketplace (OTCQB). Furthermore, promotional techniques to drive company registration growth will provide short-term topline growth, coupled with med-term growth when the subscription rate increases (remember the subscriptions/registrations are sticky).
A continual drive for increased regulations, reporting standards, visibility, transparency and compliance will help to act as a long-term tailwind and more importantly drive topline growth. This will also increase the reputation of OTCM, which is one of their most valuable assets that protects them from new entrants in the industry.
Valuation
From 2011-2014 EBITDA grew at an annualized CAGR rate of 14.30%. Furthermore, the EBITDA margin rose from 27.5% in 2011 to 36.3% in 2014. Remember, due to the company's scalable business model, they can continue to increase their margins as revenues increase without incurring higher costs or capex.
For revenues, from 2009-2014, revenues grew at an annualized CAGR rate of 8.88%. Moreover a recent uptick in revenues of 15% from 2014-TTM, shows the investor that the recent business developments by management are playing out (Bank Marketplace and promotional period).
In my two potential valuation cases/price targets below, I am estimating that revenues will grow at an 8.00% rate to a 12.00% rate for the next three years, from the TTM.
| | | | | |
| --- | --- | --- | --- | --- |
| | TTM Revenues | 2017 | 2018 | 2019 |
| Base-8.00% | 45.65 | 49.30 | 53.25 | 57.51 |
| Bull-12.00% | 45.65 | 51.13 | 57.26 | 64.13 |
In millions
Furthermore, in the base case, I will assume that the EBITDA margin will level off to what it was in 2014 (36.3%). However, for my bull case, I will assume that the EBITDA margin will bump up to 38.00%. Finally, I am assuming there will be a margin expansion to 10.00x for the base and bull case, which is much closer to the relative/peer multiple.
| | | |
| --- | --- | --- |
| Estimated 2019 | Base | Bull |
| Revenues | 57.51 | 64.13 |
| EBITDA Margin | 36.3% | 38.00% |
| EBITDA | 20.88 | 24.37 |
| Multiple | 10.00 | 10 |
| EV | 208.8 | 243.7 |
| +Cash | 24.38 | 24.38 |
| -Debt | 0.00 | 0.00 |
| Total Equity | 233.18 | 268.08 |
| Shares Outstanding | 11.20 | 11.20 |
| Estimated Equity Per Share | 20.82 | 23.94 |
In millions
The upside does not look enormous, however, my valuation model does not imply the 3.73% annual dividend yield, potential for continual special dividends and the repurchasing/retiring of further shares. Remember, if the company continues to pay a $0.60/share special dividend going forward, that's an additional 4.00% yield/return, at the current price.
I also believe the downside is relatively protected due to the pristine balance sheet, buyback program, and strong FCF generation. As the company continues to churn out high amounts of FCF, this money can either be invested back into the business or returned to shareholders. Either way, management has proven to shareholders that they are excellent allocators of capital.
Risks to Thesis
One of the most notable risks is from OTCQX companies graduating to larger exchanges such as the NASDAQ. Continual improvements in compliance standards and business activities will influence a continual influx of OTCQX companies to the NASDAQ. This will have a tendency to stall out topline growth. Though, the influx of new OTCQB and Pink Sheet companies has offset the migration of OTCQX companies to the NASDAQ thus far.
A global economic downturn is another risk to my thesis. With any downturn, companies go out of business. Smaller microcap companies have a tendency to get hurt worse than their counterpart large cap companies. Thus, if a global recession happens, some OTC companies may go out of business, hindering OTCM's topline growth. However, global recessions could also force larger companies on the NASDAQ or NYSE to de-list onto the OTC markets.
OTCM is heavily regulated. One recent potential regulation that was providing an overhang on the share price was the QCF Proposal. The QCF Proposal was withdrawn by the FINRA in March of 2015. Further unwanted regulations could poise negative changes to OTCM's business model.
Finally, OTCM's OTC Link ATS business segment is facing headwinds from consolidation and a secular shift to electronic data processing. Moreover, these changes have resulted in topline contractions. Further consolidation and continual shift to electronic data processing could further damper the OTC Link ATS business segment.
Conclusion
With a current EV/EBITDA multiple of ~8.00x, the share price of OTCM is not a deep value play. However, I believe that the current 'pricey' valuation can be overlooked due to the value of OTCM's business model and near monopoly. Moreover, the business model allows the company to churn out high amounts of predictable and recurring cash flow. Finally, the very shareholder friendly management team lets the investor sleep well at night, knowing their money will not be stuck in a value trap microcap.
In the long-run (5-10 years from now), I have a high conviction that more investors and institutions will catch onto the valuable business model that OTCM has. Furthermore, I would not be surprised to see the company get bought out in the relative future. However, if a buyout does not happen, continual compounding should continue to transpire, which will be very value enhancing.
Disclosure: I/we have no positions in any stocks mentioned, and no plans to initiate any positions within the next 72 hours.
I wrote this article myself, and it expresses my own opinions. I am not receiving compensation for it (other than from Seeking Alpha). I have no business relationship with any company whose stock is mentioned in this article.
Editor's Note: This article discusses one or more securities that do not trade on a major U.S. exchange. Please be aware of the risks associated with these stocks.