Vuzix (NASDAQ:VUZI) will report sometime over the next six weeks. My best guess is sometime in mid-March, but a conference call could be scheduled on a whim at any time. Analysts are expecting Q4 revenue to come in at $1.11 million with a high estimate of $1.3 million and low estimate of $0.92 million.
I'm looking for quarterly revenue to exceed $1.5 million and possibly push above $2 million for Q4. Catalysts for Q4 include a $0.4 million order of M100 smartglasses for Lee Company that was shipped in Q4. Vuzix began shipping iWear headphones in mid-December, and these orders alone should contribute upwards of $0.6 million revenue in Q4. The last remaining wild card will be the sale of waveguides to Intel (NASDAQ:INTC) and other potential OEMs for evaluation. During Q3, Vuzix shipped over $0.2 million of waveguides, and if the company continues to ship at this pace, Q4 revenue will easily make a push above $2.0 million.
The company held private waveguide showings with interested third parties at CES 2016. During the last conference call, Vuzix referenced "various OEM partners" that could use waveguides in 2016. VUZI's waveguides are expected to fetch somewhere between $1,500 and $2,500 per unit. A rich average selling price means even a small order for 1,000 units could generate several million dollars of revenue in the blink of an eye.
The most popular virtual reality device launch on the planet is Facebook's (NASDAQ:FB) Oculus Rift. Facebook began accepting pre-orders in January 2016 and expects to start shipping the product to customers on March 28. Vuzix began accepting pre-orders for the company's virtual reality iWear headphones in June 2015 and began shipping units to customers in early December 2015. Facebook's Oculus Rift is expected to crush Vuzix in terms of sales volume. But the materiality of virtual reality sales on Vuzix's books will be far more significant.
It might be hard to remember, but the management at one point anticipated 2015 sales would come in at $9 million to $10 million or roughly 3x 2014 levels. However, the estimate turned out to be a pipe dream driven by slower commercial roll-outs of the M100 and a six-month launch delay of the iWear headphones. Vuzix experienced some supplier issues with cables and optics, and the timeline of the iWear launch was pushed out from the middle of 2015 until December 2015.
In the spring of 2015, Vuzix expected the iWear sales to account for 40% to 50% of 2015 revenue or approximately $4 million to $5 million. The iWear sales were expected to be achieved in Q3 and Q4 with unit volume of approximately 10,000 units over a six-month period. However, the delay of the iWear launch pushed sales out until early December, and Vuzix greatly reduced guidance for the remainder of 2015.
The company accumulated $3 million of inventory through September 2015 and planned to add another $1 million of inventory in Q4. Vuzix's management confirmed during Q3's Q&A session that most of the inventory build is related to iWear. All in, Vuzix was expected to invest just over $4 million in component inventory with the majority of inventory linked to the iWear in advance of the product's commercial launch in December. I'm estimating that the iWear inventory accounts for $3 million or roughly 75% of Vuzix's $4 million spend through Q4. Below are management's comments from the Q3 conference call:
During the third quarter 2015, I'd like to point inventories and vendor component purchase deposits increased from $1.9 million at June 30th to just over $3 million as of September 30th. A further $1 million plus increase is expected in the fourth quarter, as the supply chain gets fully ramped for the commencement of volume production of our new products.

James McIlree

Okay. And I think you just answered this question, but I want to make sure. So, most of the inventory is associated with the iWear - is that correct?

Paul Travers

Yes.

(Source: Seeking Alpha Q3 Transcript)
The iWear headphones retail for $499 and are expected to command a gross margin of 30% on the low end. A 30% gross margin puts the cost of goods at $350, and if you strip out labor expenses, I expect a bill of materials to come out to $300. A $300 bill of materials translates into Vuzix building 10,000 iWear headphones by Q1 2016. Lead time is approximately two to four months, which lines up well with my anticipated build-out of 10,000 units by the end of March 2016.
The real question that investors should care about is can Vuzix sell 10,000 units of the iWear headphones? I think one thing investors may not realize is the company has been working on optics and head-mounted displays for almost 20 years. It has been playing in the virtual reality hardware space before Oculus or any other company was born. Oculus Rift virtual reality hardware is being produced by Facebook, which is one of the largest companies in the world and is not known for making consumer electronic devices.
Facebook's Oculus Rift will sell hundreds of thousands of devices in 2016 and generate hundreds of millions of revenue for the company. Vuzix on the other hand is on track to deliver somewhere between 15,000 and 20,000 iWear devices in 2016. That will provide Vuzix with between $7.5 million and $9.5 million of revenue in 2016. My expectation is that the iWear unit volume will resemble a bookend with significant volume associated with the launch of the product in Q4 and Q1 and another push for orders in Q4 ahead of the holiday shopping season.
My confidence with these estimates stems from keeping close tabs on customer orders. I have been able to confirm that multiple orders were delivered to customers in December 2015, which were units numbered between 1,800 and 1,900. The units delivered in December were for customers who had placed orders just after Vuzix began taking the iWear pre-orders in June 2015.
Unit number 1,817 was shipped to a customer in Kansas and was received prior to Christmas. The iWear proof of purchase image was provided to me by Peter, a customer from Kansas. Peter is an avid gamer who placed his order in mid-June and received his iWear a few days prior to Christmas.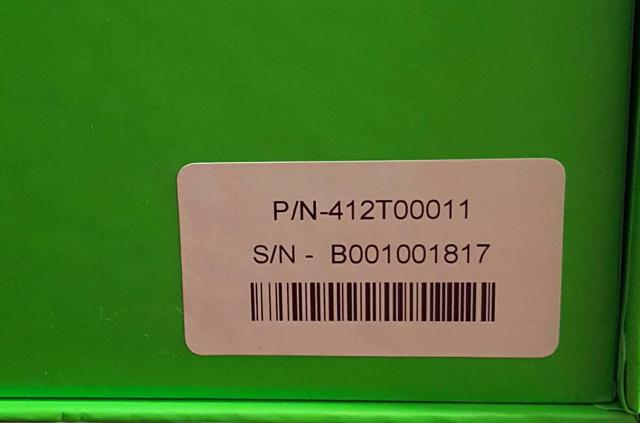 If you subtract a 100 or so units for developers, my expectation is that Vuzix shipped between 1,500 and 2,000 iWear units to customers in Q4 2014. This is enough to generate between $600,000 and $900,000, assuming a pre-order ASP between $400 and $450 vs. the current retail price of $499.
In late January, VUZI temporarily halted orders for the iWear headphones due to exceptional demand (image below). The halt was eventually lifted on January 30, but Vuzix removed the pre-order option and began listing the iWear device for $499.
Source: Vuzix Website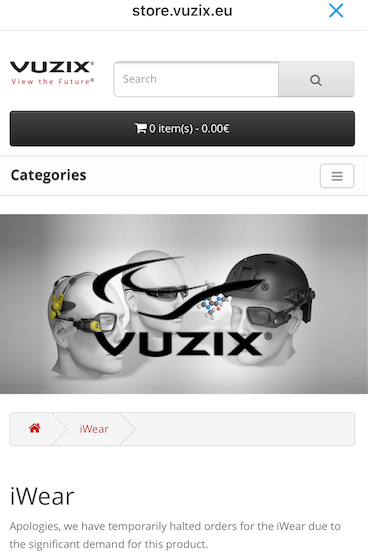 In early February, additional units began reaching customers once again. The units delivered last week to customers were for orders placed at the end of October and early November. The units delivered included numbers 3,488 (image below) and 3,492 (image below). Unit 3,488 was delivered to a white collar professional from Michigan who enjoys using his iWear to watch videos and movies. Unit 3,492 was delivered to an electronic store owner outside of Philadelphia, Pennsylvania, who plans to demo the unit for customers.
iWear unit 3,492 (click to enlarge)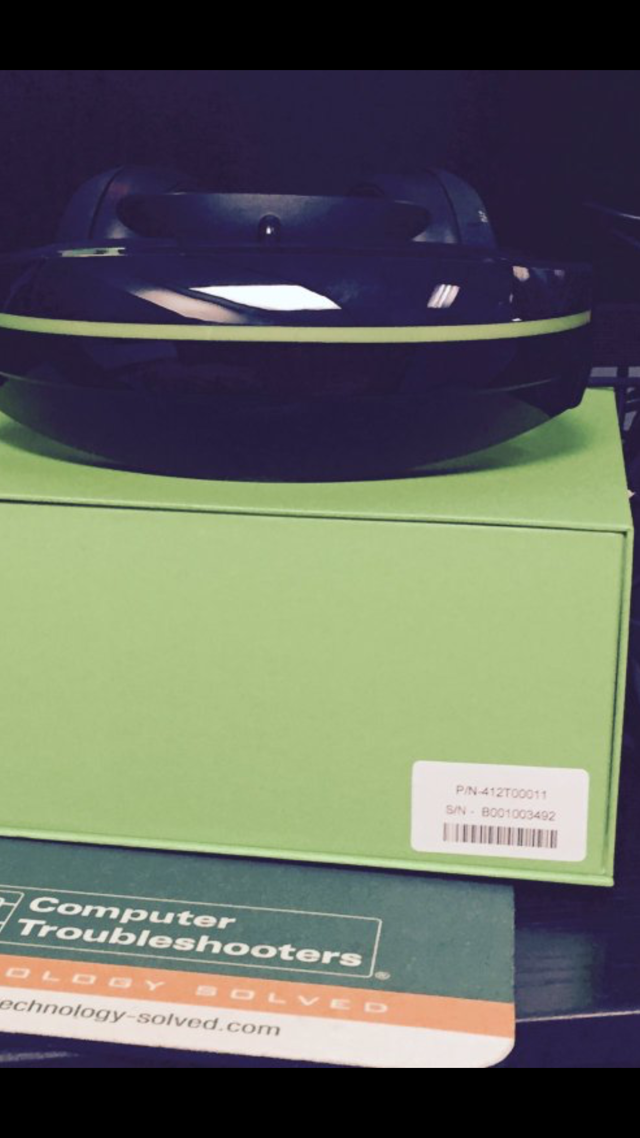 iWear unit 3,488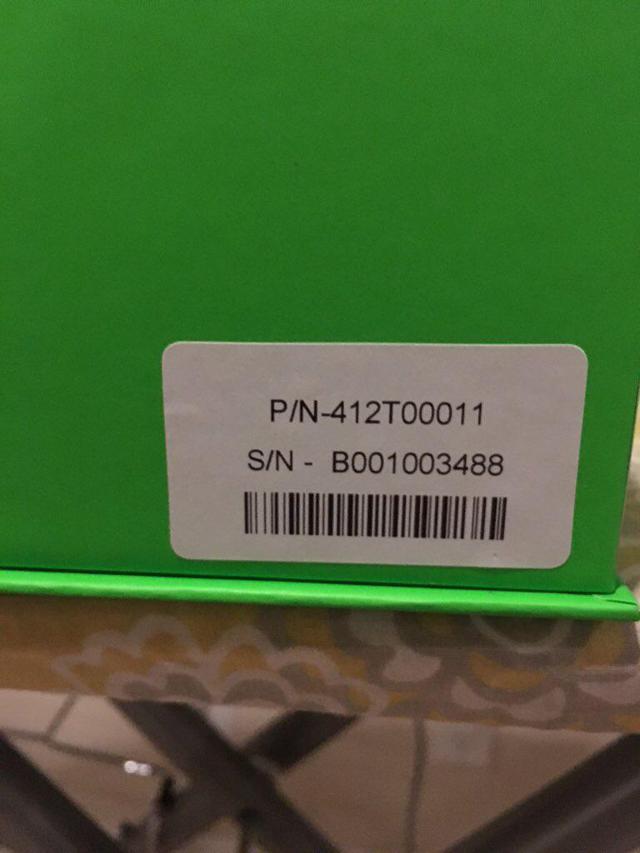 At this point, based on my customer check, Vuzix has shipped roughly 3,500 iWear devices between December 2015 and February 12, 2016. The units iWear delivered to date have been following the FIFO method (first in first out) for pre-orders placed between June 15 and November 1.
Rich H. from Albany, NY, placed his order for the iWear virtual reality headphones on November 4. On February 10, Rich received an update that his order would ship in about a week and a half. On February 16, he received an update that his order was now completed and will arrive via FedEx by Friday, February 19.
The image below is of Rich's iWear receipt from his order placed on November 4, 2015. I've intentionally blocked his order number and email address to protect his personal privacy.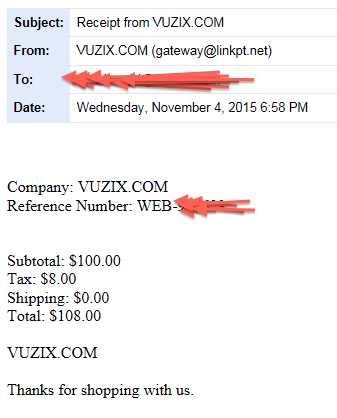 Based on customer order dates, delivery dates and unit numbers, I'm able to confirm with a high degree of confidence approximately how many iWear units have left Vuzix's dock through February 12. I also can confirm based on specific customer orders that the company is still working through a backlog of three months of orders. Vuzix is currently fulfilling iWear pre-orders that were placed during the first week of November (ex. Rich H. from Albany, NY).
I have no way of knowing how many pre-orders were placed for the iWear headphones. However, based on inventory spend and delivery data, I can come up with a good estimate. Vuzix ordered an estimated $3 million of iWear components or enough parts to build 10,000 units by the end of Q1. Customer deliveries totaled 3,500 through February 12 and Vuzix is still working through orders placed after November 1. Based on all of the above, I feel reasonably confident that the number of iWear pre-orders is north of 5,000 units. I'm officially estimating that iWear pre-orders will amount to between 5,000 and 7,500 units with a majority if not all shipments to be completed by the end of Q1.
Based on interviews and discussions with the iWear customers, I believe the popularity of the iWear among gamers and drone owners will put Vuzix in an incredible position to top analyst estimates for Q4 and Q1. Additionally, 2016 might just be the year when Vuzix's vision that began in 1997 finally gains significant traction with consumers after years of being too early to the party. The industry buzz being created by Facebook's Oculus Rift virtual reality hardware will have a positive impact on the entire industry as virtual reality unit sales finally begin to take off.
Before I wrap up, I need to inform investors of a few reasons to be cautious with Vuzix:
Vuzix has participated in a paid promotion campaign with Vista Partners over the past 18 months.
VUZI's market cap is under $100 million and places the company into a micro-cap territory. Micro caps such as Vuzix are subject to increased volatility and potential price swings due to market conditions.
The company's shares are oftentimes thinly traded and intra-day price swings could occur at any time. Order execution due to Vuzix's low daily volume could be less than optimal for market or stop limit orders. Its trailing three-month average daily volume is 243,000. However, over the last 10 days, Vuzix's shares have traded less than 100,000 shares nine out of 10 days.
Disclosure: I am/we are long VUZI.
I wrote this article myself, and it expresses my own opinions. I am not receiving compensation for it (other than from Seeking Alpha). I have no business relationship with any company whose stock is mentioned in this article.
Editor's Note: This article covers one or more stocks trading at less than $1 per share and/or with less than a $100 million market cap. Please be aware of the risks associated with these stocks.