2016 has been a mixed bag for First Solar (NASDAQ:FSLR). After starting the year on a positive note, shares have lost their way. This is despite the fact that the company has posted impressive earnings performance in the last two quarters, as it has beaten the bottom-line forecast by big margins. But, in my opinion, investors should take advantage of the weakness in First Solar's shares as it is on track to benefit from a number of key factors that will drive its growth in the solar market. Let's take a look.
External factors that will drive First Solar
First and foremost, FSLR will benefit from the rapidly growing solar industry in the U.S. According to the Business Council for Sustainable Energy and BNEF, the U.S. solar market saw robust growth last year, with 7.3 GW installed last year itself. This brings the cumulative solar installations in the U.S. to 28 GW, with over 1 GW of solar PV installed for nine quarters on the trot.
More importantly, the U.S. solar market is expected to grow at a higher clip over the next 12 months. GTM Research projects that more than 15 GW will come online in 2016, which is more than double of last year. It is also expected that cumulative U.S. PV installations will nearly double, eclipsing the 40 GWdc-mark, for operating solar PV capacity between the fourth quarter of 2015 and the fourth quarter of 2016. This is shown in the chart given below: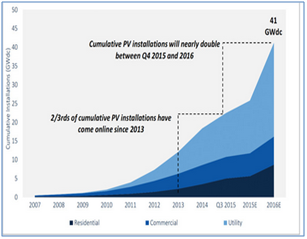 A key reason why this rapid growth in solar installations in the U.S. can continue in the long run is because the country is looking to cut emissions. For instance, at the Paris climate talks, the U.S. pledged that it plans to cut emissions in the range of 26-28% by 2025, based on 2005 levels. What's more, the U.S. believes that it can achieve "economy-wide emission reductions of 80% or more by 2050."
As a result, the use of clean energy sources such as solar power will increase in the long run in place of coal or other polluting sources of energy. Now, First Solar is well equipped to make the most of this growth as the company is focused on enhancing its module efficiency, lowering the downtime of its products, and increasing its capacity to capture as much of the end market as possible.
Additionally, FSLR will also benefit from an extension of the 30% solar investment tax credit until 2018, which will aid the company's growth going forward as it can invest more in research and development and new projects.
First Solar is making the right moves
The company is making progress to improve its average fleet efficiency. For instance, last quarter, First Solar increased its average fleet efficiency by more than 40 basis points to 15.8% on a sequential basis. Moreover, its lead line efficiency increased by 210 basis points to 16.4% as compared to the same quarter last year.
What's more, FSLR is expected to roll out additional efficiency improvement initiatives in order to sustain the current 16.4% conversion efficiency level through next year, with the company expecting its full fleet to average around 16.2% in terms of conversion efficiency. This represents an increase of 20% as compared to its efficiency level in 2015. The following chart clearly shows the improvement in First Solar's module efficiency over the years: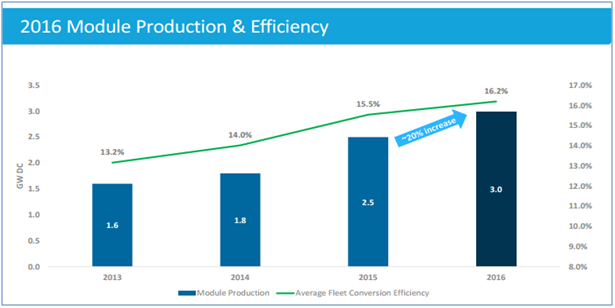 Source: First Solar
As shown in the chart above, the company expects its module production to increase to 3 gigawatts DC next year while its efficiency will also increase simultaneously. Now, an increase in efficiency means that First Solar's modules will be able to generate more electricity at lower costs, and this will ultimately lead to an increase in adoption by customers.
In fact, FSLR's consistently improving efficiency levels and lower downtime have led to an increase in the company's bookings opportunity of late. This year, First Solar has improved its potential bookings by 700 megawatts to 17.4 gigawatts. More importantly, of these potential bookings, it has 3.9 gigawatts worth of projects in the mid-to-late bookings stage, indicating that the company will see better revenue once it converts these opportunities into sales.
Conclusion
Thus, there are numerous factors that will help First Solar continue improving its financial performance going forward. The company's addressable market is increasing while it is improving the efficiency of its products in order to make the most of the end-market opportunity. Hence, going forward, the performance of FSLR should continue getting better, which is why investors should remain invested despite the recent gains.
Disclosure: I/we have no positions in any stocks mentioned, and no plans to initiate any positions within the next 72 hours.
I wrote this article myself, and it expresses my own opinions. I am not receiving compensation for it (other than from Seeking Alpha). I have no business relationship with any company whose stock is mentioned in this article.