Anadarko fell to previous target
In an article I wrote on December 3rd, Further Lows Ahead For Anadarko, I highlighted the balance sheet issues that were facing the company going into year-end. Alongside I expectation for lower lows in crude oil, Anadarko (NYSE:APC) fell to my target of $40 which has been a key number over the last few weeks as oil attempts to find at least a temporary bottom.
Expected balance sheet issues drove price lower
My fears for Anadarko were based on the erosion of its cash position from $7.37bn at the end of 2014, to $2.1bn at the end of the third quarter alongside the company's long-term debt of $16bn. It was my expectation that Anadarko needed to do more to shore up its cash position and this became clear to the market with another drop in oil prices.
Since the end of 2015 however, Anadarko has made further moves to tackle the issues at hand. Fourth quarter results from the Texas-based showed a loss of $1.25bn, or $2.45bn per share, which forced Anadarko to reduce capital expenditure for 2015 by 40% and a week later slashed its dividend 85% to $0.05 per share.
Chairman, President and CEO, Al Walker said, "On an annualized basis, this action provides approximately $450 million of additional cash available to enhance our operations and financial flexibility. Our Board will continue to evaluate the appropriate dividend on a quarterly basis."
An initial budget has been set for 2016 of $2.8bn, which is 50% lower than 2015 and 70% lower than 2014. Like many in the industry Anadarko is finally trimming down its portfolio and expenditure to focus on core assets and trying to maximize returns on non-core assets and production and cost efficiencies.
What to expect in 2016
With measures taken to shore up the balance sheet what is the outlook for Anadarko in 2016?

Behind the talk of cuts, efficiencies and production increases in the sector it's still hard to look beyond the sales numbers. Anadarko's revenues for 2015 came in at $8.7bn approximately with an average oil price of $46 so with price currently stuck at $30 and resistance up at $34 - 40 it is likely that revenues for 2016 could average out at similar prices barring a change in global supply or demand.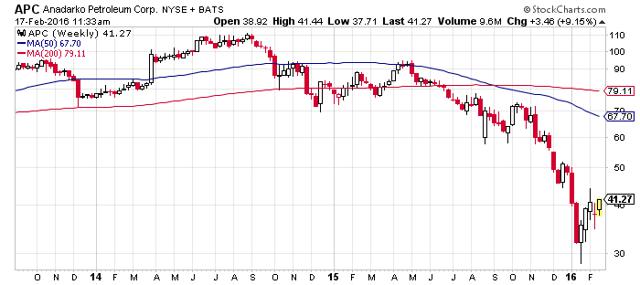 With that in mind it relies on your faith in oil prices continuing to move higher. Holding gains over $40 for APC today would set them on the road for a pop in price with $50-60 the targets but I would suspect that would be the cap for price for most of 2016. I'd probably want a company that's more liquids focused than Anadarko without the costs of global E&P and project management if I wanted to play oil also.
Disclosure: I/we have no positions in any stocks mentioned, and no plans to initiate any positions within the next 72 hours.
I wrote this article myself, and it expresses my own opinions. I am not receiving compensation for it (other than from Seeking Alpha). I have no business relationship with any company whose stock is mentioned in this article.