I recently covered Symantec (NASDAQ:SYMC) on Seeking Alpha, a large cybersecurity firm with famous brands such as Norton under its belt. As I discussed, I saw potential if management would use the money obtained out of the Veritas sale and use it wisely. Now months further, it's time for an update as Symantec received a smaller fee for Veritas and the firm recently announced their results.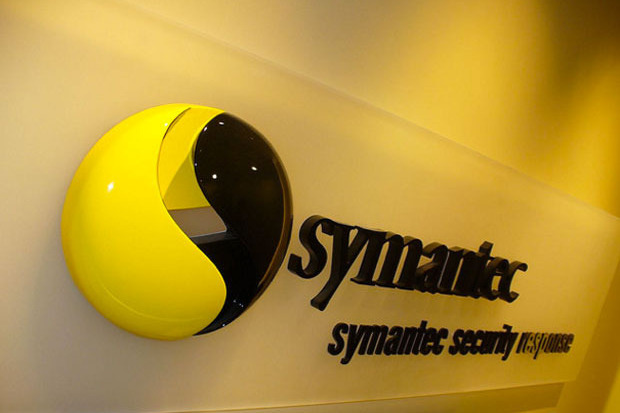 Veritas: How things don't always go as expected
The initial proceeds of the sale of Veritas to the Carlyle group was supposed to be over $6 billion and the cybersecurity firm planned to direct them towards both capital returns and acquisitions. Nevertheless, when Symantec announced the closing of the sale to be postponed, one could have already considered the question: "But why?"… A question I should have asked myself.

Click to enlarge
Source: Symantec
Even though I was aware of what "customary closing conditions" mean in an M&A context:

Click to enlarge
Source: Cwilson.com
I was not anticipating any of these points to be an issue, unfortunately I was wrong. When it comes to valuation, financial mathematic models don't always portray the correct picture. The initial proceeds of this sale were calculated at $6.3 billion, which was ultimately lowered to $5.3 billion. That's a 15% drop.
Don't forget that Thomas Seifert, the CFO, had this to tell a while back:
"The $8 billion sale price for Veritas delivers a certain and attractive valuation, and simplifies the separation process. We remain committed to returning significant cash to shareholders, by announcing an increase to our share repurchase authorization to $2.6 billion. We also intend to maintain our dividend at 15 cents per common share, which represents an increased and attractive payout ratio for a company of Symantec's size post-separation."
As we know today, ''the attractive valuation'' was a bit of a misjudgment, as was the $8 billion price for the sale. Unfortunately, Veritas' latest financial numbers were worse than anticipated, pointing out to issues related to transitioning the firm to a dedicated sales force and management team independent from Symantec. Interestingly enough, Veritas never benefitted significantly from working together with Symantec yet suffers when trying to pull themselves loose, which sounds contradictory to some degree. In addition, debt failed to sell for this LBO.
Taking everything in consideration, it gave the Carlyle group just the right amount of ammunition to lower the price. Let's hope a lesson was learned.
Investor's day: Transformation in the coming 18 months
Nothing is more interesting to see where Symantec is expected to head in the coming months. A brief idea is sketched here, as Symantec announced their latest financial results recently.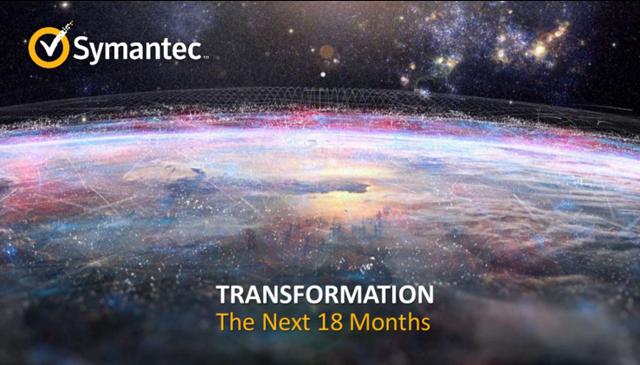 Click to enlarge
Source: Symantec Presentation
Growth was mostly in the single digits, nothing out of the extraordinary.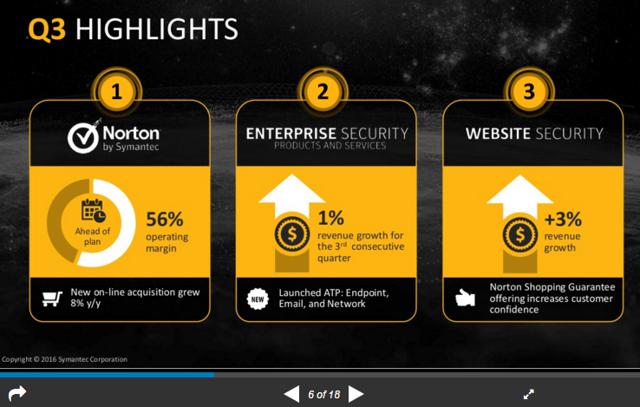 Click to enlarge
Source: Symantec Presentation
More importantly, rather than focusing on M&A, Symantec now returns all the proceeds of the deals directly to the shareholders, with the interesting point that Silver Lake Partners took a $500 million investment in Symantec. The fact that Symantec now returns all the money to the shareholders is an interesting switch: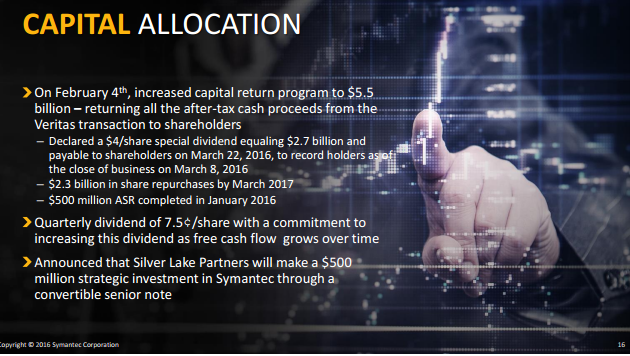 Source: Symantec Presentation
A point which was also discussed during the conference call, a Q&A session worth mentioning in this article: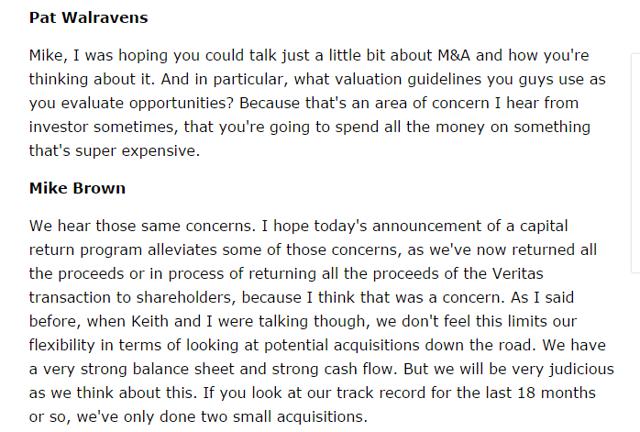 Click to enlarge
Source: Conference Call
This is in some contrast to what has been said before by Michael Brown who pointed out that acquisitions were definitely to be expected out of the proceeds of the Veritas sale. This perfectly captures my worries going forward with Symantec. If the firm wants to move on, management needs to be on 1 line, transparent with their shareholders. Acquisitions might still happen, the likelihood simply has decreased.
Summary
Symantec was anticipating growth through acquisition, yet this is exactly where everything went wrong when Symantec and Veritas initially came together. It was an ill merger, with barely any progress at either side. The idea behind Veritas' and Symantec's merger was to enhance efficiency. This time around, the firm focuses on the shareholder, after showing disappointment all across the board with the lower-than-expected proceeds of the Veritas sale.
The question is, have they learned from their mistakes? Corporate firms normally tend to make mistake after mistake, yet I believe they might not make the same colossal mistake as they have done with Veritas over a decade ago. The first signs of progress will be to look at their debt profile and the (expected) increase in margins. If that is the case, Symantec might become an interesting play. If, however, management underperforms, I would stay away. I'm eagerly waiting for the transitioning process of Symantec.
Disclaimer: This article provides opinions and information, but does not contain recommendations or personal investment advice to any specific person for any particular purpose. Do your own research or obtain suitable personal advice. You are responsible for your own investment decisions. This information is not a recommendation or solicitation to buy or sell securities, nor am I a registered investment advisor.
Disclosure: I/we have no positions in any stocks mentioned, and no plans to initiate any positions within the next 72 hours.
I wrote this article myself, and it expresses my own opinions. I am not receiving compensation for it (other than from Seeking Alpha). I have no business relationship with any company whose stock is mentioned in this article.