Public Storage (NYSE: PSA) hosted its Q4 2015 earnings call on February 17, and CEO Ron Havner's prepared remarks were brief and to the point,
"We had a pretty good fourth quarter in 2015."
This has been the standard opening gambit for Havner during recent earnings calls.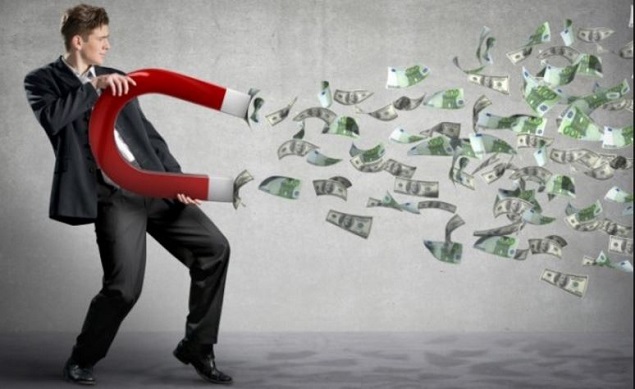 Source: Thinkstock
Frankly, he can afford to be a bit cavalier, because Havner and his team have built a cash flow juggernaut on top of a rock solid A-rated balance sheet.
However, the Public Storage FFO multiple -- along with the rest of the frothy self-storage sector -- had been bid up to end 2015. Lofty self-storage valuations have yet to come down to earth, although they have been pulling back with the majority of the REIT sector to kick-off 2016.
Tale Of The Tape - Q4 Earnings Call Spike
Public Storage shares gapped up 2% at the open, after the 4Q'15 earnings print had been released. The chart below reflects the PSA share price as of this writing, immediately after the earnings call.
During the past 52-weeks, Public Storage shares have traded in a fairly wide range of $180.53 - $257.98.
Self-Storage Big Picture
Self-storage fundamentals have been strong in the markets where Public Storage operates. The lack of new supply since the Great Recession has led to outstanding same-store results across the board for the entire sector for 2014 and 2015.
Notably, Public Storage smaller peers: Extra Space Storage (NYSE: EXR), CubeSmart (NYSE: CUBE), and Sovran Self Storage (NYSE: SSS), have been able to move the growth needle at a faster clip during the past five years.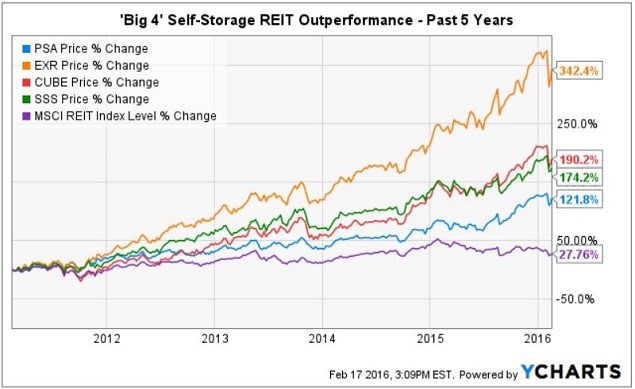 The results shown on the chart above do not include the dividends, or CAGR associated with reinvesting the dividends. The total return for owning self-storage REITs during the past five years is substantially higher.
Self-Storage Overview
Demand drivers for self-storage include population growth, and a steady shift from home ownership to a nation of renters since the Great Recession. Renters tend to move ~3x more often than homeowners, and this is a boon for self-storage.
The publicly traded self-storage REITs have a technology advantage, which has also contributed to outperformance vs. small private operators. The Big 4 self-storage REITs can afford to spend millions of dollars on Internet advertising, call centers, and sophisticated models to optimize real-time pricing in each market. When PSA acquires a new facility it is folded into the call center and advertised on the Internet from "day one."
The REITs also have a cost of capital advantage when it comes to consolidating a fragmented industry. It is widely estimated that 80% to 85% of self-storage facilities are still owned by small private operators.
PSA Q4 Earnings Highlights
Solid FFO growth continues to support a well-covered and growing dividend.

Source: PSA - 4Q'15 8-K filing
Same-store revenue increased 6.6% Y/Y.
Same-store NOI up 8% Y/Y.
Occupancy of 93.9% as of Dec. 31, 2015, up 40 bps Y/Y.
Gross Margins of 78.9%, an increase of 140 bps Y/Y.
Revenue per available square foot (REVPAF) increased 6.7% for FY 2015.
Public Storage defines same-store facilities as those which have been in operation since Jan. 1, 2013. This represents 1,990 properties, containing 126 million net rentable square feet (NRSF), or 86% of the total portfolio.
PSA - Q4 Earnings Call Takeaways
CFO John Reyes was available to answer questions along with Havner. During the conference call, analysts looked to gain insights into how 2016 will shape up for PSA and the industry in general.
Acquisitions - During 2015, PSA acquired 17 properties, totaling 1.3 million NRSF, for $169 million. During the first six weeks of 2016, Public Storage has already closed on, or contracted for 17 self-storage properties, totaling 1.2 million NRSF, for $149 million. In the aggregate, these facilities were ~80% occupied, with the one notable exception of a Houston property that was bought at C.O.
Havner explained that 2015 was a slow year for acquisitions, mainly due to Public Storage passing on many deals which didn't pencil out. A major consideration for acquisitions is the property tax increase when the new deed is filed.
PSA underwrites for 150bps to 200 bps increase in yield over 12-18 months for acquisitions. Notably, due to strong fundamentals, 2014 and 2015 acquisitions have performed much better than originally anticipated.
Havner added some color regarding why PSA passed on a large portfolio in Los Angeles last year. It was priced close to $300 per NRSF. Public Storage is developing new product at $150-$160 per square foot in the LA market. Public Storage will pass on the deal, (even if a property pencils out based upon yield), if the facility price is substantially higher than PSA can develop in a given market.
Markets Update - Generally, the West Coast regions were the strongest performers in 2015. The Florida, Texas, North and South Carolina were all described as being "good" markets. PSA's Midwest/Great Lakes markets were singled out as being weakest, including: Chicago, Minneapolis, Milwaukee, and St. Louis. The Washington DC/Baltimore market also was relatively weak.
Havner was asked about new competition from "on-demand" storage providers in major metros, (think Uber for storage). Havner replied that in the San Francisco Bay Area, where the on-demand model is being rolled out, Public Storage is "chalk full up."
Here is a link to a Wall Street Journal article which highlights Clutter, Inc. and similar on-demand start-ups, which provides some details on this B2C storage business model.
Europe - Public Storage operates 217 storage facilities located in seven Western European nations with approximately 12 million net rentable square feet operated under the Shurgard brand. Europe revenues were up 4.5% and NOI was up 5.5%, with occupancy of 89.8%, up 450 bps over FY 2014.
During 2015, three new projects were brought on-line in London, with another three projects planned for development. In total, this will be an addition of 500K NRSF, at a cost estimated to be $90 million.
Shurgard is looking to expand operations in Berlin, but has not secured any land parcels.
U.S. New Supply - The cadence of new self-storage development picked up significantly during 2015, with Havner estimating that there are 1,000 to 1,200 new projects underway across the U.S. This compares with about 500 new projects underway in 2014, a significant increase.
Much of the new product is being built in the Florida and Texas markets. Havner felt that the strong population growth trends will help with absorbing the new supply in most of those markets. He also mentioned New York as another growth market.
Havner made the point that Public Storage was a dominant player in many of the urban metro markets where there are high barriers to entry. The hurdle rate for penciling out a development in suburban markets is higher, due to increased competition resulting in slower growth rates. Conversely, the high cost of land in urban markets reduces the initial returns, but the rents grow at a much faster clip over time.
Development Yield - When asked about development yields, Havner explained that new development was underwritten at 8%-10% returns, including imputing the absorption cost. Cash yields without the absorption calculation would be ~150 bps higher. Redevelopment yields can range from 10%-30%, but unfortunately those opportunities are fairly limited.
Notably, Public Storage is the only one of the Big 4 currently developing ground up new development projects.
G&A Trends - Notably, PSA is planning for significantly higher wage pressure at the property level and for some supervisory positions in 2016.
Bottom Line
Public storage chooses not to juice returns by using low cost floating rate debt. It has one of the strongest balance sheets in the entire equity REIT universe, but operates in a very conservative manner. Even expansion is done defensively, with an eye toward being able to be the low-cost provider in a market if there were to be a Great Recession II, as some pundits predict.
Frankly, I would not hold my breath regarding PSA getting around to targeted ads on Facebook, or posting many YouTube videos. However, CFO Reyes made the point on the call that Public Storage pays close attention to demographics, and is always looking for ways to attract a "better customer."
My favorite quote from the call was Havner's driving this point home by reminding analysts:
"When things get tough, the big dog eats first."
Based upon the most recent close of $246.11, PSA shares appear to be more than fully valued, trading at 27.6x 2015 FFO. Assuming that Public Storage were grow FFO by 10% during 2016, they are still trading at a 2016E FFO multiple of 25x, and yielding 2.76% per share.
This is one of the safest dividend distributions in the REIT world, and offers conservative investors the opportunity for income with price appreciation over time. By way of comparison, the 10-Year Note and 30-Year Bond were trading at 1.82% and 2.69%, as of this writing.
Public Storage remains a conservative, old-school, self-storage REIT. Based upon the answers during the Q&A, it appears that 2016 is shaping up to be another strong year for PSA.
Disclosure: I/we have no positions in any stocks mentioned, but may initiate a long position in PSA, EXR, SSS, CUBE over the next 72 hours.
I wrote this article myself, and it expresses my own opinions. I am not receiving compensation for it (other than from Seeking Alpha). I have no business relationship with any company whose stock is mentioned in this article.