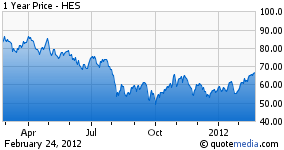 In an earlier article here, I urged investors to buy shares of Hess (NYSE:HES) over Exxon (NYSE:XOM). Since I first wrote the piece less than a month ago, Hess has gained 15.9% thus far, outperforming Exxon by more than 1,200 basis points. According to T1 Banker, the firm continues to be rated near a "strong buy" versus just a "buy" for Exxon. Based on my multiples analysis and review of the fundamentals, I still find significant upside for Hess.
From a multiples perspective, both companies are attractive. Exxon trades at a respective 10.3x and 9.7x past and forward earnings with a dividend yield of 2.2%. Hess trades at a respective 13x and 8x past and forward earnings with a dividend yield of 0.6%. To put this under greater context, consider that Hess is valued at only 87% of its historical 5-year average PE multiple versus 84% for Exxon.
At the fourth quarter earnings call, Hess' management addressed a nearing inflection point:
"In 2012, we forecast crude oil and natural gas production to average between 370,000 and 390,000 barrels of oil equivalent per day. This projection includes the sale of Snohvit, but excludes the impact of any other potential asset sales and any production that may result from the restoration of our operations in Libya.

Our sustainable long-term growth target for production and reserves remains 3% to 5% per year. However, if 2012 were used as a base, which includes some residual effects from the production issues we experienced in 2011, we would project growth through 2017 to be in the range of 4% to 7% per year".
From supply chain disruptions to unrest in Libya, 2011 was a highly challenging year. Production declined by 12% while capex remained at elevated levels. However, 2012 is gearing up to be an inflection point for Hess as its growth story is put to test. The company has a leading position at Bakken with 900K+ net acres. Early results have been in-line with peers at the location, but production is likely to doublet by 2012 and hit an average of 120K boe/d by 2015. It should be further noted that 85% of natural gas production is situated outside of North America while most of Hess' portfolio, in general, is concentrated in oil and liquids.
Consensus estimates for Hess' EPS forecast that it will grow 12.4% to $6.61 in 2012, grow 23% in 2013, and then decline 3.7% in 2014. Assuming a multiple of 11x and a conservative 2013 EPS of $8.03, the rough intrinsic value of the stock is $88.33, implying 35.4% upside.
Exxon is also committed to investing in core growth avenues. But the XTO Energy acquisition is looking like it will be around 3% dilutive to EPS as natural gas prices are at a disappointing low. During the fourth quarter, the company streamline operations with asset sales of $6.9B. The company left the quarter with $13.1B worth of liquidity. Exxon is well positioned to gain from a recovery due to its impressive vertical efficiency and low-cost production, which hedges against volatile commodity prices.
Consensus estimates for Exxon's EPS forecast that it will decline by 2% to $8.25 in 2012 and then grow by 9% and 3.3% in the following two years. Assuming a multiple of 11x and a conservative 2013 EPS of $8.84, the rough intrinsic value of the stock is $97.24, implying 11.9% upside.
Disclosure: I have no positions in any stocks mentioned, but may initiate a long position in HES, XOM over the next 72 hours.
Disclaimer: We seek IR business relationships with all of the firms in our coverage, but research covered in this note is independent and prospectively commissioned. The distributor of this research report is not a licensed investment adviser or broker dealer. Investors are cautioned to perform their own due diligence. Always discuss investments with a licensed professional before making any financial decision. Statements made within this report may include "forward-looking statements" as stipulated under Section 27A of the Securities Act of 1933, Section 21E of the Securities Act of 1934, and the Private Securities Litigation Reform Act of 1995. Since these statements are uncertain, actual results may be materially different from those expected.