LTC Properties (NYSE:LTC) recently saw a greater than 10% decline in its stock price after cautious remarks from competitor HCP (NYSE:HCP). With a stable dividend and strong future visibility, I believe that pullbacks like this provide opportunities to add a quality income stream to any portfolio.
The business
LTC properties is a $1.5 billion healthcare REIT that has a primary concentration in skilled nursing and assisted living properties. As of the September 30, 2015, LTC owned 209 properties, of which the gross investment included 50.9% skilled nursing and 43.1% assisted living.
LTC properties enters into 10-15-year triple net leases with the operator. A triple net lease is considered very attractive because the lessee pays all taxes, insurance, and maintenance on the property. Additionally, the longer-term nature of the lease is considered safer because absent a default by the lessee, there is no need to re-negotiate and you know your cash flows with general certainty going forward. In the case of LTC, they have another attractive feature -- annual rent increases calculated in one of 4 ways:
· A specified increase over prior year, generally 2%-3%
· A calculation based on CPI
· A percentage of facility revenue in excess of base amount
· Specific dollar increases
Recent Activities
Let's take a look at what has happened recently with a few of the healthcare REITS and what has caused the precipitous decline. Here is a 3-day summary for some of the healthcare REITS following HCP's earnings release on Feb 9.
Feb 9-Feb 11 Return
HCP
HCN
LTC
SNH
VTR
NHI
OHI
-23.12%
-11.39%
-10.14%
-9.38%
-9.29%
-5.87%
-4.39%
While I would argue that some of HCP's issues are company-specific, including the Department of Justice defense costs, there were some real issues discussed on the call that could be difficult for the industry as a whole.
HCP's CEO Lauralee E. Martin said in her opening remarks that:
"We are seeing heightened volatility in the public post-acute operators due to the industry-wide changes and headwinds"
These remarks are an issue that raises concern about the industry as a whole, which may affect LTC. However, she later goes on to state:
"Resolving the HCR ManorCare portfolio issue is our highest priority. Our goals in resolving the HCR ManorCare challenges are: reduce our concentration to HCR as an operator, improve the coverage and credit quality of our lease, and ensure HCR's high quality care and service delivery continues."
In reviewing these remarks, the question becomes how much of the issues that HCP is facing are company-specific, since HCR ManorCare made up approximately 25% of HCP's portfolio, and how much are industry-wide. There are no easy answers, and we will not know for certain the effects on LTC until they report on February 22. However, there are ways to assess the risk reward, and we will attempt to do that next by analyzing what we do know.
Fundamentals
The long-term fundamentals of long-term healthcare are pretty astounding when you consider the age 75 and older population is expected to increase by 89% from 2012-2030; or in other terms, from 6% to 10% of the US population. This should be a long-term tailwind for LTC, as the demand for skilled nursing and assisted living is likely to continue given these trends.
Additionally, we should look at the product mix for LTC and how that has changed over the years.
Operating Segment as % of Revenue
2014
2013
2012
2011
2010
Skilled Nursing
59.4
52.6
51.2
46.4
44.9
Assisted Living
34.5
40.9
39.2
42.6
45.6
Other Senior Housing
5
5
7.9
9.4
7.7
Schools
1.1
1.5
1.7
1.6
1.8
Here you can see that skilled nursing has been a driver for LTC over the last 5 years, and has grown its share of total revenue by 15% over the same period. Since this has been an area of strength for LTC and this was an area where HCP had issues, it is important to look at where the payments are coming from and also what the coverage ratios are. This chart from LTC's latest investor presentation breaks down the most recent EBITDAR coverage ratios and also the payor source.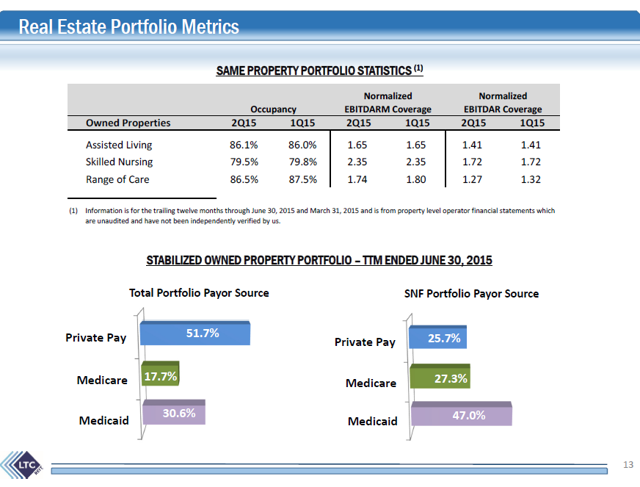 Click to enlarge
Importantly, you can see that the SNF payor source is about 53% Private Pay and Medicare related. On the HCP conference call Justin Hutchens (CIO of Senior Housing and Care) was asked if there are any issues with other SNF tenants or just HCR. He stated that HCR is:
"the market leader in that payer source. So any declines we've seen wouldn't have been as pronounced… coverage ratios are good. And generally, as I mentioned earlier, most operators are less impacted."
This is reinforced when you look at the other SNF business for LTC. EBITDAR coverage was 1.72, and steady for the skilled nursing division.
Risks going forward
Now that we have reviewed the issues from HCP and assessed the probability that it will spillover to LTC, we want to take a look at the safety of its income stream and also what value we are going to pay for the stock.
Lease Maturities
Year
Rental Income
% of Total
Int Income
% of Total
Annual Income
% of Total
2016
1,190
1.0%
407
2.1%
1,597
1.2%
2017
1,670
1.4%
840
4.4%
2,510
1.8%
2018
9,452
7.9%
933
4.8%
10,385
7.5%
2019
1,571
1.3%
370
1.9%
1,941
1.4%
2020
13,598
11.4%
-
-
13,598
9.8%
2021
17,392
14.6%
-
-
17,392
12.6%
2022
771
0.6%
-
-
771
0.6%
Thereafter
73,344
61.6%
16,753
86.79%
90,097
65.2%
Total
118,988
100.0%
19,303
100.00%
138,291
100.0%
Only 2.4% of the leases are maturing in the next 2 years, which means that incomes should be fairly certain.
Next we want to look at debt maturities to see if there would be any adverse effects from increases in costs or availability of credit. The chart below shows only about 11% of total debt is due in the next two years, which means that there is good visibility on the cost front as well.
Debt Maturities
Year
Unsecured Line of Credit
Senior Unsecured Notes
Total
% of Total
2016
-
26,667
26,667
5.1%
2017
-
31,167
31,167
6.0%
2018
65,500
34,167
99,667
19.2%
2019
-
32,666
32,666
6.3%
2020
-
37,160
37,160
7.2%
2021
-
37,160
37,160
7.2%
Thereafter
-
253,480
253,480
48.9%
Total
65,500
452,467
517,967
100.0%
Next we will take a look at how LTC has been covering its dividends since they have grown over 6% annually over the last few years.
Dividend Coverage
LTM
2014
2013
2012
2011
2010
CFO
97
95.8
87.1
76.7
70.5
65.3
Dividends
75.5
74.4
66.9
57.8
56.6
53.9
CFO/Dividends
1.28
1.29
1.30
1.33
1.25
1.21
FFO per Share
2.67
2.55
2.29
2.26
2.01
1.83
Dividends per Share
2.04
2.04
1.91
1.79
1.68
1.58
FFO/DPS
1.31
1.25
1.20
1.26
1.20
1.16
Div Growth
6.81%
6.70%
6.55%
6.33%
As you can see both CFO coverage and FFO coverage has been steady and rising since 2010 and should remain safe moving forward given the relative stability of lease maturities and low amount of debt maturities.
The last piece we want to look at is the valuation and what you are paying for the company and how it matches up to the industry. LTC is fairly expensive when compared to other healthcare operators.
Valuation
HCP
HCN
LTC
SNH
VTR
NHI
OHI
P/FFO Est
8.89
11.87
13.94
7.54
11.7
11.55
8.81
Conclusion
The issues appear to be more stock-specific to HCP than industry-wide, and a reflection of a bad deal. It was only 2010 when HCP completed the sale leaseback for $6.1 billion and have written it down to $5.2 billion, not to mention that HCR is the reason for the DOJ inquiry.
While the stock is not cheap, we feel that the positives of strong coverage ratios, few lease renewals, and few debt maturities make this a company that should be accumulated on any pullback.
Disclosure: I am/we are long LTC.
I wrote this article myself, and it expresses my own opinions. I am not receiving compensation for it. I have no business relationship with any company whose stock is mentioned in this article.