Only midway through the March quarter, we're already starting to see estimates of Apple (NASDAQ:AAPL) iPhone sales for the quarter. Generally, it's been assumed that there would be some sales decline based on Apple's guidance. This is still a safe assumption, although the magnitude of the decline remains debatable.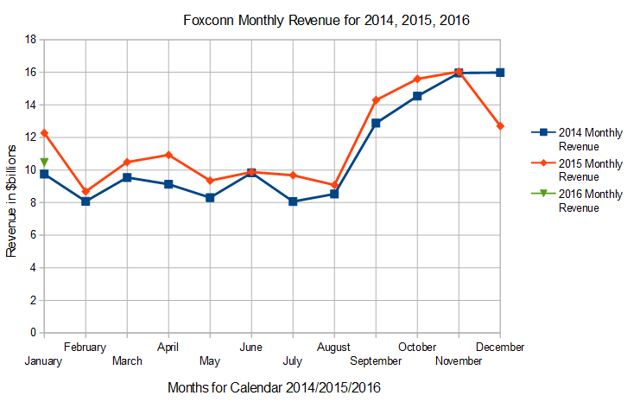 Click to enlarge
The Raft of Caveats
A recent article by SA contributor Paulo Santos offers predictions of iPhone sales for the March quarter. In the article, Santos specifically cites my article and methodology for estimating iPhone sales.
Specifically, he cites my Apple: Foxconn Results Indicate Strong iPhone Growth This Quarter as the source for his approach. He points out that Foxconn's (OTC:FXCOF) January monthly revenue report shows a 14.75% y/y decline. He concludes from this that iPhone unit sales could decline by 16.5-23.6% y/y.
There are a lot of moving parts in these sales models, and a lot of assumptions that have to be made along the way. For instance, to predict sales for the quarter based on Foxconn's data, one has to make an assumption about Foxconn's revenue for the remaining two months of the quarter. Assuming that quarterly revenue drops by about 15%, then the model basically agrees with Santos, predicting a unit sales decline for the quarter of 17% to about 50.5 million units.
This conclusion comes with a raft of caveats. Following the December quarter results, I've come to see the Foxconn data model as a somewhat blunt instrument. Getting it to agree with the December quarter results posted by Apple required some calibration, and there's no telling whether that calibration will hold for the following quarter.
There are other issues. Foxconn and Pegatron share responsibility for iPhone assembly, but I don't know what the iPhone division of labor is between the two companies. Also, the amount of non-iPhone work that Foxconn does varies seasonally, and consists of work done for Apple as well as other companies.
Santos mentioned my observation that one could approximate the Foxconn's non-iPhone revenue by a constant $14 billion/quarter. This was only a very crude approximation, and I don't use it for making predictions. It's probably better to use a seasonally varying revenue percentage based on historical data. In the chart below, I show my estimated iPhone revenue percentage of Foxconn's total quarterly revenue (no fixed amount subtracted).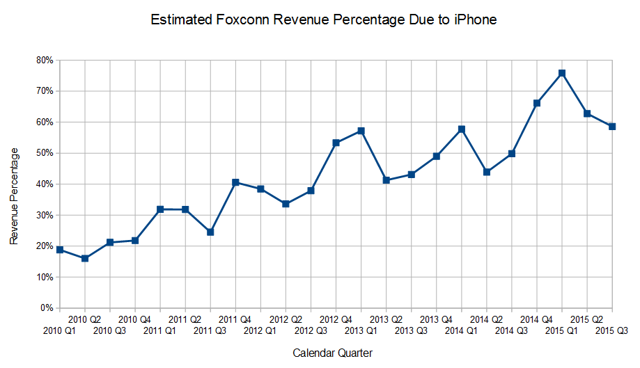 Click to enlarge
Even the values in the chart above have fairly large error bars, about + or - 10%, which are probably due to the Pegatron factor and varying non-iPhone revenue.
Drexel Hamilton analyst Brian White has weighed in on the issue of using Tier 1 supplier data. He specifically excludes Foxconn and Pegatron, preferring to focus on smaller suppliers for his Apple Monitor. White believes that iPhone suppliers had a good January based on sequentially flat sales compared to December. White wouldn't disclose the 9 publicly traded companies that make up the Monitor, other than that they are based in Taiwan.
White also isn't making any specific predictions yet about iPhone sales, but he is bullish on Apple, maintaining a buy recommendation with a $200 price target.
Fiksu Even More Problematic
While we're on the subject of predictive tools, I thought I would also comment on Michael Blair's use of Fiksu data, which featured prominently in his recent article urging readers to avoid or short Apple.
The problem with the Fiksu data is that it's based on Fiksu's iPhone user population, which is not one and the same with the total iPhone user population. It represents a form of survey, and only can provide percentages of particular models of iPhones in use at a given time, not the absolute number of phones, as shown in the graphic below.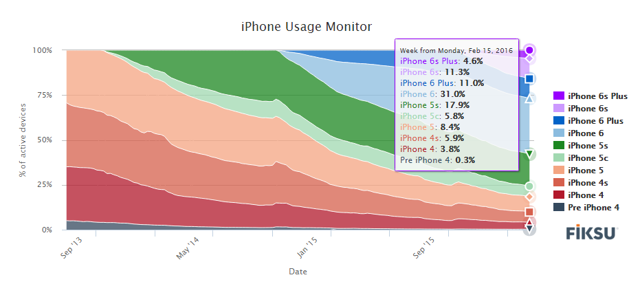 Click to enlarge
I've found the Fiksu data mostly useful for determining the approximate sales composition of iPhones in the December 2015 quarter, as shown in the chart below.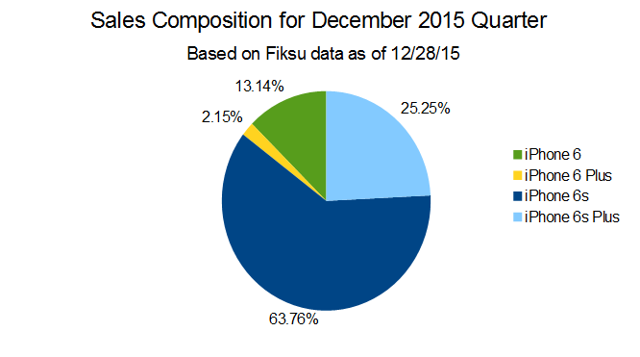 Click to enlarge
If there was a decline in iPhone 6s sales relative to iPhone 6 in the December 2015 quarter, it was made up in sales of the previous generation iPhone 6/6 Plus.
Investor Takeaway
The early data from Foxconn does suggest a sales decline in iPhones of about 17%, but this is very preliminary and approximate. Sales could rise or fall in the coming months. With the impending debut of the Samsung (OTC:SSNLF) Galaxy S7 on February 21, it's a foregone conclusion that iPhone sales will languish until the next iPhone (7) is released sometime in September.
As I pointed out in The World Has Yet To See 'Peak Mac', it simply isn't reasonable to conclude that the iPhone is in permanent decline on the basis of one or two quarters' results. What is likely is that Apple will produce an even better iPhone in the next generation, and that this will spur sales as it normally does.
Apple continues to lead in ARM processor engineering, mobile operating systems and software, and device hardware design. With a base of 1 billion devices in use, Apple can continue to build on its various operating systems' services and revenue streams. I continue to be long Apple and recommend it as a buy.
Disclosure: I am/we are long AAPL.
I wrote this article myself, and it expresses my own opinions. I am not receiving compensation for it (other than from Seeking Alpha). I have no business relationship with any company whose stock is mentioned in this article.
Editor's Note: This article discusses one or more securities that do not trade on a major U.S. exchange. Please be aware of the risks associated with these stocks.