Whenever I want to feel like I am slowly losing touch with technology I hand my nine year old girl my iPhone and watch her navigate through it with ease. The situation escalates when my three year old grabs hold of it and effortlessly glides through the folders to find the Lego Trains game he can't get enough of. It is no secret, kids these days are good with technology and they are not intimidated by it but instead actively seek it out.
Mattel (NASDAQ:MAT) had a well documented rocky 2015. Hit after hit drove the stock down into the 19s with many fearful the dividend would soon be cut. The toy company had lost their way and something needed to be done. The company took a look at itself and began making changes. They set out to become relevant with children in the 21st Century and make their toys desirable again.
With a plethora of strong brands already in their portfolio, Mattel set out to bolt on some companies through acquisitions and partnerships to dive into other markets. In January they acquired bankrupt Nabi tablet maker Fuhu for $21.5M and baby wearable health tracker Sproutling for an undisclosed amount. The company is aggressively fighting its way into technological relevance with both parents and children. The New York Toy Fair this week has given Mattel an opportunity to throw the toy industry a few curveballs.
If you were a kid anytime in the later half of the 20th Century then chances are you were exposed to the ThingMaker. The ThingMaker was introduced in 1964 and allowed children to make their own toys, initially "Creepy Crawlers." Youngsters would pour "plastigoop" into steel molds and heat them to 390* over an open hotplate to create their own toys. Through the years the design progressed and expanded into different molds and thankfully became much safer. The trademark changed hands several times but now Mattel is bringing the ThingMaker back in the form of a 3D printer.
The 3D Printing industry had a promising start but has since been relegated to the back burner as it failed to gain traction in the retail markets. Mattel is hoping to make the technology mainstream after partnering with Autodesk (NASDAQ:ADSK) to bring back the ThingMaker.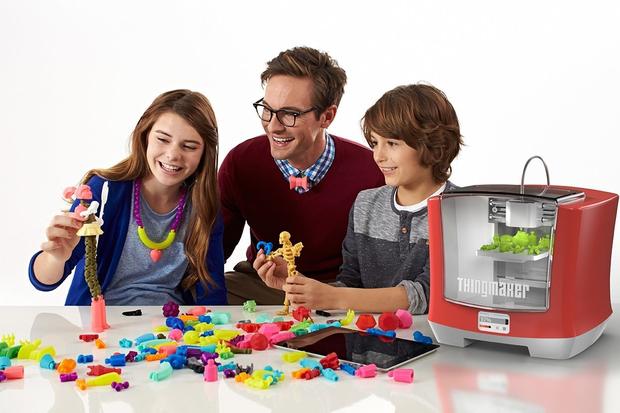 Unveiled at the New York Toy Fair the ThingMaker is the first such product being marketed strictly at kids and their parents to allow the 3-D printing of toys in the home. Those who purchase the $299 printer will be able to select or create toy designs from the ThingMaker Design App already available for Android and iOS and begin printing some very intricate toys right in their home. The toys can take as long as 13 hours to print but opens an incredible world up to children where they can design and print their very own toys. It's unknown how much replacement spools of the filament will be or where exactly it will be sold, but right now it can be pre-ordered on Amazon (NASDAQ:AMZN) and will begin shipping in the fall.
Mattel also unveiled another disruptive catalyst for growth at the New York Toy Fair in the form of the View-Master DLX.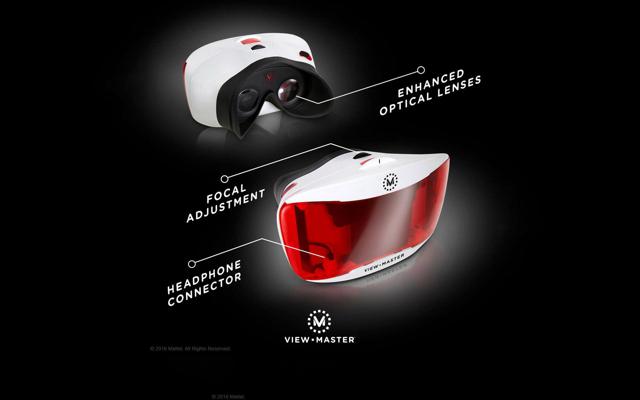 Click to enlarge
Building on their previous version of the View-Master VR that uses Google's (NASDAQ:GOOG) (NASDAQ:GOOGL) Cardboard VR platform they've incorporated a headphone jack and adjustment knobs and are developing games where the wearer of the headset can interact with others. Priced just below $40 the View-Master only requires the user to have a modern smart phone to immerse themselves in a virtual world. Where other VR devices are priced at $600 and up Mattel's entry into the space offers an incredibly accessible VR experience that kids and their parents can enjoy.
As investors we all like to see companies innovating, taking chances, and building on already strong product offerings. Mattel already possesses strong brands such as Barbie, Hot Wheels, and Little Tikes but is now showing itself off as a leading innovator in the toy market. Their two newest offerings are already disrupting the toy industry and stealing headlines from Hasbro (NASDAQ:HAS) who offered up redesigned action figures and animatronic dragons at the fair. The combination of technology and classic appeal should prove incredibly profitable for the toy maker and send other industry leaders scrambling to offer similar products. Mattel has shown itself capable of thinking about the progression of toys and with improving top and bottom lines deserves another look from once skeptical investors. Thank you all for reading and I look forward to the discussion in the comments. As always, best of luck to you all.
Disclosure: I am/we are long MAT.
I wrote this article myself, and it expresses my own opinions. I am not receiving compensation for it (other than from Seeking Alpha). I have no business relationship with any company whose stock is mentioned in this article.