Hardwoods Distribution (TSE:HWD, OTCMKTS: OTC:HDIUF) is one of the largest lumber wholesalers in North America. Hardwoods Distribution ("Hardwoods") buys lumber, plywood, hardwoods, and specialty products in bulk from producers and sells (at a slightly higher price) to small and mid-sized industrial manufacturers. Most of Hardwoods' sales are used in homebuilding and home furnishing.
Hardwoods operates 33 distribution centers across the U.S. and Canada utilizing a hub-and-spoke distribution model. Hardwoods distribution centers are pictured below: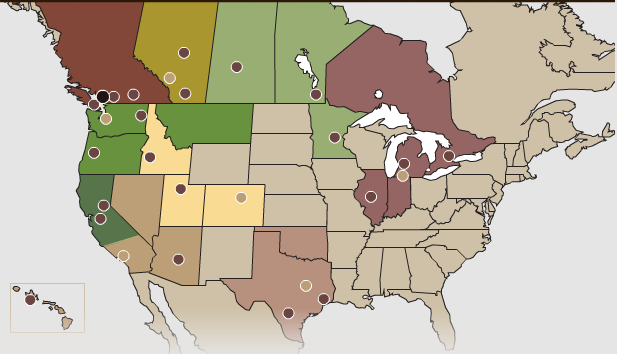 (Hardwoods' Corporate Website)
Growth
Hardwoods' model is working. Since Hardwoods was converted into a public company in mid-2011, revenue and profits have grown tremendously:
(YCharts)
Hardwood's revenue growth lags the growth in the U.S. housing industry: "Given that hardwood products are used late in the construction cycle (typically 9-12 months after construction starts), the growth in the U.S. and Canadian markets should translate into improved demand in the future" (Emphasis added by author, quote from Q3 2015 report). The Census publicly discloses the number of housing starts, and the growth is impressive: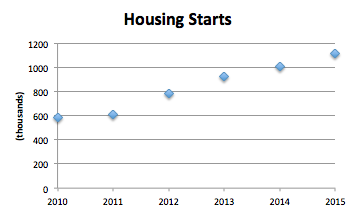 Housing starts increased 8.5% (78.4 thousand additional starts) in 2014 compared to 2013. This growth accelerated to 10.8% (107.9 thousand) in 2015 compared to 2014. Simply, housing starts in 2015 were better than in 2014. As a result, (given the 9-12 month sales lag) Hardwoods' growth in 2016 should be better than in 2015.
While part of Hardwoods past growth was organic, a large portion was due to a series of successful acquisitions. In September 2011, Hardwoods acquired Paxton Lumber for $13.9 million (added $45 million in annual revenue). In June 2013, Hardwoods acquired Olam Wood Products for $2.8 million (added $4 million in annual revenue). In April 2014, Hardwoods acquired (the previously unrelated) Hardwoods of Michigan for $15.4 million (added $33 million in annual revenue).
Hardwoods has successfully integrated three acquisitions in the past five years. The acquisitions were funded out of cash flow and low-cost debt. According to its Q3 2015 financial report, Hardwoods had bank indebtedness of $44,328,000 CAD and paid quarterly interest of $317,000 CAD. This implies an interest rate of 2.86%. Hardwoods was able to borrow at under 3% to pursue acquisitions with a growing 6%+ yield. Acquisitions make sense for Hardwoods. In its latest quarterly report Hardwoods said it will "continue to pursue well-priced acquisition opportunities that support its strategic objectives." Unlike many other growth companies, if organic growth does slow Hardwoods can revert to acquisitions for growth. However, Hardwoods' growth and acquisition ability are certainly not reflected in its valuation.
Valuation
In the last four quarters Hardwoods earned $18.5 million CAD, yet currently sports a $282 million CAD market cap. This is a P/E ratio of only 15.25. Assuming earnings grow 20% next year Hardwoods trades for 13x forward year's earnings. For a company consistently growing annual revenue at 20%+, trading at 13x next year's earnings is insane.
Hardwoods also has a tangible book value of $134.82 million CAD ($8.10 CAD) and has grown book value in each of the past twelve quarters. Given Hardwoods' growth and consistent earnings it should be value based on future profits, not liquidation value. Nonetheless, growing downside protection is always comforting when investing.
Additional Points
Hardwoods has had virtually no growth in shares outstanding.
Hardwoods has raised its dividend four times in the last four years.
Hardwoods benefits from a strong dollar. According to its quarterly report, "A stronger U.S. dollar benefits Hardwoods by: i) increasing the value of sales and profits earned in its U.S. operations when translated into Canadian dollars for financial reporting purposes; ii) increasing the selling price of U.S. dollar-denominated products sold to Hardwoods' Canadian customers; and iii) improving the export competitiveness of the Company's Canadian industrial customers, many of whom have the capability to sell their manufactured products in the U.S."
In the fragmented lumber market Hardwoods benefits from economies of scale, making future growth easier (network effect).
In early March Hardwoods will release its Q4 and year-end results. This release is a potential catalyst to send shares higher.
Conclusion
Hardwoods is growing at 20%+ per year, pays a growing dividend, reinvests cash flow into growth and acquisitions, yet trades at only 13x next year's earnings. Hardwoods is a great company at a great price.
Disclosure: I am/we are long HDIUF.
I wrote this article myself, and it expresses my own opinions. I am not receiving compensation for it (other than from Seeking Alpha). I have no business relationship with any company whose stock is mentioned in this article.
Editor's Note: This article discusses one or more securities that do not trade on a major U.S. exchange. Please be aware of the risks associated with these stocks.