In 2015, research by Macquarie Securities showed China's margin-debt ratio at one point was 8.2% of the free float, the highest level in all stock exchanges across the globe. During that time, trading funded by margin loans accounted for 25% of daily volume on the ChiNext, the venture exchange for Chinese startups. Since then, margin lending bubble has popped, and outstanding margin balance dropped 60% from 2.3 trillion yuan to 0.9 trillion yuan, while the Shanghai Composite Index dropped 40% from recent peak to around 2900.
(For background detail please see my previous articles on this subject - China Margin Lending Hits Record High - Investors Should Stay Cautious and China Margin Lending Hits Record High - Correction Is Far From Over: Part II.)
Chart: China Stock Markets Leveraging Up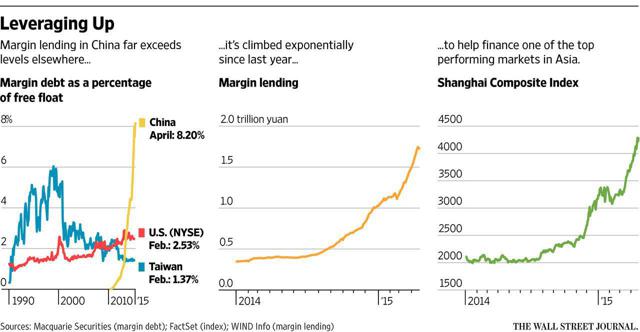 (Source: WSJ)
There are plenty to worry about the Chinese economy, including the slowing in the growth rates and rapid credit expansion in the banking system. However, this article will focus on investor sentiments between the Hong Kong market and the Chinese markets.
Chart: AH Premium Index Historical Movement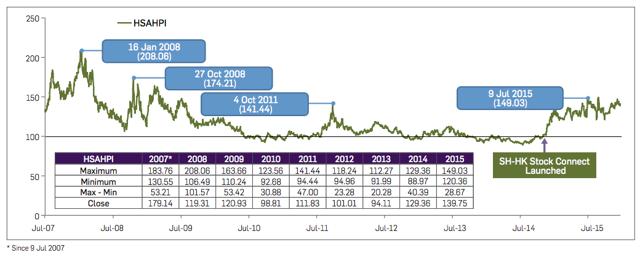 (Source: Heng Seng Bank)
Hang Seng China AH Premium Index ("HSAHP") tracks the average price difference for 62 of the largest and most liquid Chinese companies with both A share listed in China and H share listed in Hong Kong ("AH Companies"). A HSAHP >100 means A shares are trading at a premium versus H shares.
THE HSAHP, currently at around 140, has been elevated since 2014 even before the margin lending debacle. The Chinese markets could experience further corrections based on this valuation metric. In the short term, the market is a voting machine. Some A shares are trading at double or triple of H shares. It is important to understand that the Chinese markets are comprised of individual investors who lack proper financial and accounting skills, whereas Hong Kong market is comprised of institutional investors that are much more skilled. If the Chinese economy experiences further slowness, trading in A shares could be more volatile and suffer deeper losses than H shares. If fundamental improves, H shares would outperform A shares and narrow the HSAHP back down to around 100. Investors should continue to avoid buying general ETFs on the Chinese markets, but a great time to start looking for companies traded on the Hong Kong exchange for bargain hunting.
Chart: Top 25 companies with highest HSAHP ratio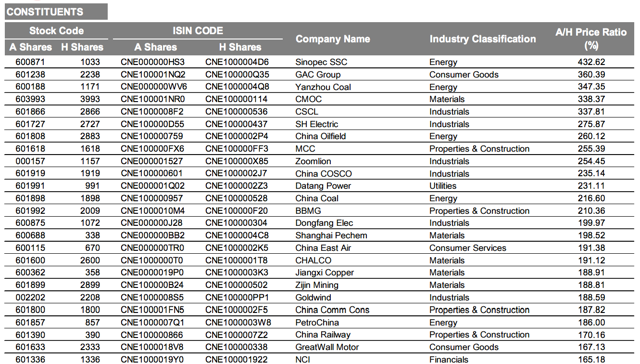 (Source: Heng Seng Bank)
Ticket related: (Deutsche X-trackers Harvest CSI 300 China A-Shares ETF (ASHR), iShares China Large-Cap ETF (NYSEARCA:FXI), iShares MSCI China ETF (NYSEARCA:MCHI))
Disclosure: I/we have no positions in any stocks mentioned, and no plans to initiate any positions within the next 72 hours.
I wrote this article myself, and it expresses my own opinions. I am not receiving compensation for it (other than from Seeking Alpha). I have no business relationship with any company whose stock is mentioned in this article.