SeaDrill (NYSE:SDRL) is already down over 45% this year and this is no surprise considering how things have turned out in the crude oil market. With the Brent having traded mostly below $35 per barrel so far in 2016, it is likely that exploration and production companies will continue slashing their spending budgets this year. In fact, according to Rystad Energy, E&P spending will go down by a massive $320 billion this year, as if a decline of $250 billion last year was not enough.
This is bad news for SeaDrill as its financial performance largely depends on the spending budgets of E&P companies as it is an offshore drilling and equipment services provider. More specifically, it is anticipated that demand for floaters will decline over 8% this year on the back of a drop in rig contracts. This will create more pressure on SeaDrill's highly-leveraged balance sheet and already declining backlog, which is why investors should steer clear of this stock. Let's take a closer look.
Under pressure
SeaDrill has around $6.6 billion of debt maturing in the next three years, including 2016. In addition, the company also has to bear interest costs of $933 million. However, the weakness in the end-market will make it difficult for SeaDrill to satisfy its obligations. In fact, Nordea Bank is of the opinion that SeaDrill will face a funding deficit of $2.5 billion until 2018 as it will find it difficult to repay principal payments of $950 million this year and $1.2 billion next year.
Now, SeaDrill bulls might point out that the company has been able to increase its operating cash flow in the past year despite low oil prices, but at the same time, it has taken on more leverage, too. This is shown in the following chart: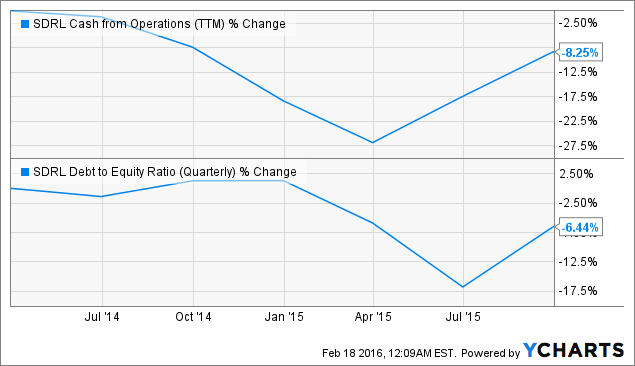 SDRL Cash from Operations (TTM) data by YCharts
As shown above, SeaDrill saw a rapid decline in its operating cash flow from the beginning of 2014 as the weakness in oil prices hurt its financials. However, the company was able to keep its leverage in check. But, of late, the debt-equity ratio has started picking up and stands at 1.22. Moreover, the company's operating cash flow of approximately $1.8 billion that it has generated in the past year will not be enough to meet its upcoming principal obligations, especially because of its interest burden and operating costs.
Additionally, SeaDrill has seen a sharp decline in the backlog of late, and the company's cash flow could start decreasing as a result. Moreover, since SeaDrill has started accepting lower dayrates for its services, it will start burning cash going forward. Hence, the company will have to resort to issuing new equity, which will dilute its share price in turn.
Low dayrates and a declining backlog are headwinds
In the last reported quarter, SeaDrill had posted a backlog of $6 billion, which was almost half of the $11.6 billion in backlog that it had just three quarters ago. As shown in the chart given below, SeaDrill's backlog visibility going into the next few years is quite weak, and this is indicative of a weak revenue performance:

Source: SeaDrill
Thus, as the chart given above clearly shows, SeaDrill's backlog for the years 2016, 2017, and 2018 is quite weak as it is lower than the revenue that it has earned in the past four quarters. Looking ahead, it is likely that SeaDrill's backlog will go down further as the company has been accepting lower dayrates. For example, in December, SeaDrill negotiated two contract extensions with Chevron (NYSE:CVX) that reduced its backlog by $35 million since the company's dayrates were lower than the prior agreement of $127,000.
This is not the only time when SeaDrill has been forced to lower its dayrates, as earlier in 2015, the company had to reduce its dayrates for four jack-up contracts with Saudi Aramco. As a result of this lower dayrate, SeaDrill will see weakness in its gross margin profile, along with weaker revenue, that will eventually lead to weakness in its cash flow. As shown in the chart below, SeaDrill has felt the pinch of lower dayrates and a drop in demand in recent times, leading to a steep drop in revenue and EBITDA due to an increase in idle time of rigs.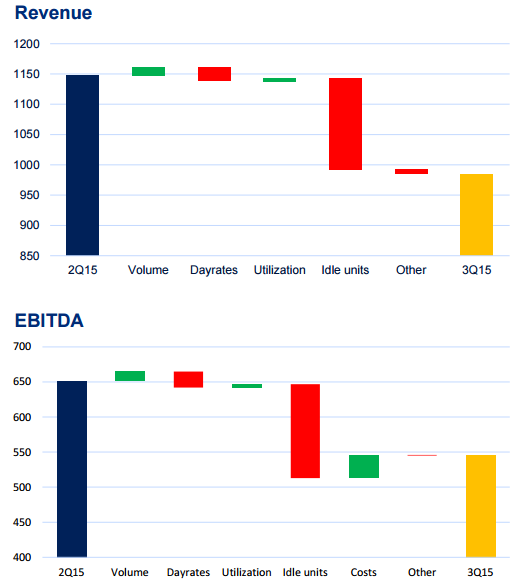 Source: SeaDrill
Conclusion
With oil and gas spending expected to decline further this year, SeaDrill will see further weakness in its revenue performance. Additionally, lower dayrates will hurt the company's margins. As a result, SeaDrill will find it difficult to meet its principal repayments in the near-term, which is why it might be forced to sell more equity, thereby diluting its share price. The company's debt burden is a huge red flag, which is why I think investors should stay away from SeaDrill as it is set for more downside.
Disclosure: I/we have no positions in any stocks mentioned, and no plans to initiate any positions within the next 72 hours.
I wrote this article myself, and it expresses my own opinions. I am not receiving compensation for it (other than from Seeking Alpha). I have no business relationship with any company whose stock is mentioned in this article.