In an article last month, I had advised investors to consider buying BP (NYSE:BP) shares that were trading close to 52-week lows. My thesis was driven by the strength in BP's downstream business, which delivered impressive growth last year on the back of robust refining margins that helped the company from slipping into a loss in the fourth quarter. However, it looks like BP will now start seeing some strength in the upstream business as well as oil prices have started picking up some pace of late.
In fact, after dropping to $30 a barrel just last week, Brent oil prices have shot up to $35 a barrel, driven by the possibility of a deal between OPEC and non-OPEC producers to freeze oil output. As a result of this news, BP shares have started picking up some pace of late, and it is likely that the momentum will continue. Let's see why.
Better oil prices will support the upstream business
BP's upstream business was in tremendous pressure last year due to low oil prices. In fact, in the fourth quarter, the company's upstream business posted a loss of $700 million from a profit of $2.2 billion in the year-ago period. This was because BP's average realized price fell to just $44 per barrel in the quarter, the lowest that it has seen in a decade.
However, there are certain positives emerging in the oil market that could lead to an improvement in BP's upstream business. Earlier this week, Saudi Arabia and Russia decided that they will not increase output anymore. These two countries are the largest producers of oil in the world with a combined output of over 20 million barrels a day and this could help limit more downside in oil pricing as supply will remain constant.
Apart from Russia and Saudi Arabia, other OPEC members such as Qatar and Venezuela have also decided to freeze output. What's more, it won't be surprising if there is a reduction in oil inventories going forward as the big oil producers are now intent to keep price volatility away by producing enough oil to meet supply, and not flood the market with more inventories.
In the words of Saudi Oil Minister Ali Al-Naimi:
"The reason we agreed to a potential freeze of production is simply the beginning of a process. We don't want significant gyrations in prices. We don't want a reduction in supply. We want to meet demand. We want a stable oil price."
More importantly, even Iran has lent its support to the capping of production, which can be considered surprising since it was earlier resistant to the deal. On the other hand, even non-OPEC oil production is declining. For instance, in January, non-OPEC supply fell by 500,000 barrels per day as compared to the preceding month. As the year progresses, it is estimated that non-OPEC oil supply will decline by 600,000 barrels a day to 57.1 million barrels.
Moreover, in 2017, non-OPEC supply is expected to fall at a faster pace to 56.4 million barrels per day. Thus, on the back of a decline in non-OPEC production and steps to control output by OPEC countries, the oversupply in the oil industry could come down as demand rises. In fact, this year, it is expected that oil demand will rise by 1.2 million barrels a day, and then increase to 1.5 million barrels/day next year.
Hence, as production drops and demand rises, the oil market should become more balanced going forward, which will support better pricing.
BP is pulling the right strings in upstream
The pressure in the downstream segment has forced BP to lower costs. The company is now trying to do more with less as it has slashed 20% of the upstream workforce in 2 years. Looking ahead, BP intends to reduce another 4,000 jobs this year, despite which it intends to keep its production intact as compared to last year.
In addition, BP has done a smart thing by promoting competitive bidding among its suppliers for third-party contracts. As a result, the company will be able to lower its overheads as suppliers will be forced to reduce prices in light of the weakness in the oil environment, and if they don't bid low enough, they might lose contracts from BP. Already, BP has delivered a 15% reduction in third-party spending last year, and as it puts up more services and operations contracts for bidding, its costs will drop further.
As illustrated below, BP has been able to reduce costs continuously and achieve a lower cost position than many of its peers: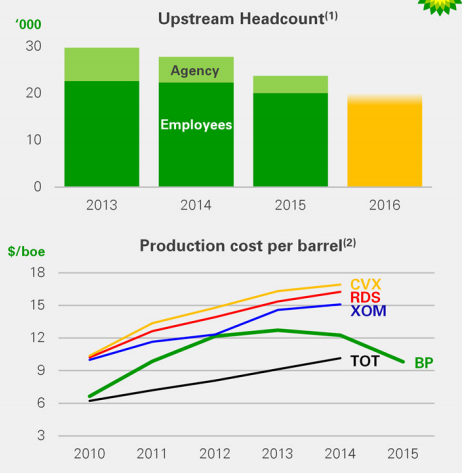 Source: BP
Conclusion
Thus, driven by strength in oil prices due to positive developments in the end-markets, apart from its focus on reducing costs, BP will see an improvement in the upstream business. Along with strength in the downstream, this will help BP make a comeback going forward and help it sustain its recently-found momentum.
Disclosure: I/we have no positions in any stocks mentioned, and no plans to initiate any positions within the next 72 hours.
I wrote this article myself, and it expresses my own opinions. I am not receiving compensation for it (other than from Seeking Alpha). I have no business relationship with any company whose stock is mentioned in this article.