Shares of Yamana Gold (NYSE:AUY) rose by close to 50% since the beginning of the month mainly on account of the recovery of gold prices. Yamana's focus on cutting production costs rather than ramping up its output may have also raised its appeal among bullion investors.
Last month, the company published its revised production guidance for 2015 and outlook for 2016-2017. This year, the company expects to gold production to edge down by 0.4%, year on year; and silver output is estimated to contract by nearly 22%.
Even though production isn't expected to rise, the company may benefit from this shift, as investors are likely to favor gold producers that are less incline to ramp up production. Also, the sharp drop in silver - which has underperform gold over the past several years -- may have also improve the appeal of Yamana.
This trend of cutting production costs has been the focus of many gold companies over the past few years. In 2015, Yamana reported its AISC reached $844 per ounce, which was among the lowest AISC compared to other leading gold producers: Barrick Gold (NYSE:ABX) estimated its AISC for 2015 at $850 and Goldcorp's (NYSE:GG) AISC was set at $875. Moreover, for 2016, Yamana plans to cut again its AISC and bring it to an average of $780, as indicated in the following table.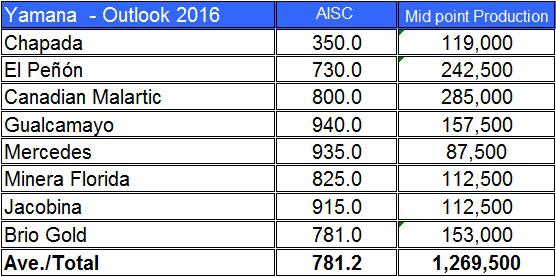 Source: Yamana
If the company were to actually reach this goal and assuming the price of gold remains at the current level then profit per ounce of gold (price of gold minus AISC) will rise from $316 to $419 and the profitability: From 27% to 35%.
In the upcoming quarterly earnings report, the company will provide additional data about it performance in the past quarter and any changes to its annual outlook.
Although the gold market has heated up this year, it's still unclear where gold prices will be by the end of 2016. And since gold prices dropped most of the time over the last several years, gold producers are still likely to aim towards reducing their cost structure.
But the main issue that will keep moving AUY is the direction of gold prices. On this front, the ongoing drop in long term interest rates along with the depreciation of the U.S. dollar have pushed up gold prices. Moreover, the rising concerns over a possible economic slowdown has also caused more investors to come back to gold, which is considered by many a safe haven investment in times of high uncertainty.
Final point
The rally of gold price drove up shares of Yamana to new highs. And the company's decision to focus on cost cuts rather than growing production seems to have boosted the company's stock compared to some of its peers such as Goldcorp that still plan to ramp up production at higher AISC. Yamana will still need to prove its ability to meet its annual goals - when it comes to AISC and production - and keep its debt levels from rising in order to convince its investors that the company is capable to withstand a fall in gold prices. For more please see: What Could Impede This Gold Company?
Disclosure: I/we have no positions in any stocks mentioned, and no plans to initiate any positions within the next 72 hours.
I wrote this article myself, and it expresses my own opinions. I am not receiving compensation for it (other than from Seeking Alpha). I have no business relationship with any company whose stock is mentioned in this article.