As opposed to last year, even though oil prices have fallen in 2016, up to date, shares of Valero Energy (NYSE:VLO) have also declined. The company reported higher than expected earnings for the last quarter of 2015, which didn't seem to help its stock. Even the modest rise in the Brent-WTI spread didn't pull up VLO. The company's stock was dragged down, among other, due to the bearish market sentiment, lower crack spreads, drop in refinery activity and lower EPS for 2016 compared to 2015. Nonetheless, these market conditions are likely to improve in the coming months, which should also pull Valero back up.
Lower margins
In the last quarter of the year, the company recorded, as presented herein, lower operating profit margins. Most of the drop in profitability was in the Mid-Atlantic and Mid-West.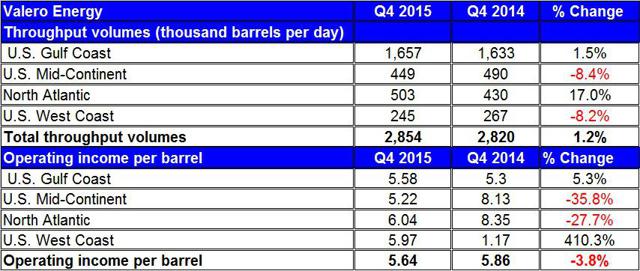 Source: Valero Energy
Despite the fall in profit margins, the company still beat market estimates in the fourth quarter with an EPS of $1.79 compared to a consensus of $1.4. Also, the company raised its dividend by 20% to $0.6 per quarter, which comes to an annual yield of 4.2%. Even so, the company's stock continues to fall. It seems to be related to recent developments in the market - mostly the decline in crack spreads.
Falling spreads and lower activity
At first, it seems that one factor that could have contributed to the recent fall in the price of Valero is the drop in crack spread, as you can see in the following chart.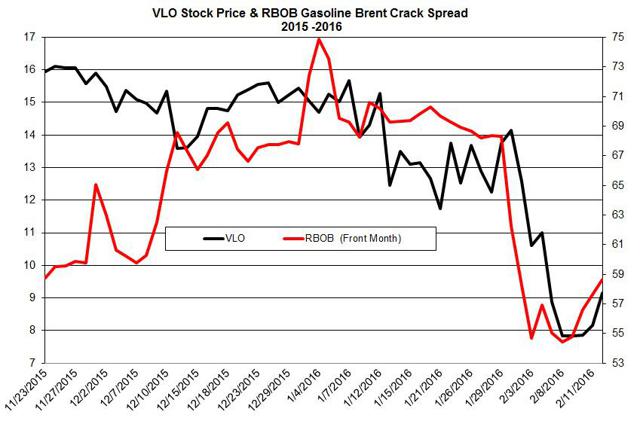 Source: Quandl and Google Finance
Low crack spreads this time of the year shouldn't be surprising considering they are seasonal and tend to fall during the winter and rise during Q2 and Q3. Therefore, for the first quarter of 2016, the company is likely to present lower profit margins. But some still think that the crack spreads will be lower than last year, considering oil prices could start to rise in the coming months.
After all, the Gulf Coast crack spreads have fallen to their lowest level in the past few years - another indication that the company's profit margins could suffer not only in Q1 but also in the subsequent quarters if the spread remains this low. And although the Brent/WTI spread has picked up in the past several weeks - it rose from close to zero a month ago to almost $4 a barrel - it didn't seem to help pull up shares of Valero. For 2016, the Energy Information Administration projects the spread between Brent and WTI will nullify this year.
Nonetheless, the EIA also estimates oil prices will remain, on average, around $38 - this is still much lower than the annual average price of $49 back in 2015. Considering oil prices are at $30, the Agency doesn't expect oil prices to rise much higher than the mid-40 level, which is still lower than in 2015. Thus, the company is still likely to benefit from lower oil prices compared to 2015.
In terms of refinery activity, in the U.S., refinery input fell in recent weeks from 16.6 million bbl/day at the start of 2016 to 15.7 million bbl/day as of last week. Again, lower activity is seasonal during winter time. But the EIA also estimates refinery input will be higher in 2016 compared to 2015, which may also reflect in higher activity for Valero.
Valero's revenue are also affected by the changes in the price of ethanol, which is at very low levels - the price is at 1.376. The weakness of ethanol led to a plunge in its share from Valero's total operating income: Back in 2015, ethanol's share was only 2.2% from the company's total profit compared to 13% in 2014. If prices remain low, ethanol will remain a small fraction of VLO's earnings and as such its impact on the stock will also remain marginal.
Due to the above, the company's stock lost more than 18% from its value this year, up to date. Its current forward P/E is around 7.44, which is in line with its annual estimate of 7.46. But the EV/EBITDA is low at 3.68. In comparison, Marathon Petroleum (NYSE:MPC) has a similar ratio of 3.66. And the industry average is higher at 5.8. This puts Valero's valuation, at least in terms of EV/EBITDA, low.
Finally, the bearish market sentiment may have also contributed to the fall in the company's stock. Its beta is 2, which suggests VLO has more systematic risk compared to the market. Despite the recent rally in the stock market, the bearish market sentiment is still hovering and could drag down VLO - if equities start falling again.
Bottom line
Valero is expected to present lower earnings this year - an annual EPS of $7.56 for 2016 compared to $9.24 in 2015 - on account of lower spreads, even after considering seasonality. The company's stock could still suffer in the short run due to the high uncertainty in the financial markets, falling spreads and lower refinery activity. The advantages for this company include its current low valuation, possible recovery in crack spreads, and ongoing low oil prices. Are these factors enough to outweigh the adverse market conditions the company currently faces? It will remain to be seen. But given its current valuation and dividend yield, I think the risk/reward ratio is in favor of seeing Valero recovering in the coming months. (For more please see:" Is This Oil Company Recovering?")
Disclosure: I am/we are long VLO.
I wrote this article myself, and it expresses my own opinions. I am not receiving compensation for it (other than from Seeking Alpha). I have no business relationship with any company whose stock is mentioned in this article.
Additional disclosure: If the price of VLO falls to the low 50s I may buy more of its shares in the coming weeks.