While Zynga's (NASDAQ:ZNGA) latest quarter beat the consensus on revenue -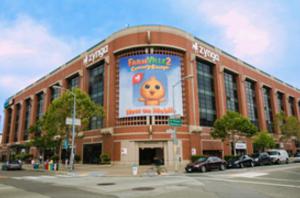 $186 million vs. expectations of $178 million - the market was not inspired to buy its stock.
The biggest problem with the company continues to be that it is bleeding on all fronts in terms of player participation and user engagement.

Click to enlarge
Source (Chart and Image): Zynga
The only bright spot was that average bookings per DAU have continued higher and reached a new record of $0.11. While increased average DAU bookings are a good thing, it does not solve the company's problem. Because, as I have said before, there are limits to how much money you can make from your users. At some point, if engagement does not increase, revenue growth will go to zero.
The same has been happening to Pandora (NYSE:P) and Twitter (NYSE:TWTR) (please read my takes here and here). While monetization increased, engagement has either gone down or is stagnant, and that makes all the difference to the market.
And while we do not know the limits of monetization per user, we can guess, and in any case, the market does not take kindly to future revenue or EPS stagnation. It will knock your stock down and then some, as has happened to Pandora and Twitter, and now Zynga.
So why do I think Zynga should be on your radar screen?
The balance sheet remains intact
When searching for a company that has the potential for a roaring comeback, one has to take into consideration its financial condition. For any company to have a chance to make a comeback, it has to be in tip-top financial shape.
ZNGA ended the quarter with $987 million in cash and equivalents, as compared to $1.07 billion sequentially. And the only reason for the drop in cash is because the company repurchased 37.9 million shares in Q4 for a grand total of $98 million with an average price tag of $2.60 per share.
Even as the company is losing audience, and even if on a GAAP basis, it is losing money, on a non-GAAP basis, it has been running a tight ship for a long time now. And that is one of the reasons I have said in the past articles that I do not expect this company to go under under any conditions.
Online gaming space is still growing
According to SuperData Research (via GamesIndustry.biz), the worldwide market for digital games in 2015 totaled $61 billion, up 9% y/y. However, the largest segment was mobile, comprising $26 billion, up by 10% y/y.
As a result, there are many deals going in on the space. Last year, Activision Blizzard (NASDAQ:ATVI) acquired King Digital Entertainment (BATS:KING) for $5.9 billion. Even Microsoft (NASDAQ:MSFT) got in on the act, by acquiring Minecraft for $2.5 billion.
In fact, Zynga also announced it acquired Zindagi Games. According to Zynga, "Zindagi is made up of world-class engineers, game designers, product managers and artists who have delivered high-quality games with small teams".
So in other words, even if Zynga has been down on its luck for a while now, there is a lot of movement in the space. Not only the likes of deals like ATVI and MSFT, but also at the studio game level. All this activity signifies that the space is alive and kicking, and that Zynga is still in a healthy growing market, even if it is struggling at the moment.
Zynga is trading at book value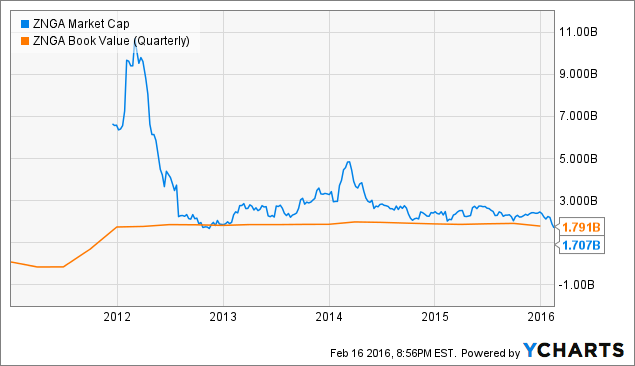 Zynga currently trades at book value. While there is no investment law that says a stock cannot trade below book value, it is comforting to know you are buying a stock with no hot air.
In addition, as the chart above shows, when ZNGA traded at book value in the past, it bounced from those levels. Again, while we do not know if a bounce will be repeated, statistically at least, investors buying at around book value have come out ahead.
How to play Zynga
Similar to Groupon (NASDAQ:GRPN) (please consider: Groupon's Discount Might Be Fleeting), Zynga is also trading at depressed levels. Please note, cheap is something different than depressed. When a stock is depressed, it can rise for a variety of reasons that have nothing to do with revenue growth or EPS (similar to why Groupon rallied).
These could be a variety of things, among others, better guidance, higher user engagement, and yes, a quarterly surprise also helps.
When any of the above happens, then there is a change of perception in the eyes of the market. It does not necessarily mean that the stock all of a sudden becomes cheap, but it might mean that the market changes its stance on the stock, and has something to look forward to.
And just when everyone thinks you are going to fade away, your stock doubles in the blink of an eye, even though not much has changed in terms of the balance sheet, revenue or EPS.
So my advice, if you want to take it, is this ...
Keep Zynga on your screen somewhere. Just keep an eye on it and follow the news very, very close. If you see technical strength on a weekly scale, buy it, even on no news. If all of a sudden it pops 20%, buy first and ask the question later. Something is probably going on that you can't see.
Most of all follow the DAU numbers very close. Chances are that if the stock doubles all of a sudden, it will probably be because of higher user engagement. Buy ahead of earnings. It does not matter if analysts don't expect much. Expectations are so low that no one expects anything from the company yet.
Lastly, at these valuations, there is a possibility that Zynga might be bought out. One never knows what might happen or why. Also, while the stock might go lower, the valuation is compelling enough so as to act as a pillow against a big downside move.
Bottom line
Zynga is depressed enough that it does not need much to rally and double from current levels. While I advise to wait and not buy right away, if you decide to buy, the margin of safety at this point is such that even if you lose money, it will not be much.
In other words, the possible reward at current levels outweighs the risk.
PS: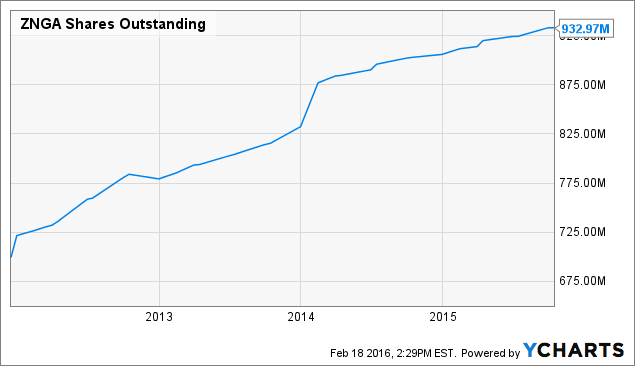 If Zynga's management reads this article, please note that when you repurchase $100 million of your shares, the market expects at the very least for outstanding shares to shrink.
If there is one thing that can prevent ZNGA's shares from rallying, it is the above chart.
Disclosure: I/we have no positions in any stocks mentioned, and no plans to initiate any positions within the next 72 hours.
I wrote this article myself, and it expresses my own opinions. I am not receiving compensation for it (other than from Seeking Alpha). I have no business relationship with any company whose stock is mentioned in this article.