TOTAL S.A. (NYSE:TOT) has been impressing investors with its strong operational and production performance. Recently, Bernstein upgraded TOTAL's rating from "Market Perform" to "Outperform" status. It opined that TOTAL's emerging long life growth portfolio and its stock price is presenting an attractive entry point to investors. Bernstein further stated that investing in TOTAL will result in benefits from the company's earnings resilience in the short term and from higher oil prices over the medium term.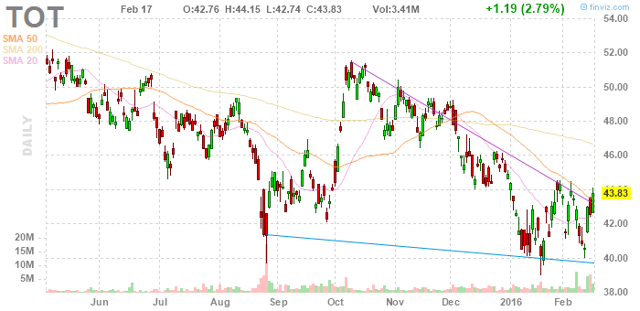 Click to enlarge
Due to unstable oil prices, the company's stock lost 21% of its value over the past twelve months. Along with Bernstein, I view this dip in share price as a buying opportunity. TOT's business model is directly dependent on commodity prices, with its shares shifting along with oil's ups and downs.
At the moment, oil prices are under pressure, trading around $30 per barrel. However, we have begun to see signs of price stabilization, thanks to a deal recently struck between the largest oil producers, including Russia, Saudi Arabia, Qatar and Venezuela. We have also seen significant cuts in investments on the part of major producers in North America. This will eventually help to stabilize oil prices. TOT's defensive business model, its resilient asset portfolio, and efficient management practices allow it to generate better results than its peers in the current environment.
TOTAL's smart strategy of investing in key plays while selling noncore assets has allowed it to continue strong production growth. In fiscal 2015, TOT sold its 20% stake in Russia's Kharyaga field and closed operations in countries like Libya and Yemen. On the flip side, the company began production at Eldfisk II, West Franklin Phase 2, Termokarstovoye, and CLOV. In 2015, it significantly invested in 15 major projects, starting up nine over the course of 12 months. It is looking to ramp up the remaining six projects this year.
Recently, the company announced strong production growth for the final quarter of 2015 as well as the fiscal year. In Q4, TOTAL showed production increase of 5.5%, compared to the same quarter of the previous year. Production increased to 2,352 thousand barrels of oil equivalent per day by the end of 2015. The company's production increased a total of 9.4% in 2015, a fiscal year average of 2,347 kboe/d.
It also appears strong on the earnings side, despite a fall of 47% in the Brent price and a 47% drop in liquid realization. TOTAL's net income declined only 28% in the final quarter and 18% for the full year, in the face of a 47% annual decline in oil prices. The company generated an adjusted net income of $10.5 billion in 2015. Its downstream earnings increased by 80%, to $6.6 billion (largely due to the high availability of its installations), while upstream earnings declined by 55%. This is largely due to its resilient portfolio, steady growth in production, and strategic cost cutting.
The company also looks strong on the cash side. It generated operating cash flows of $19B, with a strong contribution from downstream businesses. Its capital requirements were around $25B, keeping the company's free cash flows around negative $5B. The company is supporting its investments by selling non-core assets and borrowing from external sources. It is expected to sell $10B of assets across 2015 to 2017, in order to support its investments.
In Conclusion
TOTAL is a strong company and its asset portfolio is generating better results than both its peers and the industry average. The company's production growth is massive and its cash situation remains stable. That's why TOTAL is expected to sustain its dividends despite the depressed environment. Bernstein's prediction is absolutely right; investing in TOTAL will mean benefiting from the company's earnings resilience in the short term and from higher oil prices over the medium term. I agree that oil prices will stabilize in the coming months, now that oil producers are seriously considering production cuts. Therefore, buying TOT on the dip is a wise strategy.
Disclosure: I/we have no positions in any stocks mentioned, and no plans to initiate any positions within the next 72 hours.
I wrote this article myself, and it expresses my own opinions. I am not receiving compensation for it (other than from Seeking Alpha). I have no business relationship with any company whose stock is mentioned in this article.