Customer acquisition costs ("CAC") are not cheap
Since this story is all about CAC, let me start with a quick overview on how expensive CAC can be, so that you can appreciate the value of Groupon's (NASDAQ:GRPN) active - and dormant - customer base. While costs vary by industry and statistics are hard to come by, the following examples will provide perspective:
A survey by Marketing Sherpa came up with a mean CAC ranging between $72 and $109 per customer.
An interesting study by a boutique search marketing agency called Hochman Consultants aggregated the results of approximately 50 advertisers on the Google (NASDAQ:GOOG) (NASDAQ:GOOGL) AdWords ad network to determine the average cost of converting a pay-per-click customer. Their estimate for 2015 is $44.50 per conversion, which is significantly higher than previous years.
From Groupon's Q3 2015 Public Fact Sheet, it shows that they added exactly 2 million active customers from 3Q 14 to 3Q 15. The cost of marketing for that period was $231 million. That's $115 per new customer.
The takeaway from these examples is that getting new "paying" customers online is expensive. The norm seems like $50 to $100 per active paying customer.
Groupon currently has about 50 million active customers. They also have 110 million people who have downloaded their app. That means there are an additional 60 million dormant customers who have downloaded the app but are not currently active - so probably some value there too. To replace only the active customers at today's cost of say $60 per customer would cost GRPN $3 billion, which is about double its current enterprise value.
GRPN marketing spend is primarily an investment, not an expense
GRPN has invested almost $1bn in marketing in the last four years. GRPN expenses this item, but you could argue that a large part of it really should be capitalized and amortized, since it is an investment in an asset that will deliver revenue over time. For perspective, their enterprise value is 62.5% above their aggregate marketing spend for the past four years.
Comparing key metrics between GRPN and Alibaba (NYSE:BABA)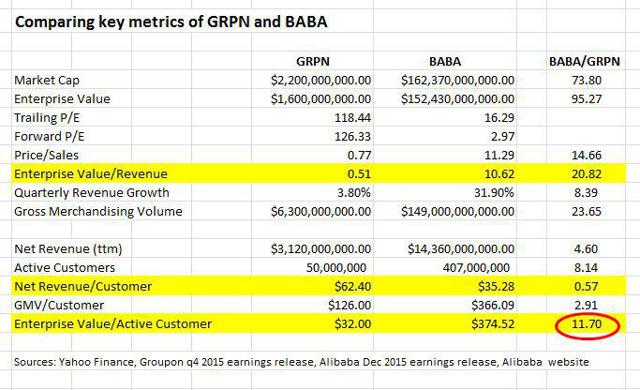 Their business models are similar since both operate online and mobile commerce marketplaces that connect merchants to consumers. However, there is a huge discrepancy between the value that the stock market gives to a BABA customer versus a GRPN customer, based on any value to revenue metric selected. Granted, a BABA customer spends on average three times a GRPN customer per year, but GRPN has a higher net revenue per customer. The circled number tells it best - based on the enterprise value per active customer, the market values a BABA customer at 11.7 times the value it gives to a GRPN customer. BABA's higher multiple is like cheap currency when buying GRPN stock.
The reason the market gives BABA this premium is because its growth rate is much higher than GRPN. Here is a chart showing BABA's growth in active customers.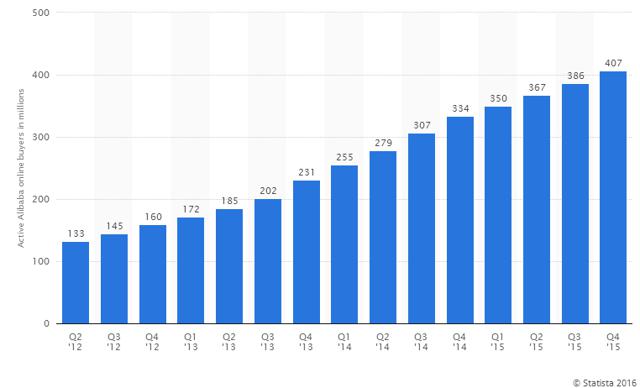 It's an impressive growth story, but the rate of growth is actually slowing, which is to be expected when you get up to 400 million customers. There are only about 3 billion internet users in the world, and logically, bringing on incremental customers will become more expensive as the pool of potential untapped customers gets smaller.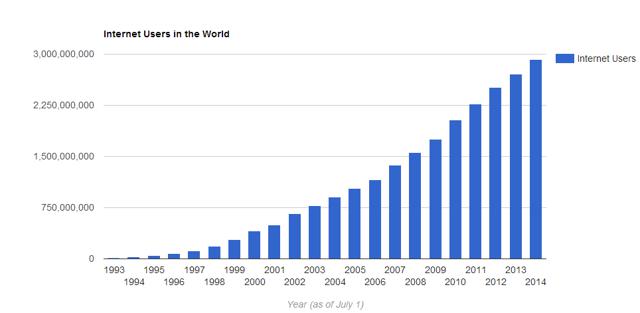 Alibaba's motive
There is much speculation on BABA's motive for acquiring 5.6% of GRPN common stock, perhaps to compete better with Amazon (NASDAQ:AMZN), but as reported by The Street, it's a passive investment to exchange ideas. "We bought a very small minority stake in Groupon in order to share ideas between U.S. and China markets in a space... This is a passive holding, and if Groupon management would like to exchange experiences with us, we are prepared to share," said Robert Christie, vice president of Alibaba's international media relations.
While that is somewhat vague, the point is that if BABA can somehow bring GRPN customers into their ecosystem, it represents an extremely cheap way of acquiring new customers at a time when their growth rate is slowing, and the market will reward them instantly for it, given the higher multiple of revenue BABA trades at. For this reason, they can afford to pay a significant premium for GRPN and still have it be accretive to their share price.
Improved operating metrics, stock buybacks and positive guidance
GRPN's Q4 earnings report showed generally positive trends, with free cash flow of $208 million for the trailing twelve months - 12% of enterprise value. They also have been buying back their own stock in large amounts.
From their earnings release, "2015 saw sustained progress toward our vision of making Groupon the daily habit in local commerce," said CEO Rich Williams. "Following a stronger than expected fourth quarter, we enter 2016 with a continued focus on streamlining our global operations, reducing our reliance on low margin products in our shopping business and rekindling our customer acquisition efforts to set the stage for accelerated growth."
Conclusion
The low price per active customer and improving operational metrics make GRPN a reasonable buy at this price with asymmetric upside if potential BABA symmetries materialize.
Disclosure: I am/we are long GRPN.
I wrote this article myself, and it expresses my own opinions. I am not receiving compensation for it (other than from Seeking Alpha). I have no business relationship with any company whose stock is mentioned in this article.