Fellow Seeking Alpha contributor Cameron Kaine raises a question that should scare the living heck out of many Sirius XM (NASDAQ:SIRI) shareholders. Kaine wonders if the flood of recent insider sales and CEO Mel Karmazin's decision to exercise a whole bunch of options for "charitable" reasons portends a Liberty Media (NASDAQ:LMCA) buyout next month.
That lifts an issue many of the most ardent SIRI bulls rarely, if ever, discuss. But this issue probably helps explain the bullishness that often crosses the line into cheerleading and the total aversion many SIRI bulls have to even the slightest hint of bearishness. There are a whole host of bagholders in this stock.
Click to enlarge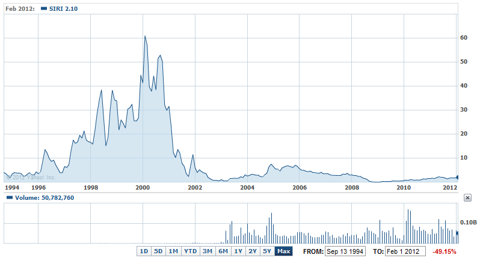 It doesn't take a scientist who deals in rockets to figure that one out. If you did not do a masterful job of averaging down over a period of six years or so OR ride a hope and a prayer at or near the bottom, you're likely stuck with sky-high cost bases and potentially massive unrealized losses.
Again, that might explain at least some of the rage we can count on, day-after-day, from a handful of tortured SIRI supporters. I would bet that some of the cats who claim they bought 50,000 shares at $0.15 actually hold for an average somewhere in the teens or twenties. But, if you sell a sucker a penny stock dream, you might be able to pump yourself out of your own nightmare.
No doubt, some folks have and will get rich off of this stock. There are certainly a considerable number of retail investors who truly did buy the bottom and generated five-, six- and maybe even seven-figure returns with SIRI. And as Kaine continues to detail, insiders, even those lower in the hierarchy than Karmazin are, all of a sudden, for some reason, taking the opportunity to cash in:
... this week more insider selling has taken place. This time it occurs in four separate transactions. Three by Patrick Donnelly and one by James Holden - two of which occurred yesterday at market prices as shown in the graphic below.

Click to enlarge

Now again, this does not mean that there is anything fundamentally wrong that is going on in the company for these chronic selling to occur. I am merely raising the question as part of the due diligence process. Is it possible that these executives are preparing for the exit that might eventually occur when Liberty makes its move? I think this would certainly be a positive for the company - because as I've said I think it needs new blood and more importantly a new direction.
I agree with that last sentence. There's probably nothing better that could happen for the company than a Liberty buyout. Liberty gets it. And, if there's any logic in the world, they'll integrate Sirius XM into its stable of impressive properties, buy a few more and turn Liberty into a multi-platform powerhouse. I'm not holding my breath, but it's certainly a reasonable possibility.
That said, I am really not sure how a buyout will shake out. Maybe it will be a great thing, when a deal gets sealed, for retail shareholders holding the bag from years ago. Things, however, tend not to work out that way. And, if Mel's decision to kick his long-term financial planning into high gear, just as other big wigs are selling stock, means anything, I would be very concerned if I was a SIRI bagholder.
This is why I constantly beat the drum against emotional investing. I do not mean to say that company executives who turn themselves into zillionaires on the backs of stock options are bad people. They're not. They're simply doing what any one of us would do given the chance. They're playing by the rules. They're getting paid. I could even make the argument that they deserve it.
But don't be fooled. They do not care about you, at least not in the sense that they'll do anything for the guy or girl holding SIRI at an average of 5, 10, 15, 20 or 50 bucks a share. Frankly, there's not much they could do even if they wanted to. This is how the game gets played on Wall Street, particularly with speculative stocks that carry tons of balance sheet and share structure-related baggage.
I can understand why somebody might invest, in the literal financial sense of the word, in a company like Sirius XM. What I cannot understand, given how these things tend to play out, however, is how that same person allows him or herself to become emotionally invested.
Disclosure: I have no positions in any stocks mentioned, and no plans to initiate any positions within the next 72 hours.