By Parke Shall
In our last article about Eros (NYSE:EROS), we pointed out that Dalton Investments had raised their stake in the Indian film-making company and we raised the question as to whether or not their investment would be a good reason to invest in the beaten-down company about three months ago.
For those that are unfamiliar with EROS, it is an Indian film-making and production company that derives all of its revenue overseas from the sale and distribution of numerous Bollywood films. The company also owns EROSNow, which is being trumpeted as the "Indian Netflix" and which the company hopes to be a steady growing revenue stream moving into the future.
We concluded our last article by stating that although Dalton had increased its stake in the company, and although we had found some discrepancies with both the long and the short argument, that EROS was not to be touched and not to be trusted simply on fundamentals alone. The company came out and reported earnings yesterday that further emphasize how cautious we think investors should be about the company. Some of the "low lights" of the results were adjusted EBITDA being down 20.6% YoY and net income down 59% YoY.
The company said it was finishing an internal review that it was performing in response to fraud allegations:
"In November 2015, the Audit Committee appointed Skadden, Arps, Slate, Meagher & Flom LLP and affiliates, a reputed New York law firm, to assist it in undertaking an Internal Review on the subject matter of certain anonymous allegations and related matters that caused a sharp decline in the Company's share price. The internal review is at an advanced stage and we are satisfied with its progress. We expect to conclude our review in March and to make a further statement at the time.

Meanwhile, I would like to assure our shareholders that the Audit Committee has reviewed the accounting procedures and principles followed by the Company and has been fully satisfied that the Company has recorded its financial statements and related disclosures appropriately without any material misstatements.

On behalf of the Audit Committee and the Board of Directors of the Company I sincerely thank all the shareholders of the Company, old and new, and other stakeholders and business associates for standing by the Company."
And EROS' CFO had this to say for himself after these results were released:
"The Company's business fundamentals, capital structure and balance sheet remain strong. On the back of a high performing new release film slate, we have decided to hold back some catalog revenues so we can decrease receivables to our target number of approximately $160 million. We continue to focus on cash generation, and remain confident that we will become free cash flow positive by the end of the 2016 Fiscal Year."
Except the fundamentals don't support these statements at all. The company is showing no signs of moving toward being cash flow positive and the balance sheet "strength" comes from a significant amount of intangible assets that give the company its ridiculous book value of $12.61 per share.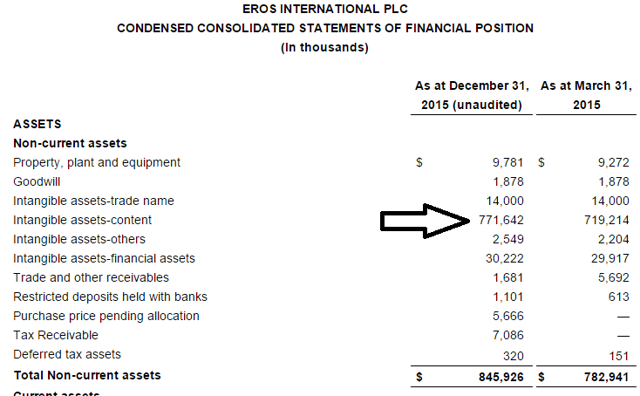 The reality of the situation is that as of last quarter, the company has $330 million in debt to its $150.45 million in cash.
Interesting dialogue, considering the company has promised to be free cash flow positive by the end of 2016, and does not look like it has made any strides in that direction whatsoever.
EROS' situation is different than a lot of companies, as it faced serious allegations of accounting fraud and wrongdoing from SA contributor Alpha Exposure over the last six to eight months. Alpha Exposure wrote a series of articles that detailed several alarming questions about the business. In their articles, Alpha Exposure pointed out:
The company's auditor didn't seem to audit the subsidiary where the company's revenues are coming from.
There seems to have been discrepancies between the films listed and dated by the company and objective third-party sources regarding some Indian films (i.e. allegations of faking films, later proved to be incorrect we believe).
The company didn't seem to have any hope of becoming free cash flow positive.
These allegations were then followed up by a report of similar questions being raised at a conference about six months ago. It was rumored on social media that a participant at the Wells Fargo conference asked similar questions of EROS, who was presenting at the time, and that the executive had the presenter removed.
It turns out that some of the speculation could have been in error.
The company offered a relatively benign explanation for why some of its film dates were not lining up, namely that films were shot and distributed in two separate years. Most of the films we checked didn't produce a lot of revenue, but they existed.
The company also appeared to release a comprehensive list of its films on its website, causing the film list angle to go by the wayside. There also were a few individuals we spoke to months ago that speculated this participant was removed from the conference for interrupting a speaker and being loud, as opposed to the presenter not wanting to answer his question. It's immaterial at this point.
After these allegations had been raised, Dalton Investments raised their investment in the company, and the company came out and promised to be free cash flow positive by the end of 2016. To this day, Dalton is probably down more than 15% on its raised stake and the company doesn't seem to have made any progress in moving towards being free cash flow positive.
We cannot envision a scenario where, based on the controversy and on the company's most recent results, we can say that we would invest in EROS. The numbers are just not adding up for us and we don't believe that the company has real hope of generating significant amounts of cash moving forward. The more likely scenario, as we see it, is that the company may have to raise cash soon which would negatively affect existing shareholders.
We continue to avoid EROS here.
Disclosure: I/we have no positions in any stocks mentioned, and no plans to initiate any positions within the next 72 hours.
I wrote this article myself, and it expresses my own opinions. I am not receiving compensation for it (other than from Seeking Alpha). I have no business relationship with any company whose stock is mentioned in this article.