Telecommunications is listed in the Yahoo Industry Browser as Technology/Telecom Services/Domestic Industry. This is essentially an unregulated U.S. utility. Almost all individuals over the age of 13 today, with the exception of those incarcerated or in dependent living, own and rely on some form of wireless or wired telecommunications devices. Unlike electric utilities, monopolies are not allowed, and so the players in this field must compete with one another for their share of this vast market. To add spice to this service, it is probably one of the most rapidly changing technologies consumers will experience in their lifetime. What constituted a typical household essential telecommunication ensemble 10 years ago looks little like today's telecommunication ensemble, which will look little like the equivalent mix 10 years from now. Those telecom companies that keep out in front of this evolution will likely be able to sustain and grow their dividend... those who find they cannot, won't. We don't know who those future companies will be that will be able to provide the future service we can't see today. But what we do know is how well or poorly current telecom companies have been able to adjust to today's telecom demands. This is what the rest of this article will attempt to quantify.
Selecting the Telecom Stocks
The Yahoo Industry Browser lists about 28 companies in this industry. Screening these for U.S.-based companies yielding at least 3.5% with 10 years of dividend history that have shown long-term dividend sustainability reduces this list to 5: EarthLink (NASDAQ:ELNK), Consolidated Communications Holdings (NASDAQ:CNSL), CenturyLink Inc. (NYSE:CTL), Verizon Communications (NYSE:VZ) and AT&T Inc. (NYSE:T). In the chart below, you can see their dividend history and current yields.

And here is a bar chart showing their relationship.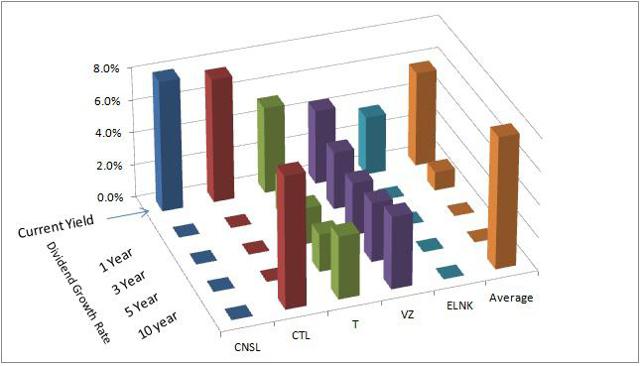 At first glance, the stocks in this group would seem to be non-starters for the income investor. No-growth and negative growth dividends seem to dominate the industry. VZ and T are the only two with dividend growth over the past 10 years, with VZ having the best record of multi-year compound annual growth rates, but these are all under 4%. However, in the interest of full discovery, let's look on. (Note that all data come from Morningstar's listing of the company's financial statements. And all of the below cash flow ratios use the most recent four quarters to smooth out the peaks and troughs of quarterly reports.)
Interest Coverage
The most recent four quarters of interest charges divided by the most recent four quarters of (interest + CFFO) shows what part of the Consolidated Funds From Operations, or CFFO, which is the cash available to the company after operational expenses, is paid out to the fixed interest expense.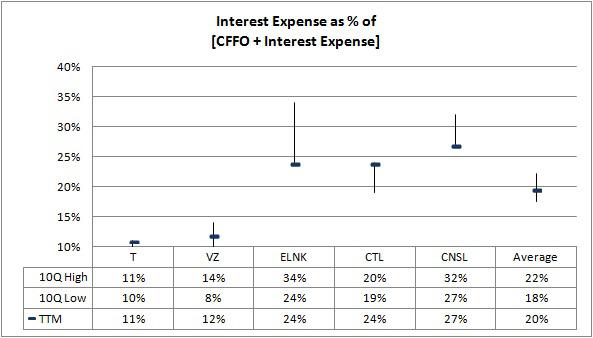 Interest expense is important to a company just as fixed costs are important to a household. If the wage earners of a household lose their job, most household expenses can be mitigated or reduced through budget tightening or even elimination of activities, but the fixed costs of a mortgage or car payment - like the interest paid on company debt - cannot be managed away - they must be paid. Generally, a ratio greater than 30% is worrisome, as it represents a big bite out of the company's available operational cash, and such large ratios almost always correlate with slow or no dividend growth. VZ and T provide the best interest expense ratios, while ELNK, CTL and CNSL do show higher ratios, though not inordinately high for such heavily capitalized companies.
Dividend-to-CFFO payout ratio
For the ordering of the use of operational cash after operational expenses, the dividends are paid first - preferred stock dividends with the first dollars and common stock dividends next. None of the telecom stocks pay preferred dividends, so all payout ratios are for common dividends.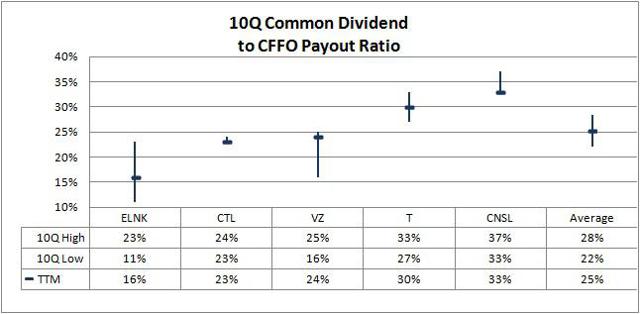 None of these payout ratios are excessive for C-Corporations, although VZ is trending higher. Although their market capitalization varies from small ($600 million for ELNK) to very large ($225 billion for T), a payout ratio under 30% is usually a positive sign that the company is able to route a relatively large percentage of its operational cash towards new investing activities - a must for future dividend growth.
10-Quarter return on CFFI to CFFO
The Consolidated Funds used for (or generated by) Investing Activities (or CFFI) represents the total number of dollars a company has directed to new investments over the reporting period. New investments, although not a guarantee of a future growth in revenues and operational cash, are generally a prerequisite to their growth, and thus, a prerequisite to dividend growth.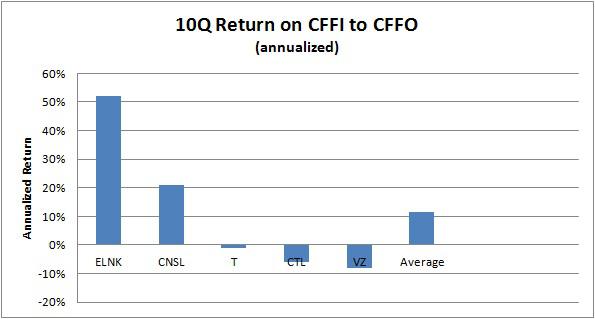 This is an annualized growth rate over the previous 10 quarters, calculated by taking the slope of the CFFO growth regression line (quarterly average rise (or decline) in CFFO) and dividing this by the average quarterly CFFI. The drawback to this calculation is it assumes changes in CFFO are due to the investments (or (CFFI)) made during this period, and does not consider previous investments. But it is reasonable that a gradual increase in CFFI should result in an increase in CFFO... otherwise, why make new investments? The other drawback to this metric is it looks at the average over the most recent 10 quarters and not the most recent trend. But this metric is important because future dividend growth must come from a growth in CFFO, as this is the only way dividend growth is sustainable over future quarters.
The negative return on CFFI to CFFO for VZ, CTL and T is indeed worrisome, as CFFO should be growing and not receding.
"Managerial Efficiency" Ratio
This simple metric looks at the trend in the company's CFFO divided by its Revenues. For each dollar of revenue, how much of it, after operational expenses, ultimately becomes operational cash flow?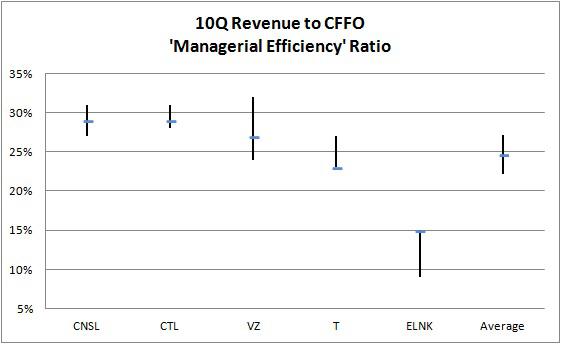 This ratio varies by industry, but is generally comparable amongst companies of the same industry. A low ratio suggests high operational expenses and lower managerial efficiency, as is shown by ELNK, although this may also be a function of ELNK's much smaller size.
Percent of CFFI paid with CFFO after Dividends
This metric considers how much of the company's investing activities are paid with operational cash after the dividends have been paid. Clearly, the higher this percentage, the lower will be the cost of capital to the company.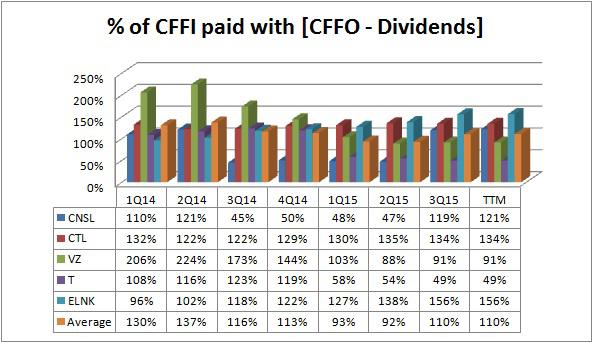 A >100% trend in this ratio shows the company is able to pay for all of its investing activities without having to incur additional debt or the issuance of additional stock to pay for its new investments. A downward trend in this ratio is always worrisome, as it suggests the company is having difficulty generating sufficient CFFO to pay for new investments, and so, must sell debt or company stock to raise the required cash. This metric should not be used alone, as it does not show how much the company is spending on new investing activities - it only shows the relationship between this expense and CFFO after dividends. So, it should be used along with the above metrics in assessing financial strength in paying future dividends.
Recommendations based on CF analysis
My inclination is to steer clear of telecommunications for long-term reliable dividend income. The competitive nature of this industry, the necessary large annual investment expense needed to stay technologically current/competitive and the at-best tepid dividend growth rates all combine to suggest that this industry will pay bond-like dividends, at the most, over the years ahead, but at the ongoing risk of obsolescence hanging over these companies as the sword of Dionysus hung over the head of Damocles. Certainly, VZ and T have long dividend histories that reflect their director's commitment to a dividend, and this is indeed important. But these two leading dividend payers in this industry have declining return on CFFI to CFFO and a declining percent of CFFO available to use towards new investing activities, and these are not good signs.
Were I forced to pick which of these would be most likely to provide the most secure future dividend based only on these data, I would be inclined to choose CTL. The company took a 26% dividend cut in 2013, and has not raised it since. But it has excellent cash flows, and has had discretionary CFFO (that is, CFFO after dividends and CFFI) for each of the past 10 quarters, of which it has used $3.14 billion to buy back stock and pay down debt. Other than the dividend cut, its primary concern is a negative return on its CFFI to CFFO, and based on this, I'd probably put CTL on my watch list but wait for it to show a positive return on its investments.
In conclusion
As I've said in past articles, the future dividends of a company come from management's willingness to pay the dividend (as shown in the dividend history), its ability to pay the dividend (CF analysis) and qualitative projections on how the industry and the individual company will perform over the years ahead based on anticipated demand compared to potential threats to the business model. I've only considered the former two conditions of willingness and ability. Certainly, threats to the company must be considered.
I have held 200 shares of VZ for the past 14 years, with a dividend CAGR through 2015 of 2.8%. With the above CF metrics, I think it's time to sell and seek long-term reliable income elsewhere.
Disclosure: I am/we are long VZ.
I wrote this article myself, and it expresses my own opinions. I am not receiving compensation for it (other than from Seeking Alpha). I have no business relationship with any company whose stock is mentioned in this article.