By Mike Mackin, Writer and Portfolio Manager, The Oxen Group
Today we take a look at six oil and gas related companies and their historical performance in March. These companies span over three industries related to oil and gas (NYSEARCA:USO): Major integrated oil and gas, oil and gas equipment and services, and oil and gas drill and exploration. March has been a good month for oil historically with a 5.2% average during March for the West Texas Intermediate spot price since 1992. The biggest loss for WTI has been -7.8% and the largest gain has been 22.5%. Recently, oil has been even better with gains for the last eight March periods and nine out of the last 10. Here we cover Chevron (NYSE:CVX), Halliburton (NYSE:HAL), Nabors (NYSE:NBR), Transocean (NYSE:RIG), Schlumberger (NYSE:SLB) and Exxon Mobil (NYSE:XOM).

Click to enlarge

The first graph shows the average gains for each company during March since 1997.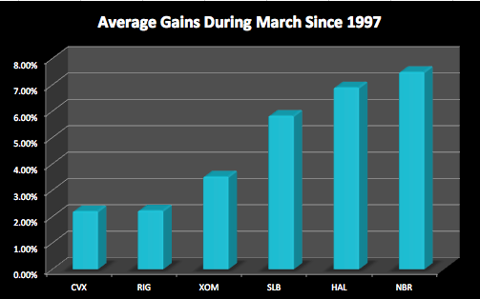 Click to enlarge
Every company averages positive gains during March
NBR averages the greatest gains at 7.5%
CVX and RIG average the smallest gains during March at 2.20% and 2.23%, respectively
The final chart breaks down each company's performance during March a little further, giving the amount of March periods (out of the past 15 years) they have been up/down and the maximum gains and losses seen during March since 1997.

Click to enlarge
The most consistent stock during March is HAL, up 12 out of the past 15 March periods.
HAL also has had the smallest maximum loss at -3.83%, the second largest maximum gain at 30.75% and the second largest average gains.
Each company has had larger maximum gains than maximum losses.
The worst performing stocks are CVX and RIG, up only 60% of March periods as well as posting the two largest maximum losses.
Positions:
HAL March 16th $36/$35 Bull Put Spread and Long Stock -
We think that HAL is not going down at all in this period of time. Sell a bull put spread to take advantage of premium. The recent strength has taken out some premium, so we would wait for a dip day to do any bull put spreads. To accompany that dip, we would buy the stock.
SLB March 16th $72.50/$70 Bull Put Spread -
Given the data, SLB looks solid as well. The oil market has strength right now, and SLB looks like it will be a follower with this market. The data also suggests limited downside. We like this bull put spread as it is below any technical support lines.